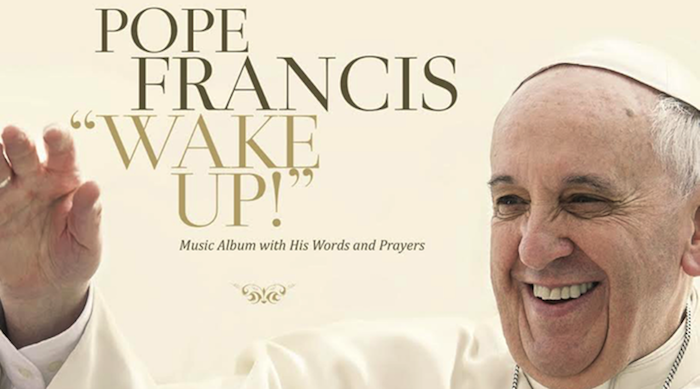 Pope Francis's debut pop-rock album "Wake Up!" was released for for pre-order on 25 September. Produced in collaboration with artist distribution company Believe Digital, the album will feature 11 tracks with the voice of Pope Francis mixed with uplifting music ranging from Christian rock, latin, to pop.
This is not the first time that a pope is releasing an album; Pope Benedict XVI sang a few chords on the Vatican Christmas album in 2010, while Pope John Paul II had two devotional albums to his credit. But Pope Francis' album has created a buzz no pope has enjoyed before.
The Church is a mother with an open heart, ready to help all people, especially those who try the hardest

— Pope Francis (@Pontifex) June 27, 2015
Since assuming papacy in 2013, Pope Francis has emerged as a universally loved figure, connecting the Vatican back to the changing world outside. His followers extend well beyond the religious line, admiring him for a positive outlook on same-sex marriage and his views on climate consciousness and oneness.
This album will see the Pope's earnest message set to stirring tunes produced by artistic director Don Giulio Neroni. Recordings in English, Spanish, Italian, and Portuguese will address issues ranging from peace, dignity, environment and helping the disadvantaged.
"I tried to be strongly faithful to the pastoral and personality of Pope Francis: the Pope of dialogue, open doors, hospitality. For this reason, the voice of Pope Francis in Wake Up! dialogues music. And contemporary music dialogues with the Christian tradition of sacred hymns," producer Don Giulio Neroni told the Rolling Stones magazine.
Let us sing as we go. May our struggles and our concern for this planet never take away the joy of our hope.

— Pope Francis (@Pontifex) June 19, 2015
But it is not only the Pope's image that has helped the album standout. The pre-released tittle track from the album,"Wake Up! Go! Go! Forward!", is a piece with moving music and words. "Wake up, Wake up," sings Pope Francis amidst atmospheric electric guitars, trumpets and synths . "The Lord speaks of a responsibility that the Lord gives you."
Scheduled to release on 27 November, the album also features the Pope's Vatican address during the visit of Israeli President Shimon Peres and Palestinian leader Mahmoud Abbas last year.
Many things have to change course, but it is we human beings above all who need to change.

— Pope Francis (@Pontifex) June 19, 2015
Part of the proceeds from the album will go to funds for refugees.