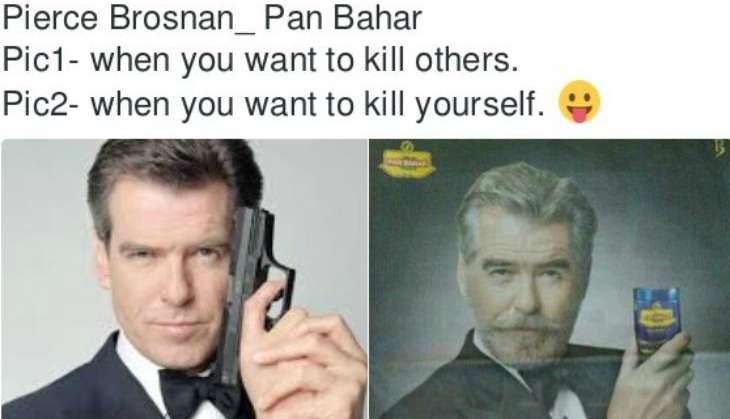 There are few things in life as sad as watching a former 007 being reduced to selling pan masala. Twitter believes it's because he still thinks he has the license to kill. We're going to laugh at that once we're done sobbing in embarrassment on Brosnan's behalf.
The face many '90s kids associate with Britain's most suave spy will now be selling Pan Bahar, and Indians across the country got their first taste of the sort of adverts we should now expect.
Still in the get-up from his upcoming film Urge - with salt-n-pepper hair and beard and dressed in a dapper suit, Pierce stands tall. With pan masala in his hands.
Class never goes out of style says the tagline, because irony. Billboards, newspaper front pages and a YouTube ad - Pan Bahar has gone all out to showcase the new face of the brand. And likewise, so has Twitter.
Bond, with a side of pan masala anyone?
By endorsing Pan masala, the former 007 seems to believe that he still has the license to kill pic.twitter.com/maV5iyjwaR

— The Bad Doctor (@DOCTORATLARGE) October 7, 2016
As Pierce Brosnan is endorsing Pan Bahar, his new line should be -

My name is bond, aakthoo(spits).. James Bond. pic.twitter.com/spzuA6fGFy

— Godman Chikna (@Madan_Chikna) October 7, 2016
Name is Bond. *spits pan masala* James Bond. https://t.co/dyQHzprSDu

— Rahul Roushan (@rahulroushan) October 7, 2016
Bond movies by Pierce Brosnan:
Goldenspit
The sachet is not enough
Quit another day
Cancer never dieshttps://t.co/Zl96r194cy

— Nagraj (@zehreelimaut) October 7, 2016
Pierce Brosnan in PANtum of Solace..

— Comedian Praveen (@Funny_Leone) October 7, 2016
Pierce Brosnan_ Pan Bahar
Pic1- when you want to kill others.
Pic2- when you want to kill yourself. 😛 pic.twitter.com/V0C2hKN3HT

— Lazy Cat (@DenNehaS) October 7, 2016
Always had a feeling Pierce Brosnan was pansexual.

— Suprateek Chatterjee (@SupraMario) October 7, 2016
Trust Indians to use Pierce Brosnan to promote 'Paan Bahaar' chewing tobacco. Love to see James Bond do a 'Haath me Lota, Moun mey Paan...' pic.twitter.com/2wisfix40m

— Tarek Fatah (@TarekFatah) October 7, 2016
Irony: Pierce Brosnan saying class never goes out of style after being in this ad. https://t.co/xbxzO8adZB

— Aditi (@Bacardidevi) October 7, 2016
Pierce Brosnan for Pan Bahar..now if they can get Anne Hathway or Kate Winslet for washing powder Nirma. Life wud be complete

— Global Citizen🇺🇸 (@ShantiseAshanTi) October 7, 2016
Pierce Brosnan is endorsing pan bahar , i think that dude doesn't even know what is in that box. He think its m&m's.

— Singha (@heisenjit) October 7, 2016
Pretty sure Pierce Brosnan was fooled into endorsing Pan Bahar by saying that it was some exotic Himalayan Indian herb. pic.twitter.com/nijiLsOvEc

— Trendulkar (@Trendulkar) October 7, 2016
Priyanka Chopra chews Rajnigandha & now Pierce Brosnan chews Pan Bahar. Now I know why I am not successful, will start chewing gutka today.

— Trendulkar (@Trendulkar) October 7, 2016
Pierce Brosnan.
Played James Bond.
Endorses Pan Bahar.
Licensed to kill.

— Ramesh Srivats (@rameshsrivats) October 7, 2016