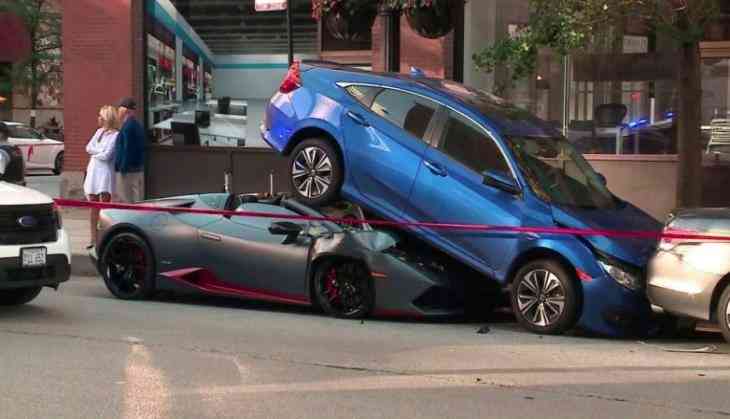 Just imagine your brand new car got crashed and imagine if it is Lamborghini of Rs 2 crore! You would definitely feel like the ground slipping beneath your feet. The same thing has happened to a man who driving brand new Lamborghini Huracan Performante sports car and after a while, his car got crashed so badly.
Yes, a video is doing the round on the social media in which Lamborghini car of Rs 2,28,25,369 (£250,000) condition will leave you in shock!
The video has created a stir on the Internet, the expensive sports car at its launch event was on road to show off to a crowd.
Unfortunately, the whole enjoyable scenario got converted to cheerlessness when the driver lost his control and smashed the car into a tree and a brick wall.
He lost his control while trying to cross a narrow lane, but all of sudden he lost the car can be seen uncontrollable and crashed. The onlookers were left shocked along with the driver who was crying hard to see the damage to the expensive sports car.
See viral video:
Luckily, no one was injured but the condition of the car left everyone in shocked.
The video was uploaded on YouTube channel called Supercars on the streets. The uploaded also gave a caption, ' I was filming at an event this morning and then this happened, a Lamborghini Huracan Performante launch control as the driver leaves the event, loses control and very nearly hit oncoming traffic to end up crashing into a tree.'
Also read: Horrifying! Drunk husband tests his wife's love by standing in middle of busy road; what happens next will haunt you!