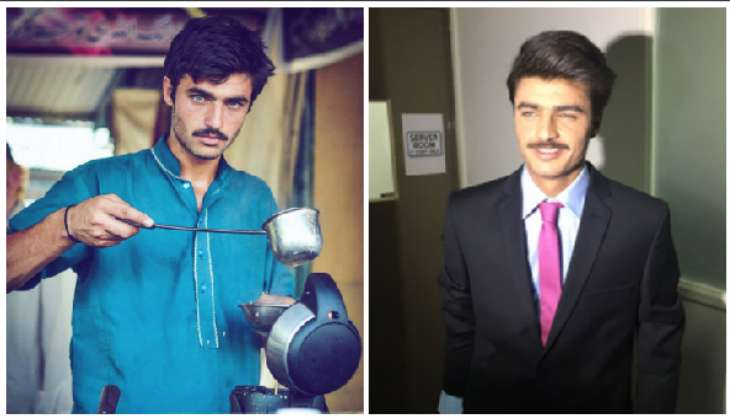 When Arshad Khan, a tea-seller in Islamabad's Peshawar More, reported to his workplace on 15 October, he had no idea why media personnel were thronging the place, eager to talk to him.
Well, it is all because on 14 October, Pakistani photographer Jiah Ali took to Instagram to post a photo of Arshad, whose piercing stare and steely blue eyes would make him an internet sensation overnight.
Over the next few days, the #ChaiWala took over the internet. While some chose to objectify and drool over the handsome tea-seller from Pakistan, others decided to mock the trend all together.
On 18 October, Arshad bagged a modelling contract with an online retail store in Pakistan, after a few whirlwind days of television appearances and all the attention that comes with overnight stardom.
Chaiwala in a suit - at the studio of a 92 TV channel "He was better beard" My personal Thoughts 😁😁🇵🇰🇵🇰😁#ChaiWala pic.twitter.com/jll0L0Pt5W

— Breaking News Alerts (@salmanzit) October 18, 2016
The #Pakistani #Chaiwala now become #Spiderman #Suitwala #Babuji pic.twitter.com/ra29msHyJx

— Majeed Babar (@journalist777) October 19, 2016
While Arshad basks in his new-found limelight, meet the #NaanWala, whose photos have been making the rounds on Twitter.
Presenting #NaanWala XD pic.twitter.com/sKTWrbYaaK

— Raed Sarwar (@RaaedSarwar) October 18, 2016
The man in the photo is Naseer Afridi, one half of the Pakistani music duo Naseer & Shadab.
#tb to eid, Afridi style. #naseerafridi #simpleliving #jackofalltrades pic.twitter.com/nXXJQDLpUk

— Naseer & Shahab (@naseerandshahab) October 17, 2016
From the memes to the outrage to the #Kamwaali hashtag, here's look at the internet meltdown the #Chaiwala triggered. Something tells us the word 'wala' may soon find a place for itself in the Oxford dictionary.
The #KaamWali wave
Arshad Khan's overnight fame is testament to the sheer power of social media. But not everyone is happy. Some Twitter users opined that had the photo been that of a woman, all this attention would have been slammed.
After the #Chaiwala, #KaamWali becomes #Twitter trend sensation https://t.co/0KRjetGh4O pic.twitter.com/xh9U5rnn3A

— The Fallen (@PrimeNewz) October 18, 2016
WORD BY BOY!#ChaiWala pic.twitter.com/Xpx9cZIhOJ

— Muhammad Usman (@rana_usman) October 18, 2016
Girls crush on #ChaiWala is normal, but boys likes a #KaamWali is tharaki,
Kia ye khula tazad nhi?😉😉

— M.WASEEM (@waseem_pdk) October 18, 2016
Girls drool over a #chaiwalla and its normal, Guys like #KaamWali and they are tharki! Wah feminist Behno Wah! #Pakistan #india

— Himanshu (@SpoofyLeaks) October 19, 2016
The trolls
The trolls followed. Because Twitter
The new sensation from Afghanistan #chaiwalla #Chaiwala #KaamWali pic.twitter.com/wm4xXY7c8g

— Deadpool Pakistani (@DeadpoolPak) October 19, 2016
You vs the guy she tells you not to worry about #ChaiWala pic.twitter.com/0AoIxP79Iy

— Bilal Qaiserani (@qbaloch13) October 17, 2016
All this fuss over the #ChaiWala
Calm down, all everyone's gonna get is their pampered phuppho ka beta who never made tea in his life

— Maھa (@NoWonder_Woman) October 17, 2016
Isiliye Larkon ko ghar ka kaam karna chahiye, kya pata kab koi DSLR se aap ki photo lekar, photoshop kar ke aap ko famous bana de #ChaiWala

— Zahraa (@KhalfanZk) October 18, 2016
#Chaiwala vs #Plasticwala pic.twitter.com/bZO057i37l

— Jimmy Afridi (@jimmyafridi) October 19, 2016
After #ChaiWala here i present you doodh wala on his way dropping his sister to the darzi workshop. pic.twitter.com/Xy0XQSEYD1

— Mr. Chippas 😇 (@Hamxa_Sayys) October 19, 2016
Ina lighter note, even the chai wala story lasted on Internet more than Panama leaks 😂

— Sherry (@CherieDamour_) October 19, 2016