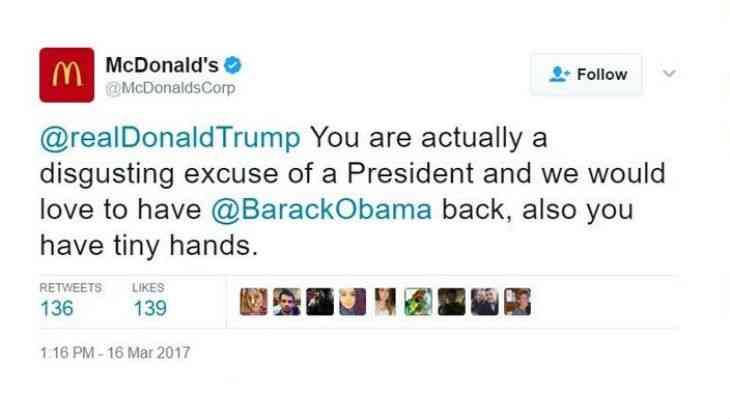 Twitterati on 16 March had a field day as McDonald's Corp tweeted and then deleted a tweet slamming U.S. President Donald Trump. The company later clarified that its official Twitter account was compromised but it didn't stop the Twitter army to have fun with the situation.
"Based on our investigation, we have determined that our Twitter account was hacked by an external source. We took swift action to secure it, and we apologize this tweet was sent through our corporate McDonald's account," McDonald's spokeswoman Terri Hickey said in a statement.
The controversial tweet sent a message calling Donald Trump "a disgusting excuse of a President."
The tweet to Trump from the official account for McDonald's Corporation, a message that has since been deleted but was captured in a screenshot, said it would love to have President Obama back. "Also you have tiny hands," the tweet told Trump.
Here are the Twitter reactions:
Oh McDonalds, I'm so sorry I missed this live. They've already taken it down. 😢 Good thing screen shots live forever. 😂#McDonalds pic.twitter.com/0LCR1PwMfP

— Meta Jane ♥️ (@metajane) March 16, 2017
I'm LOVING it! 😂😂😂 #McDonalds pic.twitter.com/F8zI7ZKq7C

— Carrie (@carinasky40) March 16, 2017
Going to #McDonalds for lunch today pic.twitter.com/aqp7OjnvKU

— pghSkinsFan (@RockyPinnick) March 16, 2017
#McDonalds just lost its best customer? pic.twitter.com/sdKOdibSTf

— Tim Stanley (@timothy_stanley) March 16, 2017
Internet does not forget :D. #McDonalds pic.twitter.com/XUS0KzbPd4

— julien cadot (@juliencdt) March 16, 2017
Hell yeah! Go #McDonalds! Boo #Trump

— Thomas Nunez (@BacardiMan007) March 17, 2017
This makes me want a McChicken even more than I already wanted a McChicken.#mcdonalds #whataboutclownonclowncrime pic.twitter.com/aa9OKLzSRz

— Giselle Marie (@just_Sal_Marie) March 17, 2017