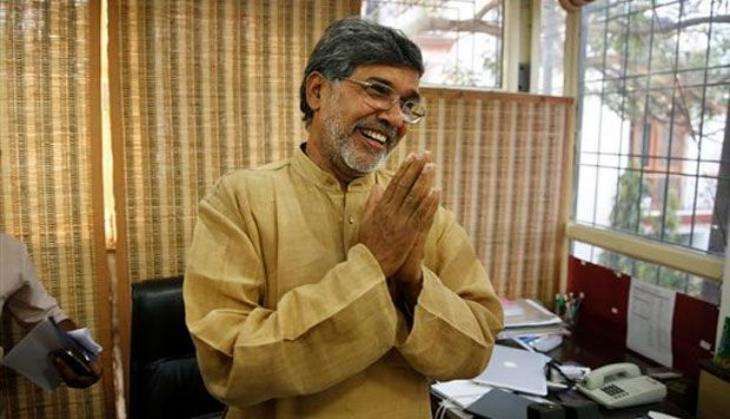 Social activist and Nobel Laureate Kailash Satyarthi's house in Southeast Delhi was burgled and several precious belongings including his Nobel citation were stolen.
According to the media reports, the theft was discovered by the staff of the 63-year-old social activist in the morning.
Police said they received a call about the alleged theft of the citation along with other things after which they reached the spot to get details of the items stolen. Satyarthi is currently abroad to attend the World Summit of Nobel Peace Laureates in America, police added.
An FIR has been registered under section 380, house theft, of the Indian Penal Code.
The child rights activist won the Nobel Peace Prize in 2014. He shared the prize with Pakistan's Malala Yousafzai.
"All scrap dealers and local criminals from the area have been detained. Fingerprints and other evidences have also been recorded from the spot," said a senior police officer.
While the police has launched a manhunt to nab the culprits, Twitter has presented a list of suspects who may have stolen the prestigious award.
Here are the best jokes about the incident:
I didn't knew Modi ji is so desperate to get Nobel Prize. 😂😂😂

— Sarcastic Chhokra ☃ (@ProudIndian66) February 7, 2017
Thief after not finding any cash at #KailashSatyarthi ji's flat must be like gogo "अब आया हूँ तो कुछ न कुछ लेके जाऊँगा". & took the nobel 😂

— यादव जी (@akash15) February 7, 2017
The reason I don't accept awards in the first place. The only thing you can steal from my home is Vodka. #KailashSatyarthi

— Ram Gopal Varma (@RGVzoomined) February 7, 2017
#KailashSatyarthi's #NobelPrize stolen. Police are now inquiring what Award Wapsi Gang was doing at that time.

— IMRAN KHAN (@imranmkkhan) February 7, 2017
Plzz Someone give this thief a *Kejriwal Award*#NobelPrize https://t.co/lEHj5ndNU8

— Sir Rohit Sharma (@SirRohitSharma_) February 7, 2017
Nobel ki jagah Bell Prize hota to Satyarthi kam se kam awaaz se uth to jaata #OkaySorry

— Kalpol (@arallan78) February 7, 2017
Kailash Satyarthi's Nobel Prize replica stolen.

The black market: some idiot is selling a Nobel with "A1 Top Engravers" label at the back.

— Sorabh Pant (@hankypanty) February 7, 2017
Nobel Prize Of #KailashSatyarthi Stolen From His Home At Delhi. Mai Bata Rha Hu Iske Peeche Bhi Modi ji Ka Haath Hai.

— Arvind Kejriwal (@TroluKejri) February 7, 2017
Bhakts must have stolen Nobel Prize to award it to Modi before UP elections

— munier (@munir12e) February 7, 2017
Ye galat strategy hai, agar nobel prize chori karna hai to sath main kailash ji ko bhi uthana chahye tha, akele prize se kya milega? 😂 https://t.co/oMknTAHEdz

— Sumeet Singh (@sumeetsingh1813) February 7, 2017