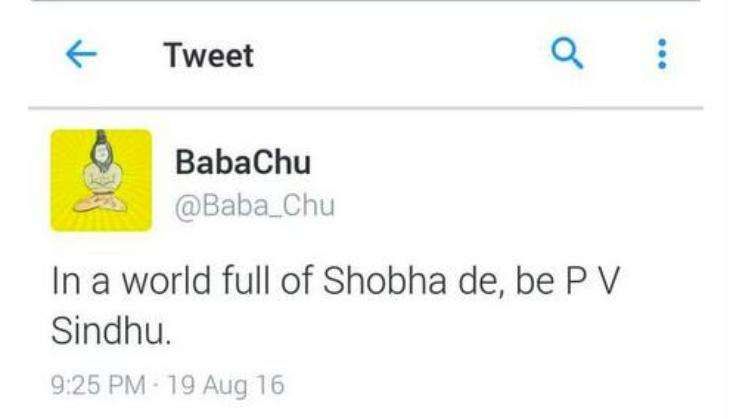 After PV Sindhu created a lifetime of memories for herself and India by earning a silver medal at Rio Olympics, it was Shobhaa De who learnt a lesson that would probably haunt her for the rest of her life and maybe, deter her from tweeting senseless nothings.
Like the rest of India, Shobhaa De was watching PV Sindhu create history in Rio and tweeted about the player. But Twitterati did not let Shobha De redeem herself for the rude things she had tweeted about Indian athletes in Rio a few days back.
Sindhu's multitude of fans, including Amitabh Bachchan criticised Shobhaa De on Twitter.
Immediately after the women's singles badminton finals, Bachchan tweeted:
T 2352 - #PVSindhu ...aapne 'bolne walon' ki bolti bund kar di .. karm bolta hai aur wo kabhi kabhi 'kalam' ko bhi hara deta hai ! BADHAI !!

— Amitabh Bachchan (@SrBachchan) August 18, 2016
T 2352 - #PVSindhu .. aap "khaali haath" nahein, medal leke wapas aa rahein hain .. aur hum aapke saath 'selfie' nikalne chahate hain !!

— Amitabh Bachchan (@SrBachchan) August 18, 2016
After Sindhu won the silver medal Shobhaa De tweeted, "P.V. Sindhu: 24 carat gold!!!! We love you" and a few other tweets but for sure she didn't see this was coming. The country's offended sports lovers proved that they were not willing to let Shobhaa De get away with her armchair commentary.
@DeShobhaa so jao....😊 we don't need any sympathy.😘

— Moody PRINCESS (@Jagat___Janani) August 19, 2016
@DeShobhaa seems like your hangover is over. Sanity returns. Anyways go get a drink and celebrate now. #suckerpunch

— Manish Dhingra (@manishd) August 19, 2016
@DeShobhaa Sudden change of ur thghts depict u r dead scared of trolls..

— AshutoshTripathi BJP (@ashutri74) August 19, 2016
. @DeShobhaa kitni bhi koshish Kar lo ye daag surf excel se bhi nahi mitega

— ट्रोल (@indiantweeter) August 19, 2016
. @DeShobhaa मैडम, आपको बुरा तो नहीं लगा ? उसने अभी तक सेल्फी नहीं ली। ना ही वो खाली हाथ आ रही है। <3 #Rio2016 #Olympics #INd @SrBachchan

— Suraj (@Bycyclekick) August 19, 2016
@DeShobhaa pic.twitter.com/9bneylZLFT

— Havoc (@chintan_adhiya) August 19, 2016
Shobaa De received much anger from Twitterati because of what she had tweeted earlier where she taunted the Indian team for taking only selfies at Rio and not bringing medals. She tweeted, "Goal of Team India at the Olympics: Rio jao. Selfies lo. Khaal haat wapas aao. What a waste of money and opportunity."