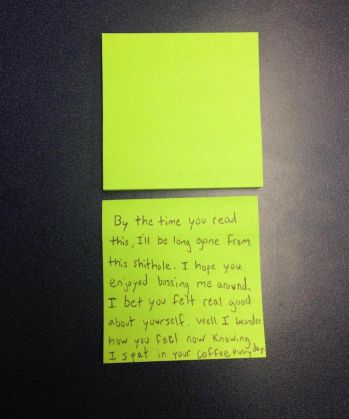 Reddit user Win_in_Roam, who frequently posts photos of funny office situations, recently shared this goodbye note from a disgruntled intern.
It reads: "By the time you read this, I'll be long gone from this shithole. I hope you enjoyed bossing me around. I bet you felt real good about yourself. Well I wonder how you feel now knowing I spat in your coffee every day."
But this is not the first time a fed-up employee has left viral gold [for us internet-dwellers] for the company to worry about. The web is full of funny ways to quit your job. Here are the most inspiring ones:-
01
Develop a custom Mario game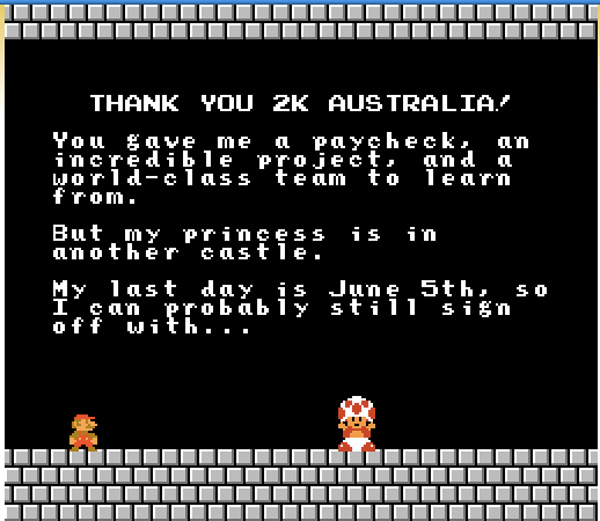 A designer who worked with 2K Games in Australia decided to create a custom Mario game to get his message across. Every time you grab a mushroom or clear a level the message "I QUIT!" dances on the screen.
The designer was actually not very unhappy with his job, and has now developed his own indie-game that can also be played for free.
02
Make a viral video of yourself dancing around your office
Marina Shifrin worked for a Taiwanese animation firm in America. Her job hours were horrible and she had no creative freedom. But she finally made the kind of video she wanted to -- a video of her dancing in her office.
In an interview to Huff-Post, the animator said that she really wanted to make something she's proud of, and not slog in a safe job. "I kind of wanted to just close that door, and go completely creative. I knew that a traditional media would not want to hire me... but it was all in good fun."
Her company actually responded to her video with a more funny one, but all in good spirit.
03
Publicly shame your investors (I am sure you know this one)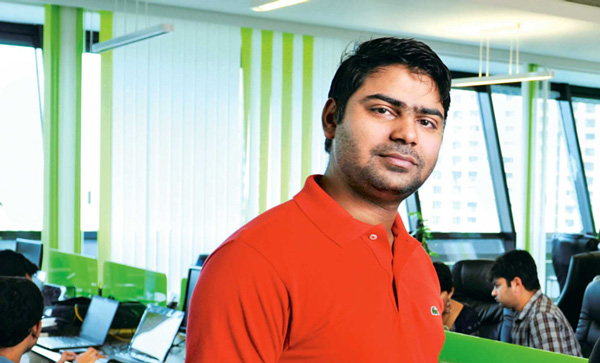 Rahul Yadav started Housing.com, a real-estate website valued at Rs. 1500 crores (2.3 million dollars), but three years into the launch Yadav was unhappy with his investors and quit. 'I don't think you guys are intellectually capable enough to have a sensible discussion,' read his very public resignation letter. Later, Yadav tendered an apology and joined the company again, where he distributed all his shares among the company's 2251 employees, bashed the investors again, picked on other CEOs, and was ultimately fired.
04
Go bananas, quite literally!
If your job is driving you crazy this is the best way to handle it - dress up as banana, hire a mariachi band, and walk out with style.
Facing your boss and giving her a piece of your mind can be tricky, but if you do it with enough sass then maybe the internet will love you.