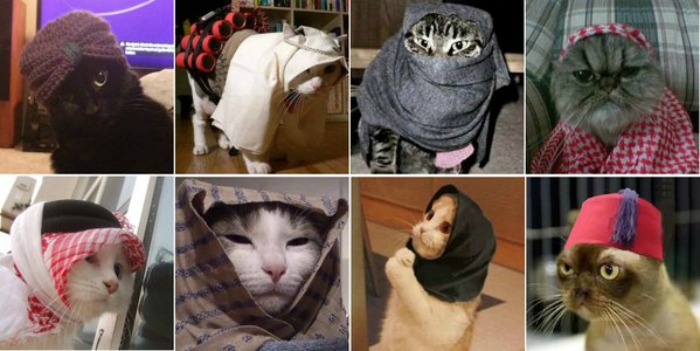 Brussels has been on lockdown for three days now. It is believed that Salah Abdeslam, a terrorist wanted in connection with the 13 November #ParisAttacks is currently hiding in the Belgian capital.
With the city on high alert, cops are conducting systematic covert sweeps to find Abdesalam. The police has conducted 24 raids and 21 arrests so far, amidst a growing fear of a terror attack. People were asked to stay indoors, keep away from windows, and were asked to maintain a radio silence on social media about the anti-terror operations to avoid tipping off terrorists. So what did Brussels do? It flooded the internet with 1,95,000 cat memes to draw attention away from the movements of the city's men in uniforms.
#BrusselsLockdown What happens when Belgians are asked to stop tweeting about police raids: https://t.co/Skya8yFhh0 pic.twitter.com/v4PBHaYj2S

- TorontoStar (@TorontoStar) November 23, 2015
How's that for being cool? The hashtag #BrusselsLockdown went viral, as the world watched in awe at the brilliant way the Belgians were dealing with terror. To live in a world such as ours, where hate crimes, terrorist attacks and cruelty is almost becoming a way of life, we could all do with a few cat memes. Take a bow, Brussels. More power, peace and love to you.
Don't share info on situation #BrusselsLockdown that may help suspects. Confuse them with #cat pics @lopcute pic.twitter.com/0MlbjgCF4v

- Seimen Burum (@SeimenBurum) November 22, 2015
One more day, friends! #BrusselsLockdown pic.twitter.com/GxnoEFKpw5

- Julia Reda (@Senficon) November 23, 2015
When it's Monday and #BrusselsLockdown pic.twitter.com/b3Tj6Nnto8

- chenling (@chenlingzhang) November 23, 2015
Covert ops. #BrusselsLockdown pic.twitter.com/tGEte4Tlg0

- Julia Reda (@Senficon) November 22, 2015
We will destroy this terrorist organization. #BrusselsLockdown pic.twitter.com/WKY7DbAYyD

- Tiago Silva (@hugotiago_) November 22, 2015
This, dear outsiders, is how we fight terrorism here. They haven't got a chance! We haz kittens! #BrusselsLockdown pic.twitter.com/sdq1MbrKsz

- Gilles Bordelais (@Gilles_PPDE) November 22, 2015
Watching #BrusselsLockdown like pic.twitter.com/WpdKYqtyhs

- ウェンディ. (@WendyDeBruyne) November 22, 2015
#relax, Mes amis #BrusselsLockdown pic.twitter.com/LENxVUnnv9

- JaneAustenMaMaschio (@ExTimUpperClass) November 22, 2015
#Breaking: Leaked photos of #BrusselsLockdown suspects. pic.twitter.com/xNvtNbjzxJ

- Geysar Gurbanov (@geysar) November 22, 2015
BREAKING NEWS : Belgium Police using the new 200mph Hovercat during terrorist operations #BrusselsLockdown pic.twitter.com/MnIpiOZT3x

- Jayce le Satirique (@jaycelight) November 22, 2015