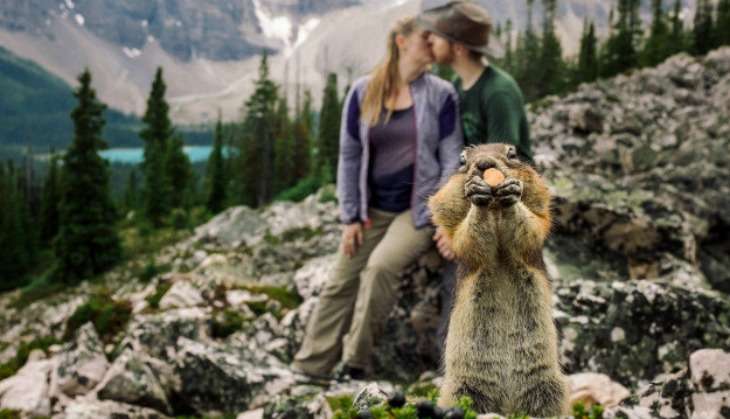 "Hello, soon-to-be-married hoomans, lookie I gots foods," the squirrel probably chirped in its head.
In what must be the most exquisite photobomb since photobombs became a thing, a dapper squirrel overshadowed a happy couple mid-engagement shoot.
When Spencer Taubner and Kelin Flanagan had planned a pre-wedding shoot, they probably didn't expect to go viral because of a squirrel. The shoot took place in the Canadian Rockies. They had once hoped to reach Circue Peak for the photo shoot, but bad weather beat them to it. On their way back from the trek, the duo posed for BDFK Photography. Only, the star of the shoot turned out to be a furry-haired rodent.
Talking to Huffpo, the photographer said: "On our way back we saw a nice spot for the photos ― a kind of stony area. When we started shooting, the squirrel showed up."
Apparently, the squirrel was the only one enjoying the bad weather that day and was hunting for stray nuts and food left by hitchhikers.
The photo has now gone viral, as is right, considering this is as awesome as awesome gets.
--
Edited by Abha Srivastava