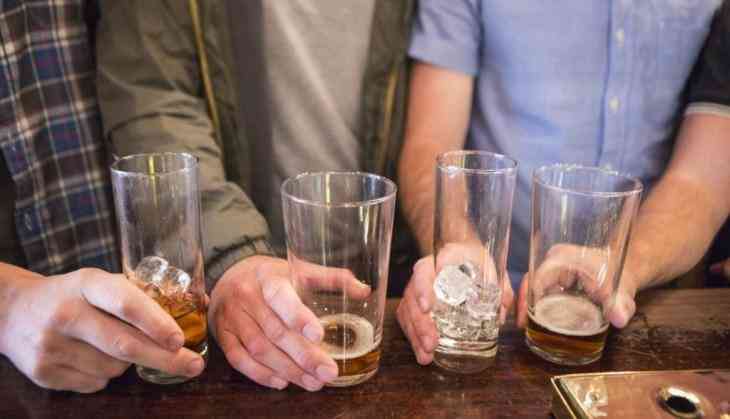 A heartwarming picture has surfaced the Internet in which a grandfather can be seen enjoying with his family members. However, the image has left netizens teary eyes because of the caption that was shared by a grandson.
In the viral picture, the old man was seen enjoying the sip of beer with his sons. The image was shared by Adam Schemm, who lives in Wisconsin shared the image of his grandfather with a caption, " My grandfather passed away today. Last night all he wanted to do was to have one last beer with his sons."
My grandfather passed away today.

Last night all he wanted to do was to have one last beer with his sons. pic.twitter.com/6FnCGtG9zW

— Adam Schemm (@AdamSchemm) November 21, 2019
The image showed Schemm's grandfather was lying on his hospital bed and gave a smiling pose for the camera while enjoying drinks with his four sons. The family has fulfilled the last wish of the elder man of the house.
As per the reports, the heartwrenching image was shared on November 21, 2019, and it has garnered over 13K retweets, over 151k likes and over 2000 comments.
Tweeple have also poured in their condolences to the elderly man and also relate their real-life incidences.
Many users have also shared their same experiences which were also the same as this incident.
Check out how Twitterati reactions:
Did the same thing with my Dad in May. Cold beer and a Yankee game. My condolences pic.twitter.com/aNSULc7AT8

— Robert Dorsch (@RichterSupt) November 22, 2019
Beautiful picture pic.twitter.com/LDyDriQIJy

— SOS TALK (@Arrowhead_Heff) November 22, 2019
My grandmom did the same thing but with shots of Bailey's 😭💓 pic.twitter.com/LjSg757YIn

— gnocchi plate (@brussproutsrock) November 21, 2019
I don't know you... but I felt this. Days before my grandpa passed he let my dad and I know he wanted a cigar and a beer. We made it happen. I'm so sorry for your loss. Your grandpas smile is one for the books! pic.twitter.com/HDv3y2kLeA

— Ben Riggs (@RenBiggs) November 21, 2019
RIP 💐🙏, seriously my grandfather did the same when he was 84yrs old...but he didn't go until 92yrs.... every evening he would say it's his last...and drink full tank.

— Pratap Indian 🇮🇳 (@PratapIndian1) November 22, 2019
I lost my grandpa a year ago. It took all his strength but we got him out to eat the best steak money could buy. Besides steak, all he wanted was a 'Wisconsin' Old Fashion and to try espresso for the first time. He was alive for one more night before he passed 7 days later. pic.twitter.com/eF2HagGcx4

— Michael Smith (@WIbikeGuy) November 22, 2019
Do you have any such emotional story? Share with us ...
Also Read: Ranu Mondal's makeup artist Sandhya shares 'real' makeup photo of singer, says the viral pic was 'fake'