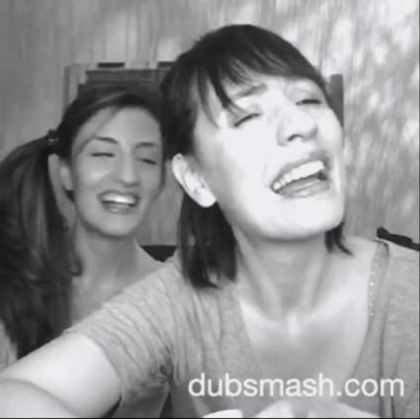 Despite the popularity of the Dubsmash videos posted by Bollywood and South Indian celebrities, two foreigners have taken the internet by storm with their own adaptions of iconic Indian movies.
The two German girls, who call themselves Dubsmash ke Deewane, have posted a series videos on social media. Absolutely smitten by Bollywood, the girls can be seen mouthing hit Bollywood dialogues and songs in the hilarious videos.
Be it Aamir Khan and Salman Khan's popular dialogues from the film "Andaz Apna Apna" or Amitabh Bachchan and Govinda's from "Bade Miyan Chote Miyan", the duo has managed to lip-sync them perfectly and effortlessly.
Going by the usernames "grzmotbilska" and "breshna_h_Khan", the two Germans have been sharing their Dubsmash videos on the Facebook handle "Dubsmash Ke Deewane" for quite some time. Also, the the video compilation of the duo that was shared by the Dubsmash handle on Facebook has garnered over nine lakh views.
Watch the two firangs absolutely killing it in the following Dubsmash videos: