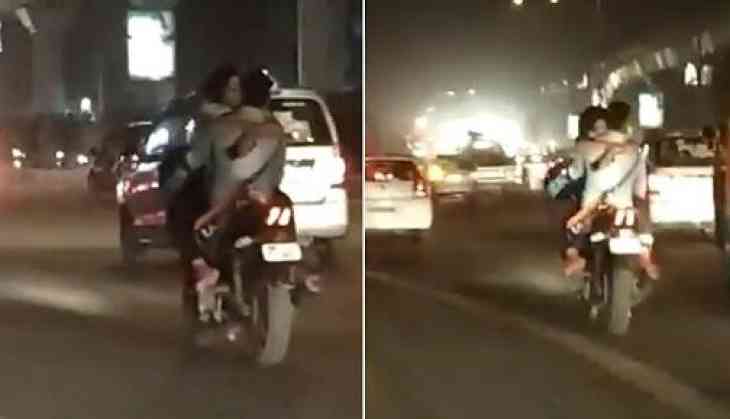 A video of a couple making out in public on a running bike is making rounds on social media. The video shows a young couple engaging in extreme PDA on a bike on Delhi street during peak hour. According to reports, this incident happened on a busy road near New Delhi's Rajouri Garden and Kriti Nagar crossing where the couple were caught on camera by onlooker.
The video has gone viral on social media. In the video, the boy can be seen sitting on the bike while the girl is sitting on the fuel tank of the bike with her legs crossed and are busy making out in full public view. This all happens while man is riding a bike.
The video was also shared on Twitter by HGS Dhaliwal, a police official from Delhi. He captioned the video, "Need for new sections for #MV Act violations!! #Rajouri garden crossing."
Need for new sections for #MV Act violations!! #Rajouri garden crossing. pic.twitter.com/0gn7LsIIYM

— HGS Dhaliwal IPS (@hgsdhaliwalips) May 2, 2019
Soon after it went viral, Twitter flooded with tweeple's comments on it. One of the users asked, where is the helmet, "Driving without helmets and changing lanes without indicator."
In the video, that is shot from inside another vehicle, a man is heard saying that this is the couple's reckless "stunt", saying all limits have been crossed.
Well, this kissing stunt video reminds us of Rani Mukerji and Aamir Khan's popular film 'Ghulam.' In the song 'Jaadu Hai Tera Jaadu', Rani gets up and comes and sits in front of Aamir, on bike's fuel tank, and starts making out with him.