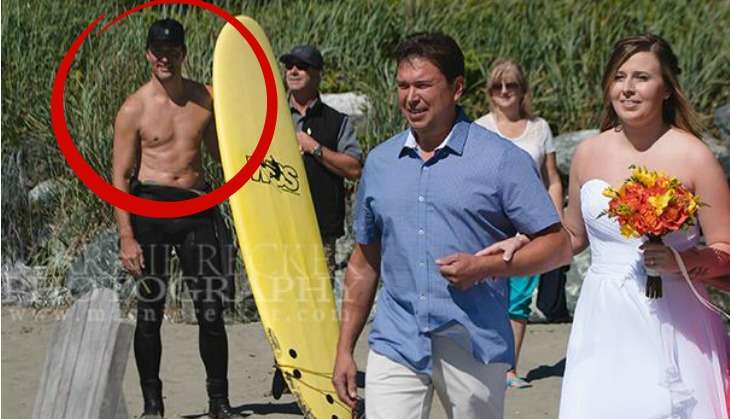 Canadian Prime Minister and photo-op king, Justin Trudeau is in the news again for a reason that's probably making other Heads of State across the world, quite cranky.
Trudeau not only participates in gay pride parades, does yoga better than most humans, but also apparently loves being shirtless. This photo by wedding photographer Marnie Recker captures Canada's most well-loved gift to the world shirtless and in surfing gear.
The sight has made it nearly impossible for people to tear their eyes away from the politician to the happy bride whose wedding he'd crashed. The wedding and the subsequent photo-bombing took place in Tofino, British Columbia.
The Trudeaus are currently on vacation and this wedding caught the Prime Minister off guard on the beach. Recker writes that as the bride walked down the aisle, Justin stepped aside to let her have her moment.
Social media of course is currently in the middle of a meltdown, because #ShirtlessJustin.
"Shirtless Canadian Prime Minister Justin Trudeau accidentally photo bombs beach wedding" 👀😏 pic.twitter.com/WVqOrsf2Y9

— DCHomos (@DCHomos) August 7, 2016
World survey finds everyone is ok w shirtless Justin Trudeau
However, no one wants to see either US candidate for POTUS shirtless #cdnpoli

— Meanwhile in Canada (@MeanwhileinCana) August 7, 2016
CBC just had to sneak in the shirtless Trudeau story at the very end of The National. Get a room already.

— Holly Nicholas (@ilikerox) August 8, 2016
Why is Justin Trudeau constantly shirtless since I left Canada? Did someone lose his luggage too?

— Bruce Arthur (@bruce_arthur) August 7, 2016
Forget Pokémon - I'm on the trail of the shirtless Trudeau! I hear he's popping up everywhere.

— Sparky MacMillan (@SparkyMacMillan) August 8, 2016
@JustinTrudeau can photobomb me shirtless anytime. https://t.co/2s73D6TqHq

— Pinoymommy (@pinoymommy) August 8, 2016
--
Edited by Abha Srivastava