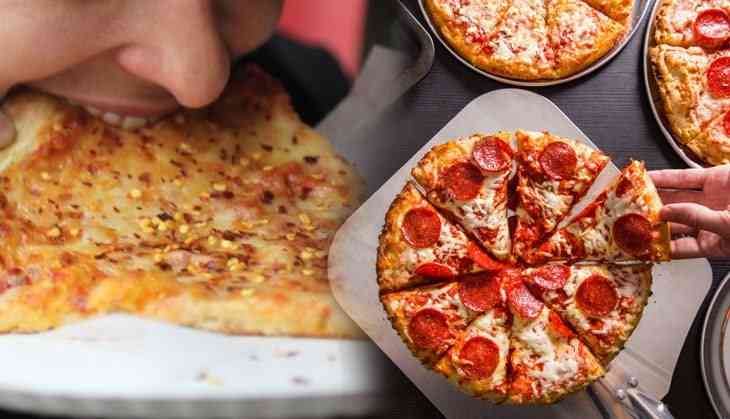 Are you a pizza lover? If yes, then, here is a trick for you which will give you more pizzas in a single order with a calculation.
If you are thinking what calculation then, a tweet has brought the Internet by a storm which will help you in getting more pizzas.
Well, many of us hate Mathematics but this calculation will make your day.
In the viral tweet, it has been explained that how ordering an 18-inch pizza is better than ordering two 12-inch pizzas.
Didn't get? Well, have a look at this tweet which will make you understand.
Check here:
Here's a useful counterintuitive fact: one 18 inch pizza has more 'pizza' than two 12 inch pizzas pic.twitter.com/hePSpG0pJs

— Fermat's Library (@fermatslibrary) January 7, 2019
Understood? The tweet explained that with the calculation of the circle's area, one can reach the conclusion that how 18-inch pizza serves 254 square inches of food. While the 12-inch pizza serves only 226 square inches.
We must say this that these numbers didn't lie.
After understanding this tweet, netizens were amused.
Check out the reactions:
January 7, 2019
The pizza industry has known this for years but kept their studies hidden. Thanks for speaking truth to power, Andy.

— Dale Jackson (@DaleJacksonPI) January 7, 2019
3 x 12 inch pizzas means triple the choice in topics & more pizza than 1 x 18 inch pizza. Gotcha! 👍🏽 pic.twitter.com/l360Q9zs9t

— #NHFTHR 👇🏽 (@NHFTHR) January 7, 2019
Yeah, but the crust is arguably the best part and two 12 inch pizzas have 33.3% more crust than a 18 inch pizza. And now I'm hungry, thanks @fermatslibrary! pic.twitter.com/ZUfGicpcWG

— Tamás Görbe 🇭🇺🇬🇧🇪🇺 (@TamasGorbe) January 7, 2019
And 12 + 12 = 24 which is more than 18. This must be quantum physics. I hear all kinds of strange things happen there.

— Scott Eisenberg (@rscotteisenberg) January 7, 2019
Finally! I can now coherently explain to my 10 year-old why math is important in life: without math, you might unknowingly spend more for less pizza!

— South Jersey Techy (@SJTechy) January 7, 2019
Now, we can hope that you will think before you order a pizza.
Watch Video:
Also read: Sad news! UGC to ban pizza, burger and other junk food in college campuses for a shocking reason