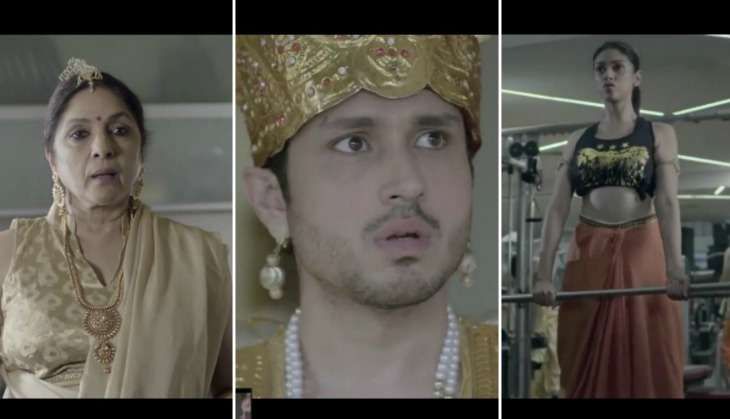 Mama's Boys is a modern take on Mahabharata's basic premise of sharing is caring. Reprised by an ensemble cast of Aditi Rao Hydari (Draupadi), Neena Gupta (Kunti), Amol Parashar (Arjun), Arunodhay Singh (Bhim), Akshay Oberoi (Yudisthir), the late Razak Khan (Shakuni), Vivaan Shah and Jim Sarbh (Nakul and Sahdev). Directed by Delhi Belly writer, Akshat Verma, the 16-minute short film is basically a 'what if' version of the epic.
Only, what's with all the hoo-haa over Draupadi '2.0'? She's finally taking the lemons life (aka Kunti) throws at her, and makes some spectacular lemonade, says the general consensus on Twitter. But what is this 2.0 version doing differently than Draupadi of yore? She's still not rebelling against Kunti's absurd - keh diya toh keh diya. She's still not asking Arjun to grow a pair or a spine or two.
To those saying she's turned her circumstances on its head and is coping in her own way: do remember it is not her own idea that gets the proverbial ball rolling. It is her friend who asks her to do so.
As for the two token gay dudes as fashion designers? Stereotyping much? The only portrayal that seems on point is that of Yudisthir. A gambler - that's what he was in the epic - that's what he is in this video. Neena Gupta as Kunti is delightful, but then when is Neena not a bottle of sunshine?
Watch, before this offends people with the power to ban.