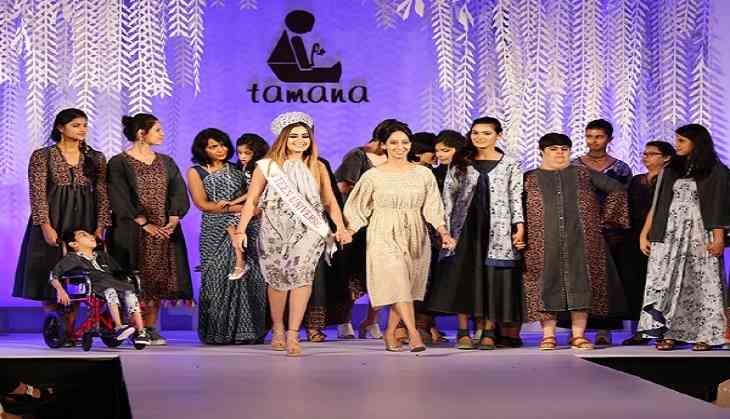 Miss Teen Universe walks ramp in fashion show organized for divyang. (ANI)
A ramp walk for a social cause gives inner peace and a pleasant experience, says India's First Miss Teen Universe Shrishti Kaur.
Shrishti walked the ramp in Ridhi Arora collection during an annual Fashion Show organised by Tamana (a non-profit organisation) with the Fashion Design Council of India (FDCI) recently.
This year, the show was titled 'Infinite Opportunities,' which is an endeavor to add dignity the life of special kids and further sensitise society.
One of the highlights of the event was the ramp walk by special children of Tamana along with the models. In keeping with the theme, of being conscious in every aspect of life, the designers presented a range created out of natural, recycled and upcycled fabrics.
Talking about her experience and social cause, Shrishti said, "I'm engaged with quite a few social causes, and I want to contribute as much as I can. I'm associated with the school of Tamana to serve the social cause; I also run a school 'Aap Ghar,' where we provide free education to underprivileged children. I'm associated with a blind school, and recently I have been chosen as Brand Ambassador for Indian Cancer Society."
"Apart from the social cause I'm looking for opportunities in Bollywood, I have worked on Prime Minister's Make In India Campaign, for which I'll be meeting him in person soon," Shrishti added.
Actor Kriti Sanon, singer Divakar, Australian High Commissioner Harinder Sidhu, FDCI Chairman Sunil Sethi, Union Minister Arun Jaitley's wife Sangeeta Jaitley, were also present in this special show.
-ANI