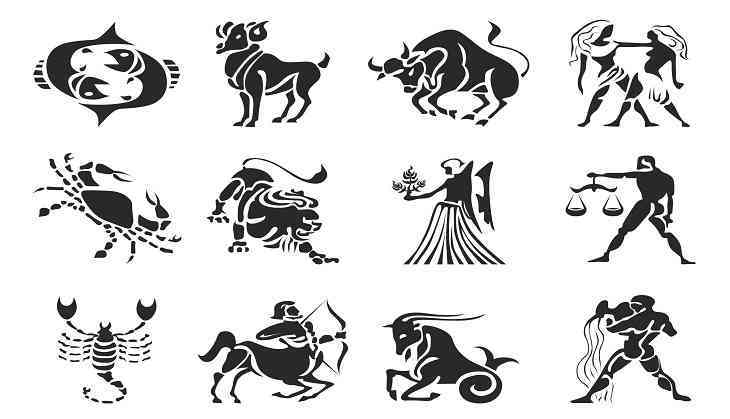 1. ARIES
Today is a day when you will work for the social cause be it helping the poor or planting trees. Also your different outlook towards life and work will make you the star of your workplace. You will be able to achieve what you have been wanting to achieve from quite a long time. You confidence level will be on a high which will impress your seniors.
LUCKY COLOUR- INK BLUE
LUCKY NUMBER- 7
2. TAURUS
Today you are likely to get cheated from a loved one. He might use all your money carelessly and that will make a hole in your pocket because of which you will have to stop spending lavishly. You will loose your heart to a person of the opposite sex.
LUCKY COLOUR- YELLOW
LUCKY NUMBER- 6
3. GEMINI
Today there will be a lot of chaos that will go along with you. But your luck will favour you. Your friends might surprise you and take you out for a party. You will be happy doing very basic favours for your near and dear ones.
LUCKY COLOUR- WHITE
LUCKY NUMBER- 1
4. CANCER
Today your financial gains will make you feel happy today. You will also get a great opportunity to participate in some social functions. All your work will get completed as per schedule. You will be able to channel your energy effectively. The good news for you will be that all that love and attention that you will give will soon be reciprocated.
LUCKY COLOUR- BROWN
LUCKY NUMBER- 3
5. LEO
It's possible that you might feel obliged and tired with your own thinking. But you don't need to feel disturbed about it because it's entirely normal to feel this way. If you are a creative person then pick a paint brush and express your thought and if you are a writer then write down your opinion about whatever is bothering you.
LUCKY COLOUR- RED
LUCKY NUMBER- 4
6. VIRGO
You should meditate today and make peace with your mind. You should solve your issues before they become too big for you to resolve. Take a day off and think about what you want to do in your life. You might feel good after talking with someone over a topic that is bothering you. Get some alone time for yourself and take a long walk in nature.
LUCKY COLOUR- NEON GREEN
LUCKY NUMBER- 8
7. LIBRA
You will have to get more responsible at you workplace because you seniors are keeping a watch on what you are doing. On the personal front, you will also feel that the emotional connect between you and your partner is decreasing and so you will work hard to reduce that gap.
LUCKY COLOUR- CYAN
LUCKY NUMBER- 5
8. SCORPIO
Today your professional advancement is possible, but do not press too hard yet. You will be in the middle of meetings, fights or negotiations, which will hopefully work out favorably for you. This will help you to calm your tension down and you will feel mentally free.
LUCKY COLOUR- MAROON
LUCKY NUMBER- 3
9. SAGITTARIUS
Purchase is on the cards and a home or a vehicle may be on your list. Financial gains and family joys will make this day one to remember. You will be glad because you will get what you have been wanting from quite a long time. Keep yourself available for a phone call or email, as you will enjoy the news they are bringing your way.
LUCKY COLOUR- MAGENTA
LUCKY NUMBER- 7
10. CAPRICORN
Some individuals may not appreciate your loud and assertive manner but you can afford to ignore them because the people who matter will be impressed by your go-getting attitude. Sometimes you have to be ruthless, both with yourself and with other people, and the current cosmic climate will make it easier for you to make the kind of decisions.
LUCKY COLOUR- PINK
LUCKY NUMBER- 1
11. AQUARIUS
Identify your number one ambition and focus on it to the exclusion of everything else. Sit under the stars and enjoy your favourite music, What you want may not be exactly what you need, but you can overcome all the obstacles if you put your heart into it.
LUCKY COLOUR- BROWN
LUCKY NUMBER- 2
12. PISCES
It's perfect for any sort of party or get-together, and there's no doubt that you'll be one of the stars of the show. If you've been wondering whether to take a modest gamble, it could pay off surprisingly well now.
LUCKY COLOUR- BLUE
LUCKY NUMBER- 9