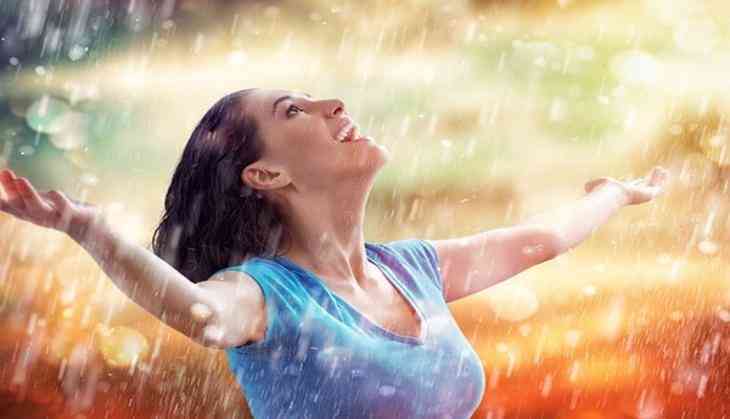 While the rains drench the cities with bursts of delightful weather and give people respite from the scorching heat, the mucky roads gets even muckier, dishevelled looks leave people in quite a dilemma on how to put together the right monsoon wardrobe.
Often, the downpour puts down a person's desire to look chic and stylish throughout the day. It is one of the trickiest seasons to stay stylish. However, dressing sloppy or wearing dull and boring outfits can be further depressing this season.
So, without much ado, it is time to get monsoon ready and bid goodbye to your leather shoes, sheer tops and stilettos. Jazz up your wardrobe with water-resistant sandals, calf-length trousers, bright-coloured tops and colourful umbrellas.
According to Ragini Varma, fashion expert at Fynd, beat the dull and gloomy weather with a pop of colour and bright shades to liven up the atmosphere.
1. Beat the monsoon blues with a pop of colour: Hues of yellow, orange, reds and blues are ruling major runways! The ideal way to beat the dull weather and brighten up an otherwise gloomy day during the monsoon is by adorning a bright-coloured costume. Keep away whites and pastels that can add up on your laundry bag and bill, and flaunt bright colours such as fuschia pinks, sprightly blues, bright yellows and other such happy colours.
2. Make space for light-weight fabrics your wardrobe: Light-weight fabrics such as cotton and synthetic ones are ideal for this season. They can dry out easily and won't cling to your body or require much maintenance. Gabardine, denim and crepe silk are also fabrics that are monsoon friendly. Cotton and silk blended fabrics are a wise choice because stay fresh for long and make for comfortable outfits.
3. Keep it short and smart: With streets full of puddles of water, you don't want to leave your ankles and legs to get damp and wet .Go puddle-stomping in style with a pair of khaki shorts, culottes, denim skirts or calf-length pants/trousers. Invest in short-length dresses, pants and trousers that serve as better alternatives to the wet borders and get rain-ready. Men, flaunt smart shorts or roll up your chinos with flats for a casual and suave look.
4. Tight fitting clothes are a strict no no: This season, do away with your tight jeans and tops. Excessively fitted clothes can cling to your body, make your movements stiff and uncomfortable to walk around with. Choose from light blended fabrics such as polyester or lycra that are wrinkle-free and easy to dry.
5. Pick from a variety of funky footwear: Colorful havaianas or waterproof flats in bright colours can brighten up any gloomy day. Colourful rubber flip flop makes a great choice, as they are easily washable. If you love wearing heels, then resort to smart printed wedges, as they offer better support while you're walking. Do away with your leather footwear as they get spoilt easily. Make sure to get sturdy, water-resistant footwear like gumboots to enjoy the weather completely.
6. Stylish raincoats to brave the rains: Jazz up your monsoon ensemble with the right raincoat or windcheater. Going for a bright pink, yellow or orange raincoat is perfect for an overcast day while browns and beiges are neutral shades that work well on any day. If you are keen to show off your attire, then go for a transparent raincoat in neon colours. In case you are looking at buying a stylish raincoat, the market is flooded with exciting prints or patterns, like floral and checks.
7. Look trendy with faux leather bags: This monsoon, look for faux leather bags that are lightweight and affordable. Pick from waterproof ones that are made of PVC or bicast leather material to look fashionable this season. In case your handbag is not water resistant, then carry vinyl covers to protect your bags.
8. Printed scarves make a perfect substitute to dupattas: This season, save yourself from the trouble of handling a duppatta by switching to printed scarves. Choose from materials like chiffon, mulmul or cotton to pair it with a kurta or a long T-shirt.
-ANI