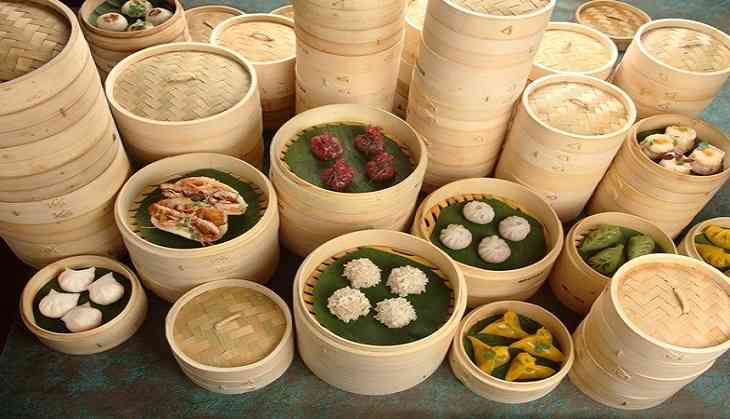 Starting July 7, Dim sum lovers can relish in the flavors of the Orient throughout the monsoon with a hot steaming dim sum line up.
The festival is all for two months, till August 31 and is boasting 40 Dim sums menu to pick from. Each variant is handpicked to tantalise the guest's taste - buds.
Exotic signature preparations like Spicy Broccoli and Water chestnut Dumplings, Mushroom and Cream Cheese Dumplings with Truffle Broth, Hoisin Duck Dumplings, Chicken Pearl Dumplings, Curried Prawns Gua Bao Dumpling, Edamame & Truffle Dumpling, there's plenty to leave you spoilt for choice.
The Festival's extensive menu has vegetarian, non vegetarian as well as vegan dim sums, which are available in sharing baskets with choices of four, six and nine variants.
Speaking about the Festival, Chef Rahul Hajarnavis, Culinary Director, Shiro, said "We at Shiro believe in creating never-had- before experiences. With monsoons doing its magic this season, we thought it was the perfect time to introduce a festival celebrating dim - sums. We have played with our offerings to appease a variety of preferences and design an interesting palate of 40 dim sums."
Adding, "We have experimented with various ingredients and have brought in some brilliant dim sums like Kung pao flavoured dumplings, phoenix eye dumpling, Chicken Pearl dumpling, prawns & Bell Pepper dumplng, xiao long baochicken dumpling- the traditional soup dumpling & more! With traditional Cantonese cuisine, dim sums are enjoyed as a relaxing meal at the end of the day or journey. At Shiro, we want our guests to be a part of this and in the midst of zen-inspired surroundings; we hope to replicate an authentic dimsum fare."
The food menu is intricately paired alongside some unique infused cocktails like Peach Thai Chilli Martini with a tempting combination of fresh peach, Thai chilli, lime juice and vodka, Grapefruit & Elderflower Martini that comes replete with some of the favourite flavours like fresh pink grapefruit juice and home-made Elder flower syrup served in a chilled martini glass, Rosemary & Pomegranate Martini with grenadine, fresh rosemary and pomegranate juice and Vanilla & Sweet Sherry Martini consisting of sherry wine, maple syrup, angostura bitters, vanilla syrup and orange peel.
An interesting twist to the cocktail menu is a special addition of an egg and tea-infused cocktail called Rose in Bloom Martini with Gordon's gin, rose in bloom tea, elderflower syrup, egg white, angostura bitters and rose petals.
The festival, which will be on till August 31, will be held across their outlets in Mumbai and Bengaluru.
-ANI