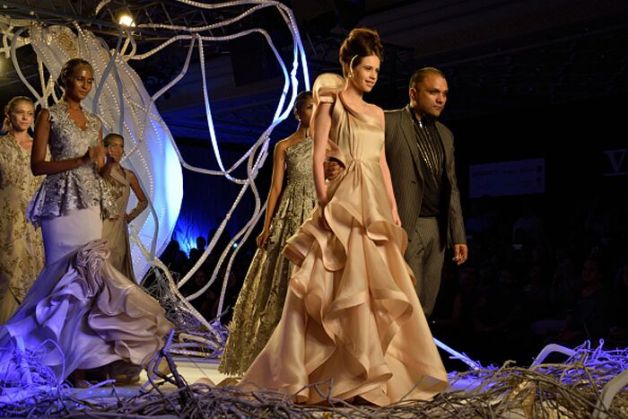 Actress Kalki Koechlin turned showstopper for designer Gaurav Gupta on Day 2 of the ongoing Amazon India Couture Week, 2015. The actress who is known for performances in films like Dev D, Shaitaan and Margarita With A Straw amongst others, was all praises for her contemporaries. "I think Kangana (Ranaut) is very stylish.And Neha Dhupia also has a style sense. I find their style great," Kalki told reporters
Kalki Koechlin's showstopping look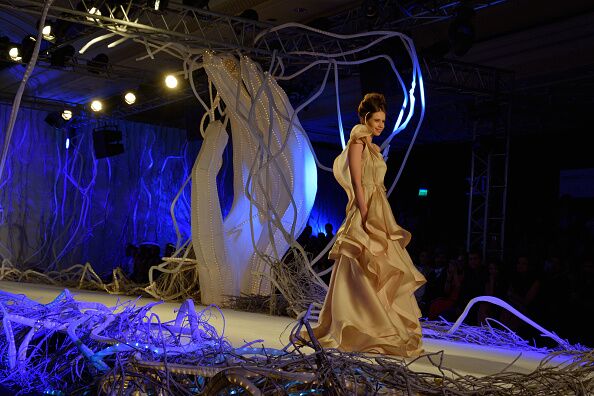 Photo: Photo by Rubina A. Khan/Getty Images
Kalki looked radiant as she walked the ramp in a pink off shoulder gown. With her hair tied in a bun and gold metal pieces adorning her ears, the actress glowed in her understated ensemble.
"I feel like a princess in this outfit. It is enchanting. It is a gorgeous dress, and very different from what Gaurav usually makes. It has a fairytale elfin vibe to it. He is very good at using his imagination," said the actress.
Gaurav Gupta's collection at AICW 2015
Gaurav said his collection, titled 'Silt and Cipher', was closest to his personal style. "Silt is sand and cipher means zero. It started with thoughts of enchanted forests, the fantasy world I live in. Kalki is my fairy. I was being much more true to myself this time," Gaurav said. The collection saw the designer experimenting with the cinched waist, a departure from his usual almost mermaid-like look.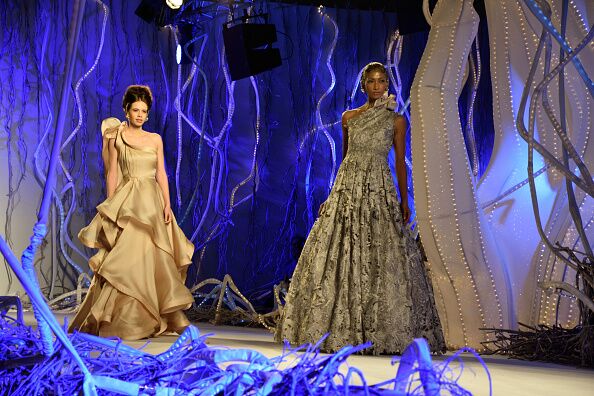 Photo: Photo by Rubina A. Khan/Getty Images
The models walked the ramp in gowns, saree lehengas, saree gowns and skirts. Structure and drape were juxtaposed, and the colours were oil blue, glare silver, withered peach, just nude and tipsy gold.
The models had their hair coloured bronze and wore peculiar gold ear pieces. "We worked a lot on this look, redoing it twice or thrice to get it right. It really adds to the collection's other-worldly charm," said the designer.
Why Kalki Koechlin walked as showstopper for Gupta?
Gaurav said Kalki's multi-faceted nature is attractive. "Kalki was in my first couture campaign last year. And in 2013 as well. She is my perfect muse. She is playful, mystical and multi-faceted. That's what enchants me," he said.
with inputs from PTI