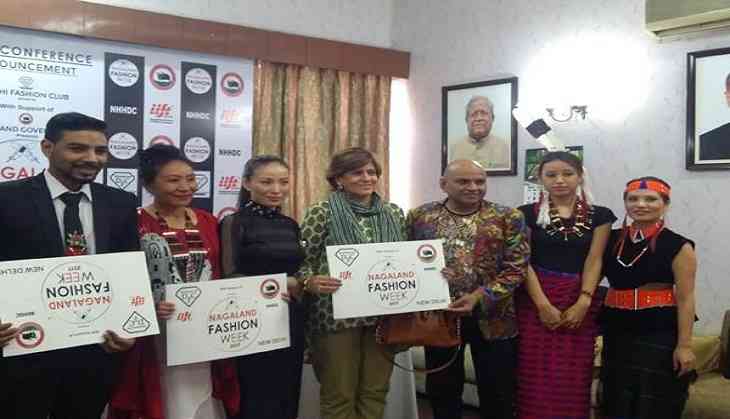 In a bid to promote the Naga culture and to revive the indigenous textile, handicrafts and handlooms, the first ever Nagaland Fashion Week 2017 has been officially announced here at Nagaland house.
The event is expected to be held at Indira Gandhi National Centre for the Arts in the month of August or September.
Considered as one of the most stylish region in the country, northeast India is known for their unbridled fashion and style statements.
Organized by Delhi Fashion Club, in association with Nagaland Handloom and handicraft Corporation Ltd., the event aims to celebrate culture, textile and tourism internationally with participation of not only from Nagaland, but rest of the country and the world, by giving the local talents like models, designers and indigenous weavers to an international exposure.
Nagaland Fashion Week in Delhi is also an initiative to creating employment hubs for job, weaning away the misguided youths, bridging and giving opportunity to the north east of India and to empower women.
"Nagaland Fashion Week is mainly for celebrating culture, textile and tourism internationally with an involvement of designers from worldwide. We want to promote culture of Nagaland and northeast and we believe that Nagaland is not just a land of festivals but it's a land of talents. So we want to utilize that talents and give them opportunities, create jobs for them. So our main focus is women and youth towards self employment," said Harshit Dhingam, chairman, Delhi Fashion Club.
Speaking at the press conference, officials from the Nagaland government said, "We are happy to support this Nobel cause that is not about creating opportunities for youth and women but also creating awareness about culture and textile along with boosting various industry from tourism, handlooms, handicrafts and sericulture. The concept by Delhi Fashion club for creating opportunities and promote self-employment among youth is remarkable".
"People from Nagaland are inborn fashion models, singers, instrumentalists and these are part of your culture. You don't need to learn musical instruments; it just flows in your bloodline. So with this kind of efforts, we will be able to project the image of the state in a very positive manner and this will integrate the state in the mainstream of the country," added Jyoti Kailash, Resident Commissioner, Nagaland House, New Delhi.
The acclaimed International Institute of Fashion Technology, IIFT has also assured to support and associate the initiative.
Ratnadeep Lal, Chairman, IIFT added "We are happy to be part of organizing team of Nagaland Fashion Week that aims to empower youth and women; we would be giving our contribution by imparting education among the youth of Nagaland".
"I am so happy to learn about the upcoming Nagaland Fashion Week in New Delhi because it blended with the cultural things. Because your culture and tradition is your identity and you are the ambassador of fashion for your community. So anything to do with cultural tradition blending with modern fashion is much appreciated and must acknowledge the efforts," added Linda Newmai, Social Worker and CBFC member.
The upcoming Nagaland Fashion Week is aiming to showcase more than 30 designers from the region as well as other parts of the country apart from Bangladesh, Sri-lanka, Bhutan, Nepal, UK or Europe are expecting
To encourage a cross-cultural exchange of designer talent between different countries and boosting the fashion trade, the organizers have also tied up with Africa Fashion Week-London as a country partner.
-ANI