Will the real Shekhar Kapur please start tweeting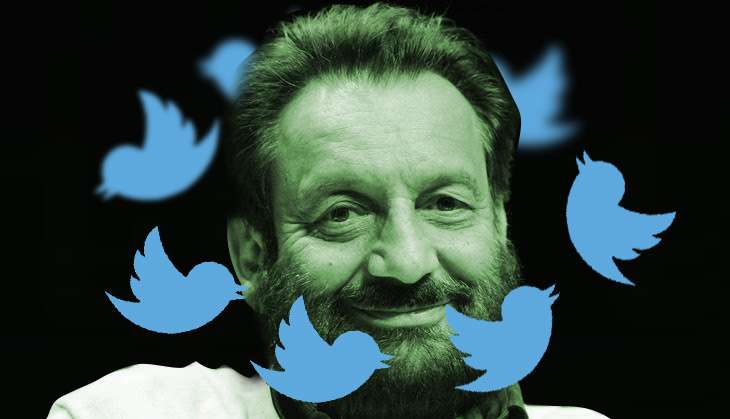 Something is up with Shekhar Kapur. Yes - the talented film director with a brilliant filmography. Remember "Masoom"? Remember "Mr India"? The first we never tire of watching thanks to its timeless appeal. The second we keep going back to - secretly wishing for a sequel.
In his journey from being a chartered accountant to a model to an actor and eventually a director, Kapur has picked up every award that counts - from the Padma Shri to the National Film Awards. He even won a BAFTA award for "Elizabeth".
He has navigated difficult territory with his controversial film "Bandit Queen", a biographical film on the life of Phoolan Devi. And the world looks forward to seeing "Paani" - the film he announced he was making at the 63rd Cannes Film Festival in 2010.
So why then does the persona of one of intelligent India's favourite directors not reflect on his Twitter timeline? Why is the greatness of Shekhar Kapur getting lost on Twitter? Is Kapur himself responsible for his downfall? Is he damaging his reputation by over-tweeting? By trying to pass off the mundane as surreal?
Perhaps.
Here's looking at his tweets. In his attempts to be inspiring, deep and wise through, as he calls them, "lessons in life", he ends up sounding like the bottom strata of motivational internet memes:
Lessons of Life : Life exists beyond the confines of the box called normalcy.

— Shekhar Kapur (@shekharkapur) February 9, 2016
Lessons of Life : The fear of rejection leaves you with too many excuses to dislike and reject those that extend their hands in love.

— Shekhar Kapur (@shekharkapur) March 29, 2016
Lessons of Life : How would you know you cant swim without have been in the water? How would you know you cant trust till you do ?

— Shekhar Kapur (@shekharkapur) March 25, 2016
Lessons of Life : ur perception of urself is nothin but a story u tell urself. Of urself. Or do u allow others 2 dominate ur story of urself

— Shekhar Kapur (@shekharkapur) June 2, 2016
Like a raging
forest fire
my very being
burns

reduced to ashes

so I can be
born again

resurrected

in love
for you

— Shekhar Kapur (@shekharkapur) June 2, 2016
And then, to maintain his image as a connoisseur of the arts, there's his 'poetry':
Hi love
where have u been?
I've been right here
where?
Open ur eyes
and ur heart
now u see me?
Oh, there u are!
Its where I have always been

— Shekhar Kapur (@shekharkapur) April 15, 2016
What worth is love
if it can be measured?
What worth is time
if it can be measured?
what worth is hope
if it can be measured?
or you
or me

— Shekhar Kapur (@shekharkapur) March 31, 2016
the sun rose this morning
and the wind gently grazed my cheek
my heart beat like a child's

I looked out
it was dark

I was thinking
of you

— Shekhar Kapur (@shekharkapur) March 25, 2016
So many mirror reflections
of my self
thousands
millions
even more

none that defines me
or confines me
for I am
Undefinable
Unconfinable

— Shekhar Kapur (@shekharkapur) March 27, 2016
And now
She finally said
Now tell me about urself

Me?
I said

(Phew)

I am terribly ordinary
but a complete mystery
to myself

— Shekhar Kapur (@shekharkapur) June 8, 2016
What is even more annoying is that Kapur never fails to retweet people who endorse his "lessons of life" or his poetry as if it vindicates his vacuousness.
@shekharkapur your words -amazes, inspires, connects.. Every single time

— Priya Narayanan (@priya_narayanan) June 7, 2016
Where is the nuance, drama, art or any of the things we associate with Kapur? Why is Kapur hellbent on unmaking himself? Is he catering to the lowest common denominator of internet intelligence? And if so, why? Kapur has never really pandered with his movies, choosing to make people think instead. Has he, like so many bands and artists before him, opted to dumb things down to widen his audience? From being one of the most pioneering filmmakers in the country, is he now trying to cast himself in the mould of the Chetan Bhagats of the world?
We can only hope not.
Dear Mr Kapur, please focus on the movies and treat us to the real you. Be the man who made women swoon. Be the man who taught India that relationships cannot be simplistic and one-dimensional. Be the man that you are, and not the silly twitter caricature you've become.