This pregnant woman's viral pole dancing video will make your day; Watch inside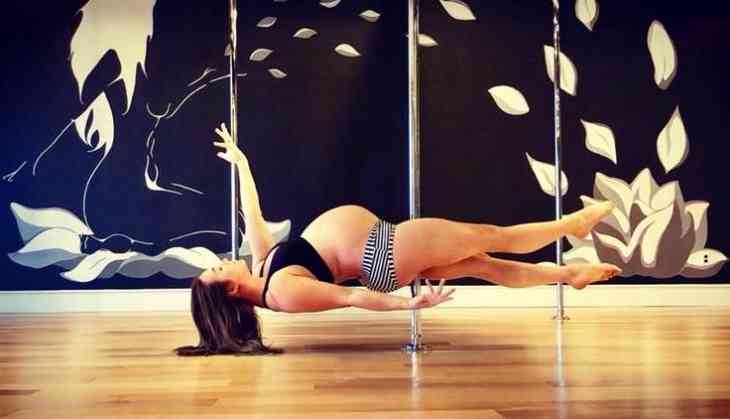 ( Allison Sipes/Facebook)
It is a known fact that women across the globe are subject to various stereotypes, depending on their ethnicity and national cultures. A simple question How a woman is supposed to look? gives rises to a multitude more. All ultimately leading towards her questioning her beauty. Add to this the conventional definition of beauty society has imposed on us.
First came the thigh gap, then the hip dips and then came the arm vagina (yes, sadly it did) and now thighbrow has taken over Instagramers. It seems like terms like these were invented to body-shame women into thinking their physical appearance doesn't measure up. Things get worse for pregnant women who have to face the brunt of our stereotypical society post delivery.
Challenging just that, real women are embracing their cellulite, stretch marks, bulges, loose skin and other so-called physical flaws. Such is the case with Allison Sipes, a nine-month pregnant woman from Florida who's viral video has earned her a lot of respect and applause with her splendid pole-dancing moves.
Yes, you heard that right! With 13 years of experience Allison, who is a trained dancer and instructor, has continued to pole dance even through her pregnancy.
Due to give birth to her daughter in April Allison says, "I'm only performing those tricks that do not put pressure on my growing body. After my sixth month, the extra weight and weight displacement began to make pole dancing challenging strength wise."
So instead of posting a baby bumps photos on Instagram, Allison decided to upload her pole-dancing videos. Her decision to continue with her hobby came after consulting her doctors, of course, who said that as long as she felt good, she could continue doing it.
Fighting off the parameters used to define a woman's beauty and putting the patriarchal society's norms to rest, Allison is winning our hearts.