Prosthetic life: Meet the vet who has magic & not money on his mind
In a world populated with veterinarians who only seem to see a pot of gold in an animal's suffering, Tapesh Mathur stands out. Though he shouldn't. Because he is a veterinarian with the animal husbandry department in Rajasthan, because extra hours of work do not translate into extra money for him.
But he does without quite wearing the crown of an animal lover.
"I am not an animal lover. I care about humanity at large," Mathur's argument is emphatic, though hard to digest in a world littered with armchair animal activists - mostly on Facebook and Twitter - who are so overwhelmed with pain that they are subsequently unable to move a finger to help the animal in distress.
The misery of animals, mostly cattle hit on the highways by callous humans, started affecting Mathur around a decade ago. He wanted to intervene and change their fate. The fate of cows and buffaloes who were dependent on humans, the same species that had hit them, for food, and for everything else.
He started making trips to labs in and around Jaipur which are known for making the famous Jaipur foot. His logic was simple - if the prosthetic leg can change the life of a human, then why not a cow?
Of course, his idea was rubbished by absolutely everyone he met. But this only steeled his resolve.
"I feel the kind of misery we see in animals, the amputations, is triggered by humans. Therefore, I think it is our duty to address the issue, redress their suffering," Mathur told Catch in a phone interview.
Two years ago, he was transferred to an animal rehabilitation centre in Jaipur where there were hundreds of disabled animals. He could not take his mind off the animals because this time they didn't go back with their owners. They were there, in front of his eyes, looking at him helplessly. Waiting for someone to pass them a bowl of water, waiting for someone to clean them up.
His mind raced back to the prosthetic leg solution. And then he had to amputate the leg of a playful calf called Krishna. He decided to make a leg for her, give her a new lease of life.
As he moulded the leg with plaster of Paris on the terrace of his home, his wife, Shipra wondered what he was up to. But Mathur did not spill the beans. Not till after he had fitted the leg on Krishna and Krishna not just walked, but ran with her new leg excitedly.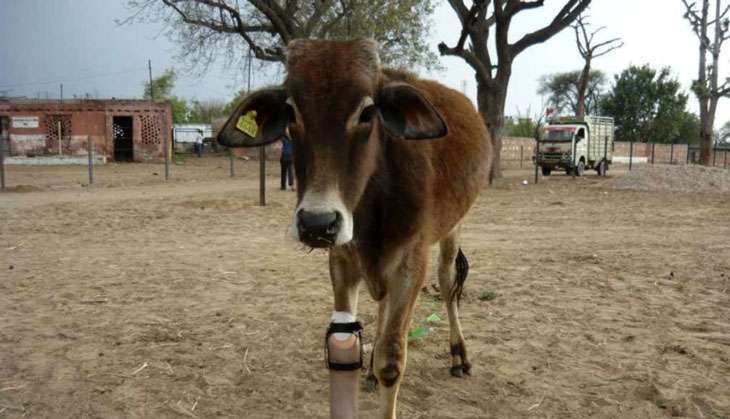 Krishna, the calf, the prosthetic limb was named after
Magical Mathur
The excitement was contagious. Mathur shared the news with Shipra. The Krishna Limb, as it came to be called thereafter, became the toast of Jaipur. Mathur fielded inquiry after inquiry. But he wanted to go easy because there was no infrastructure in place.
"I had to search for material to make the limbs. The Jaipur foot industry is hugely monopolised, theirs is a business model. Nobody was willing to lend us a sheet, they wanted us to place bulk orders worth a couple of lakh rupees... we didn't have that kind of money..."
"We sourced the material from Mumbai - paying Rs 80,000 for a dozen sheets. One limb cost us about Rs 5,000-6,000. Gradually people opened their doors, a lab even let us mould legs. We still don't have the moulding machine, and still, we can't afford it, but the lab has allowed us to use their facility till we have a system in place."
Mathur insists this is not magic, although the results look magical to most because no one in India had thought about this.
"This procedure is not easy even on humans. But we had to do this to lessen the misery of animals. To given them dignity," he insists.
Though the focus has largely been on cattle, a couple of dogs, and a horse owe their new limbs to Mathur.
The first inquiry for a dog came from the President's House a couple of years ago. The dog came with his parents all the way to Jaipur, but Mathur couldn't help it much because its legs were very tiny.
The first canine to benefit from Mathur's discovery was a sniffer dog from Hyderabad. The inquiries have been unending ever since. Often Mathur travels to remote areas to see the animals, often Mathur gets taken for a ride.
"We have been rather skeptical. That's why we started doing this for free, so that people understand how difficult it is for an animal to deal with disability, an animal who can't voice his miseries."
Mathur explains that a veterinarian's role is doubly challenging because the animal cannot voice its level of comfort, it cannot be counselled to keep the foot on, or to take it off.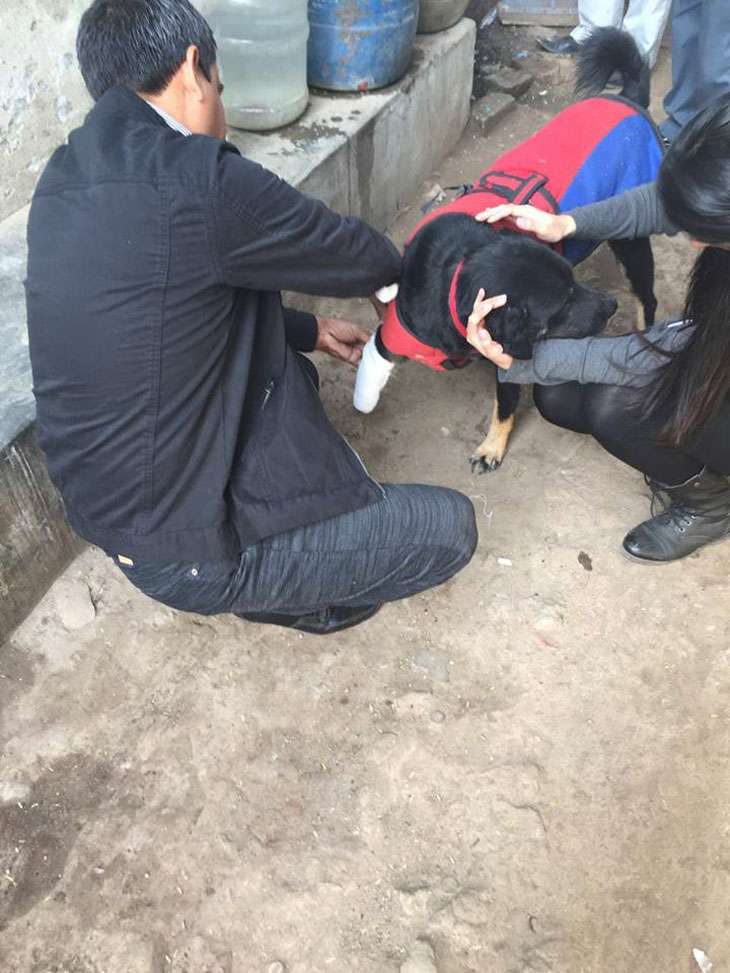 Tapesh Mathur installs a prosthetic leg on Sheru
Funding Woes
Mathur and his wife Shipra decided to set aside 10 percent of their salaries for this cause. So far, they have been resisting donations - not that they are not open to funding. But they are looking at the right kind of funding that encourages research and takes their cause forward.
"We are reluctant to accept financial help. We don't want anyone to do this for publicity."
He cites the example of a certain district in Madhya Pradesh where the collector invited him and asked him to install a prosthetic leg on all the disabled cows. This announcement made for good press, but Mathur only worked on half a dozen cows and gave up.
"I have to know who will take care of the animal after the leg is installed? I have to ensure that the animal has access to a physiotherapist," he says.
He points out to another case where he was invited to help disabled cows and later he learnt there was an advertisement on TV asking people to pay up a hefty sum for cow treatment.
Therefore, Mathur would rather go easy on his magic. Giving dignity to one cow at a time, without compromising his own.