Power of the queef - how comedian Radhika Vaz is killing at feminism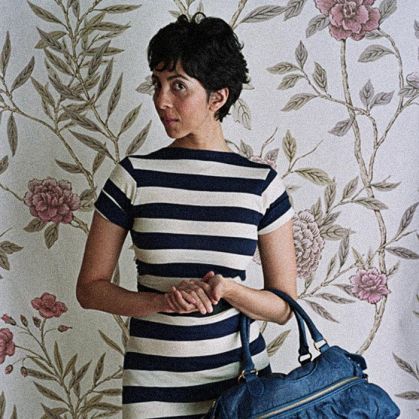 "Recently, my friend Kat told me about her grandma in Germany. Apparently, the woman queefs every time she stands up. All that tells me is that women truly stop caring about what they look or sound like as they get older."
"And that", Radhika Vaz adds ominously in her book "is something to look forward to."
I'm sitting across from Vaz, a 42-year-old female comedian, at a coffee shop in Khan market, Delhi. She's just done a series of book signings at one too many bookshops, (her book, Unladylike, released last month.) And, to the bemusement of onlookers, we're both trying out different ways to sit.
Also read: After 59 years, Mattel gets it right: the new Barbie ad is awesome
We try different permutations. I cross my ankles and fold my hands on my lap. Then place one knee on top of another. She tells me that's bad for my back. She sits up straight, then deliberately sits with her legs apart.
"It's comfortable to sit like a guy."
Back Straight. Ankles together.
Then she adds, "Can you imagine we live in a world where, how a woman sits is sexualised? How a woman sits!"
It's a thought so utterly obvious, and yet one that never occurred to me.
How a woman rests her buttocks and legs - a crucial and entirely asexual activity - is subject to sexualisation. She must always sit with her knees together - so that the hyper-sexual content between her thighs remains carefully hidden from view.
Oh, and she must also be able to ensure that her bra straps don't show, because obviously the visible bra strap is an unambiguous sexual invitation.
She must be careful that the shape of her nipples remain hidden. She must ensure that the cleavage between her breasts is a healthy inch below her neckline. Because, dammit, not just her breasts, but the space between them has been sexualised too.
How she dances is sexualised. As is what song she dances to. How she eats a banana is sexualised. Her underwear, a garment with asexual logistical benefits, is sexualised. Her make-up is sexualised. Her hair is sexualised. Her fingernails are sexualised. Sometimes, her toenails too.
And because almost every female activity - ranging from how she sits to how she picks up a fallen pen- is so deeply marked with sexual connotations, she must always be careful.
Because heaven knows, she doesn't want to give out the wrong signal.
Corsets and bound feet
So she tightens her bra straps till she can't breath. She sits uncomfortably with her knees locked into position. She dances conservatively. She doesn't make eye contact while eating a banana. She chooses a French manicure over red nail paint. She covers her cleavage with her hand when she bends down to pick up a pen. And she never, ever, ever, talks about masturbating.
These are crosses only women must bear. And where does all this over-sexualization take us? To insecurity. To a heightened degree of self-awareness. To a constant state of being uncomfortable. Always feeling watched. Always careful.
And that's all the burden, Radhika Vaz is trying to shake off.
And how she does it is sheer genius.
The Power of the Vaginal Fart
Radhika Vaz makes jokes about the queef (for the uninitiated, that's emission of air through the vaginal tract). She talks about underarm hair. She talks about pubic hair. She even talks about nipple hair.
She talks about the time she got soaked in the rain but had no breasts to show.
"My breasts were too small to wear a bra. So I wore a banyan. A VIP Banyan to be exact. My mother had even embroidered 'R. Vaz' on it. And when we got wet in our white uniforms, everyone could see the bold R. Vaz, and a visible lack of breasts underneath."
Also read: Porn-coms are Ekta Kapoor's idea of feminism. That's a big, big problem
So she performed exercises most teenage girls did. She flapped her arms wildly while singing 'I must, I must, increase my bust'- to no avail.
Her best friend Anuli eventually gifted her a bra she herself had outgrown - a glamorous Marks and Spencers padded one. Vaz was so delighted by it that she wore it everyday. Finally liberated from the VIP banyan, she even made a concerted effort to ensure her bra straps would show.
"Those bra straps were a badge of honour."
Eventually, someone warned her that the 'I must, I must, increase my bust' exercises had the opposite effect. They possibly made the breasts smaller.
"And if they were going to get any smaller, I was going to have concave holes in my back."
Flaunting chests like Baba Ramdev
It's not just for comedic effect that Vaz tells these stories. She doesn't talk about women farting or breast-less teenagers only because it's funny. Unbeknownst to her audience, Vaz is deliberately, patiently, doing something else entirely.
She's providing an alternative narrative of the female form.
Also read: Can feminism learn anything from Nicki Minaj? Yes, says Mona Eltahawy
The narrative of a burping, farting woman with hair on her underarms and around her genitals. The narrative of the desperate woman. The narrative of a girl who giggles at porn. Who reads the "sex scenes" in Sidney Sheldon books and takes it to school to show her friends.
Vaz is stripping the overbearing sexuality from sex. She's giving an alternate notion of what the female body can do. One where a woman's legs aren't just her legs of the Malaika Arora genre; but clumsy limbs that take her places and get scratched on the sports field.
She's making the bra less sexy. She's making the vagina less tantalising. She's working hard to grant women the privilege and choice of being un-pretty, un-beautiful, sweaty, gross and sometimes, downright disgusting.
Biswa Kalyan Rath, a fellow-comedian, has a set where he confidently says, "I'm not creepy, I'm just ugly."
Radhika Vaz is working towards a day a woman can choose to say the same thing, with just as much ease.
She's rejecting every trope that insists a woman must be a lady. So that you, her audience, may one day wear a summer dress without a bra when it's hot. So that you may sit how you like, exhibit whatever happens to fall out, dance gawkily or sexily, eat a banana with flourish and maybe one day, no one will care.
Also read: #AskMoreofHer: why red carpet feminism in Hollywood needs to step up its game