Nirbhaya changed nothing. Delhi continues to be the rape Capital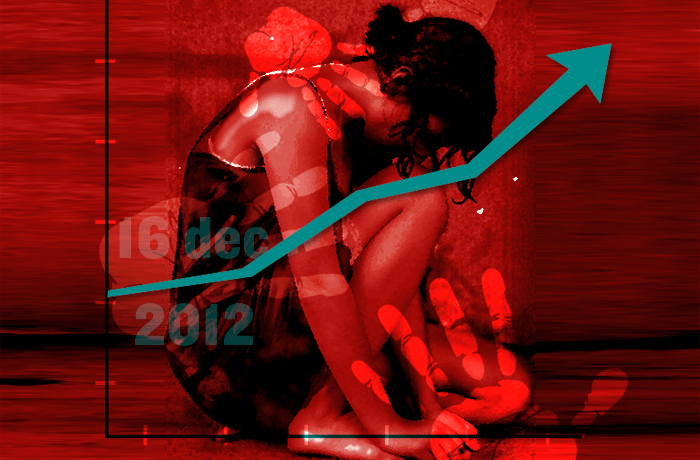 Recounting
On 16 Dec 2012, Jyoti Singh was raped so violently in a moving bus, she died
This incident led to furious protest that shook the Capital
What now
Delhi continues to be India\'s rape capital
Politicians and police keep passing the buck
More in story
What do the different stakeholders say
Recounting some of the most sordid incidents
No other date marred the collective conscience of Delhi like 16 December. On this day three years ago the Capital, with a burgeoning population of 16 million and the highest number of rape cases, cemented its dubious distinction of being the 'rape capital'.
Look at the numbers:
40 cases of crime against women are reported every day on an average in Delhi. Four of those are for rape.
The city was fourth-most dangerous for women to use public transport; second-worst in safety at night and verbal harassment during commutes, according to a recent poll by Thomson Reuters Foundation.
Delhi reported 1,813 rapes in 2014, up from 1,441 a year before.
Six rapes, 14 molestations were reported in the Capital every day for the first nine months, police data show. Until 15 September, 1,557 cases of rape and 3,876 of molestation were registered.
* * *
And those numbers represent only the incidents reported. After the city erupted in protest, following the 2012 'Nirbhaya' rape case, there was a spike in the number of reported rapes in 2013 and 2014. But they are still the tip of the iceberg.
According to National Crime records Bureau and the Delhi Police, in 95.94% of rapes reported to the police the accused was known to the victim or her family. Only 4% of the incidents were perpetrated by strangers.
'Nirbhaya' isn't a single case. She's you, if you try to be
The game of passing-the-buck has been mastered by the police, the state government and the Centre in the 20 years. The issue of women's safety in Delhi has now got tied to the broader statehood issue.
Chief Minister Arvind Kejriwal's penchant for staging dharnas against Delhi Police and the Centre is well known. It was after a rape case that he sat on a dharna demanding control over Delhi Police. In his second innings as CM, the ball is being tossed between Police Commissioner BS Bassi and Kejriwal.
Claiming that the safety of women remained its top priority last year, Delhi Police lists the following steps taken by it:
A round-the-clock Women's Help Desk with dedicated telephone lines
Thana-level committees to keep an eye on vulnerable routes
Women-operated PCR vans
The police also said they solved 78% of the cases in 2014 within a fortnight.
And the police can do only so much, Bassi and others have reiterated several times, especially since well over 90% of the were perpetrated within familiar precincts by known faces - family, friends, relatives and acquaintances. Fear of the police has hardly proved a deterrent.
Not everybody agrees.
In response to a query by Delhi Commission for Women (DCW) Chairperson Swati Maliwal the police said out of 7,124 first information reports in 2015 (until August), only one case was decided. Similarly, in 2014, 11,209 FIRs were lodged. Only nine accused were convicted.
"If the police can ensure timely and proper charge-sheets in cases of violence against women, I'm sure the rates of conviction will go higher. The fact that hardly any of these criminals get convicted, sends a very wrong message," Maliwal says.
"Today rapists are roaming freely and women who are being asked to stay behind closed doors. Even the Standing Parliamentary Committee report which has come recently has blasted this stupid logic of the Delhi Police. Ultimately this does tie down to the statehood issue."
The Police, on the other hand, listed several factors out of it's control in a comprehensive report:
Socio-economic imbalance within society
Urban anonymity encouraging deviant behaviour
Proximity of location between the affluent and poor
Easy chance to escape to neighbouring states
Kejriwal's demand for better policing and control over the police makes some sense. Law-and-order is a serious issue in Delhi and there's need for a change in the existing arrangement where an elected government has no say on policing.
However, on its own the state cant create awareness and consciousness amongst people to induce a change in thinking. That said, arguing over prevalent socio-economic disparity, unemployment, the loosening fabric of society and other subtler aspects that push a large section of society into perversion will surely make many uncomfortable.
So we will not go into that - for now.
Read: I asked 4 questions on child sex abuse in Parliament. Here are the answers I got
Since Jyoti Singh, a medical student, was fatally raped in a moving bus on 16 December, 2012, a spate of reported rapes matched and sometimes outdid the horror, almost mocking the city and it's people. Such has been the scale and extent that compiling a list of rapes in the city in the past three years is near impossible: The numbers are mind boggling; the details, faith shattering.
But here, almost as a dystopian reality, are some of the most disturbing incidents of violence against women that this city has seen, in the aftermath of Nirbhaya.
The 52-year-old Danish woman
A Danish woman lost her way while returning from National Museum to her hotel in Paharganj. She sought help from a minor who, along with eight men, raped her on knife-point. The 52-year-old woman unsuccessfully tried to mislead the gang into believing that she was infected with HIV. It didn't work.
Among the accused, two juveniles are facing an inquiry before the Juvenile Justice Board. The adult accused are in judicial custody, facing trial.
October 2015 rapes
A 4-year-old girl was allegedly raped and slashed with a blade before being abandoned by a railway track in the Capital. A week later a 2-year-old and a 5-year-old were raped.
Family members found the 2-year-old unconscious and bleeding in a park, three hours after she went missing during a power outage in the neighbourhood.
The 5-year-old was lured to a neighbour's house and raped by three men.
Meenakshi Murder
A 19-year-old woman, identified as Meenakshi, was verbally abused by two men in her locality. When she protested, they stabbed her 35 times in front of her mother.
The main accused Jai Prakash was arrested immediately and his brother Ajay was detained by the police later.
25-year-old killed for resisting rape
The body of a 25-year-old woman was found in a drain in southwest Delhi's Dadri. The police said she was injected with poison by three men, including a Nigerian, for resisting rape.
She worked in an event management company. On Friday, she and a group of friends went to a night club in South Delhi where they met the Nigerians who allegedly supplied them drugs.
She decided to accompany them to their house in Uttam Nagar and continue partying. There the three - Uche Chukwu Kalu, Durga Prasad and Gulshan - tried to rape her. When she resisted, Uche picked up a syringe and injected its content into her neck. She collapsed after this and was found dead a few hours later.
East Delhi rape
A 13-year-old was raped in East Delhi's Nand Nagri by three autorickshaw drivers. She had left her Harsh Vihar home over some issue and her family had lodged a report over that. After wandering around GTB Hospital, she reached East Delhi's Bhopura border.
Here, she was spotted by the three auto rickshaw drivers who took her to a secluded place and took turns to rape her. Before leaving, they also threatened her of dire consequences if she reported the incident. The trio, identified as Rehan (22), Sonu (23) and Salim (24), were arrested.
January 2014
A 9-year-old was allegedly raped and sodomized by a 25-year-old man in North Delhi's Bara Hindu Rao area.
Gopi Nisha Malha, the accused, has been arrested while the victim had to be admitted in a critical condition to a government hospital.
Read more- Juvenile rape: why AAP's remedy is worse than the malaise
At around 6.30 pm, the Class-3 student at a nearby government school, was playing in front of her house along with two other girls. Malha approached them and lured them on the pretext of showing them something unique. The other girls fled the spot, but the accused caught hold of the victim. He gagged her mouth and took her to a nearby secluded place, where he allegedly raped and sodomised her.
Feb 2014
A 17-year-old schoolgirl was allegedly raped by her friend, brutalised and dumped at a hospital in South Delhi. Doctors found the girl,who had been lured away to a Valentines Day party by the accused, bleeding from her privates. The girl, a Class-12 student, told the police that she was leaving for school on Friday when the 24-year-old accused talked her into accompanying him to a party at his friends place to celebrate Valentines Day and her birthday. The rape survivor was to turn 18 soon.
He took her to a flat and forced himself upon her, threatening her not to tell anyone. He reportedly brutalised her until she began to bleed severely. Once her condition started to deteriorate, he told his friend to take her to hospital and fled. The victim was found by the police on the Safdarjung Hospital premises. The accused was arrested.
October 2013
A minor was raped by three men in south Delhi's Safdarjung Enclave. The 17-year-old Class 11 student from a private school approached the police and informed them about her ordeal. The three accused, who raped her in a parking lot, were known to the victim. She said they offered her a drink laced with sedatives. As she fell unconscious, they took turns to rape her in a car, left her near her home and fled. The three are facing trial.
August 2013
A 42-year-old man raped his teenage daughter for over four years in Karawal Nagar area of North East Delhi. Ram Avatar, a taxi driver, lived along with his wife and two daughters in Karawal Nagar on the outskirts of the national Capital.
In her complaint to the police, Avatar's elder daughter claimed that her father had tried to rape her when she was alone at home. The mother then took both daughters to the police station and lodged a complaint against Avatar. The elder daughter accused him of attempt to rape and the younger alleged that she was actually raped. She said her father beat her whenever she refused his sexual advances. The accused was arrested.
April 2013
A five-year-old girl was raped by a neighbour after being held captive for four days. She also contracted infection from foreign objects inserted into her body. Her mother said the victim went out to play and was kidnapped. "The man then locked her up in his room and raped her."
The girl was rescued from the ground floor of a building east Delhi's Gandhi Nagar where her family was staying. The neighbour fled the spot. The incident sparked protests during which Assistant Police Commissioner BS Ahlwat slapped a girl protester, leaving her with a bleeding ear.
If this wasn't enough, here is a bleeding take on Delhi, now officially the rape Capital of India, in this article titled 'The New Delhi rape festival in India begins this week'.
More in Catch:
Also read- Three horrifying accounts of rape, one binding factor: 'Protectors' turn perpetrators