#BJPCountsCondoms: Twitter replies to Gyan Dev on JNU & 'illicit activities'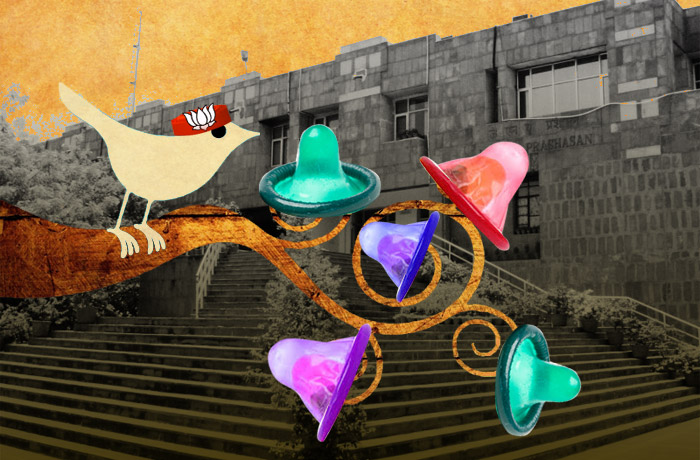 No one knew Gyandev Ahuja until a few days ago. But not any more.
The Bharatiya Janata Party legislator from Ramgarh in Rajasthan shot to limelight on Monday when he said students of Jawaharlal Nehru University were involved in "illicit" stories. Take a look at his findings at the campus:
Over 3,000 used condoms every day
2,000 liquor bottles

10,000 cigarette butts

4,000 pieces of beedis
Terming JNU students as anti-nationals, Ahuja said: "50,000 big and small pieces of bones are left by those eating non-vegetarian food. They gorge on meat. 2,000 wrappers of chips and namkeen are found. They commit misdeeds with our sisters and daughters there. And 500 used contraceptive injections are also found."
Citing social media and news channels to back his claim, he went on to accuse JNU students of taking drugs after 8 p.m. inside the campus. "Those studying in JNU are not children, many are parents of even two children. They indulge in peace protests in the mornings and during the nights, they perform obscene dance."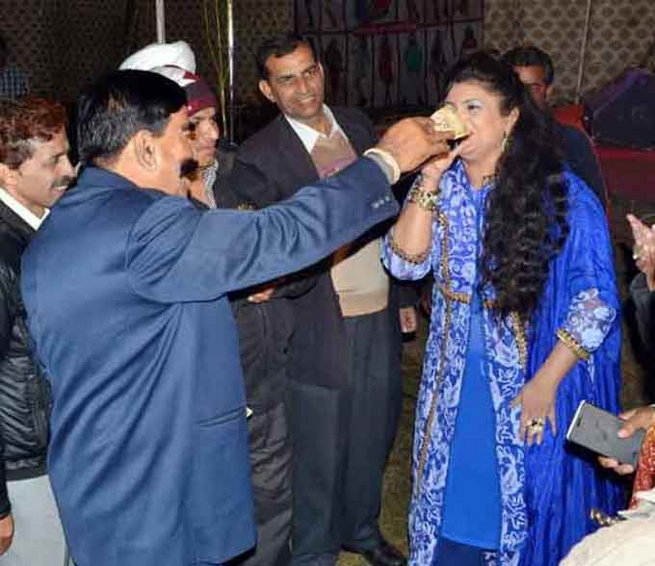 BJP_CONDOM_1">
According to Ahuja, JNU students were involved in sex, drugs and naked dance. But then came something to leave the MLA red faced: photographs showing Ahuja throwing money at some dancers.
Some such images with Patrika were shot at a Varanasi hotel during a Lohri function organised.
Ahuja refused comment.
Meanwhile, BJP President Amit Shah is reportedly miffed at Ahuja's diabtribe. Several media reports suggest Shah has summoned Ahuja to Delhi for an explanation.
Here's R Prasad's brilliant cartoon on the issue:
#BJPCountsCondoms #JNU pic.twitter.com/mqVlpnUeZO

- R Prasad (@rprasad66) February 24, 2016
While all of this was going on, social media users, especially those on Twitter, had a field day. #BJPCountsCondom immediately started trending and buzzing on Twitter. Here are some of the best:
Only 3,000 condoms for 7,000 plus students? Come on BJP count 'harder' #BJPCountsCondoms

- mostlyharmlessgirl (@JhinukSen) February 23, 2016
Since #BJP can prove sedition it decided to prove seduction with a condom count. #BJPCountsCondoms

- SonaliRanade (@sonaliranade) February 23, 2016
Just emailed local BJP office informing them about what I will watch on TV today and asking if I can use a condom later. #BJPCountsCondoms

- lindsay pereira (@lindsaypereira) February 23, 2016
Found on facebook #BJPCountsCondoms pic.twitter.com/0vvlwE6lIV

- amrita madhukalya (@visually_kei) February 23, 2016
BJP MP is the only one who took Swachh Bharat abhiyan too seriously. Started counting condoms outside JNU dustbins.#BJPCountsCondoms

- Tathagat H Vardhan (@TathagatINC) February 23, 2016
What is BJP trying to say? "Abki Baar, Condom Ginne wali sarkaar?"#BJPCountsCondoms

- Vinod Mehta (@DrunkVinodMehta) February 23, 2016
Because bhaktards never get to use any, they count used condoms. #BJPCountsCondoms

- Aggressive Aam Aadmi (@bharat_builder) February 23, 2016
Thank You BJP MLA For Becoming 1st "Condom Collector" of India...#BJPCountsCondoms

- GS SODHI (@gs_sodhi) February 23, 2016
Hindu sages counted prayer beads. #BJP sages count condoms. #BJPCountsCondoms

- SonaliRanade (@sonaliranade) February 24, 2016
Two Minute Of Silence For That MLA Who Counted The Used Condom. #BJPCountsCondoms #SexAndDrugsAtJNU

- Sir Ravindra Jadeja (@SirJadeja) February 23, 2016
Swachh Bharat taken to new heights. BJP MLA takes to cleaning condoms, beer bottles & cigarette stubs from JNU.#BJPCountsCondoms

- Vinay Dokania (@vinaydokania) February 23, 2016
We are 1.2 billion. We did not just get there without "indulging in activities of making babies". Stop the hypocrisy!#BJPCountsCondoms

- Rashi Kakkar (@rashi_kakkar) February 23, 2016
If you Dont condemn itCondom it#BJPCountsCondoms

- SANJAY HEGDE (@sanjayuvacha) February 23, 2016
Say no more counting Dollars,we'll be counting condoms. #BJPCountsCondoms pic.twitter.com/C2PYaqBjOU

- siona gogoi (@siona_gogoi) February 23, 2016
Use of condoms is against the values of the RSS because they simply don't get laid officially. #BJPCountsCondoms pic.twitter.com/fRKmhVj8FE

- Thakursahab (@65thakursahab) February 23, 2016
With inputs from Deepak Sharma
Edited by Joyjeet Das