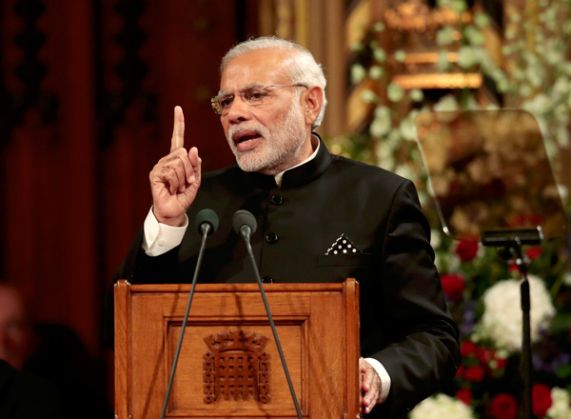 After finding mention of his name in Prime Minister Narendra Modi's speech at Wembley Stadium, state-run BSNL will offer free internet to Imran Khan of Alwar for developing mobile applications used by students.
Telecom Minister Ravi Shankar Prasad called Mr Khan on 15 November morning and congratulated him for the noble work he is doing for the students.
The Minister also invited Mr Khan to Delhi and informed him about free internet facility from BSNL.
"Today morning I asked the CMD of BSNL to send the GM of Alwar to meet him. He was traced, I talked to him, congratulated him and told him that the entire country is proud of him for the work he is doing," Mr Prasad said.
Mr Modi referred to Imran Khan who made 50 mobile applications and dedicated them to the students without charging anything.
When contacted, Mr Khan said BSNL has put the broadband connection at his place.
Mr Khan describes himself on his website as a teacher in Sanskrit Education Department from Rajasthan.
"I am Imran Khan, a teacher in Sanskrit Education Department from Rajasthan. GKTalk is my web portal for educational purpose to provide a support to Hindi medium students," he said on the website.
Last night, the prime minister had mentioned about Imran in his address at the iconic Wembley Stadium in London.
"Telecom Minister Ravishankar Prasad and I myself today spoke to Khan, who is a Sanskrit teacher in a government school in Rajasthan and congratulated him over phone for developing more than 50 apps which were freely available," BSNL's Chairman and Managing Director Anupam Shrivastava told PTI today.
The CMD arrived in Bhopal to take part in a function.
"We have sent our BSNL officials in Alwar to personally honour Khan on the occasion and spoke to him from there only and congratulated him for developing these Apps," the CMD said.
"On behalf of BSNL, the minister provided him a lifelong Broadband connection to pursue his zeal," Mr Shrivastava said.
Though Mr Khan is a Sanskrit teacher, he has developed more than 50 apps which are highly useful in education, especially in learning English, Hindi, General Knowledge and Maths, BSNL Bhopal's General Manager Mahesh Shukla said.
These apps were freely available on Android and other smart phones, he added.
Mr Khan has devoted himself on the mission of providing education to all, Mr Shukla added.
-PTI