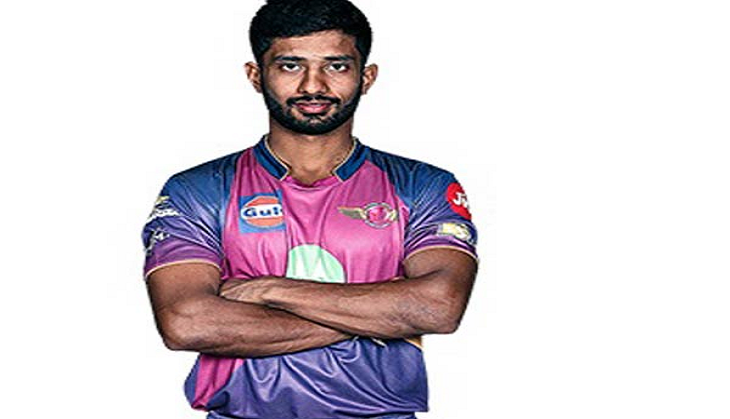 Rising Pune Supergiant opener Rahul Tripathi, who guided his side to a four-wicket win over Kolkata Knight Riders (KKR) in their Indian Premier League clash (IPL) last evening, has revealed that he keeps his mind blank and just goes with his gut feeling every time he faces the ball in the field.
The 26-year-old hammered nine boundaries and seven sixes in his 93-run knock and was dismissed only in the penultimate over of the chase, when his side was just six runs short of their target of 156.
Tripathi admitted that a clear head and trust in his instincts were crucial factors in scoring boundaries against one of the strongest attacks in the tournament.
"If I had made some plans, that wouldn't have worked because these are good bowlers. So I just kept it simple to watch the ball and hit the ball and just go with my gut feeling. Keeping my mind blank . that was important and that helped me. I played as the ball was coming so I played according to the merit of the ball," Tripathi told iplt20.com.
Tripathi said although he would have loved to score a century and finish the match, he was happy to see his side come out victorious.
"I feel good. I was getting good starts so I wanted to carry on that start. It's good that we won the match, that is more important. I would have loved to finish the match, that's one thing. But its okay, if we win the match and I miss the century," he added.
Tripathi currently sits fifth on the run-scorers' list behind international stars David Warner, Gautam Gambhir, Robin Uthappa and Shikhar Dhawan.
Tripathi stressed that sharing the dressing room with international players and getting praises from his opening partner Ajinkya Rahane had helped him in gaining a lot of confidence.
"It's helping me a lot, it's a dream experience for me. Opening with Ajinkya bhai, even if he says simple things like, 'you are batting well,' you get a belief that somebody like Rahane is telling you that you are hitting the ball well with good intent," Tripathi said.
"Even off the field, Faf [du Plessis] is there, Ben [Stokes] is there, even the coaches, our team is having so much fun. Playing with MS [Dhoni] bhai.he's a legend. Two times I've been not out luckily while batting with him," he added.
Tripathi is also the top-scorer in the Powerplays this season, surpassing Warner's 238 off 160 balls. He has notched up 251 runs off 144 balls so far,ESPNcricinfo reported.
However, he admitted that batting in front of big crowds in the IPL got him nervous sometimes.
Rising Pune Supergiant , who are currently standing third in the IPL table with seven wins, will now lock horns with Sunrisers Hyderabad on May 6.
-ANI