With fruitful Israel visit, Modi capitalises on shifting narrative in West Asia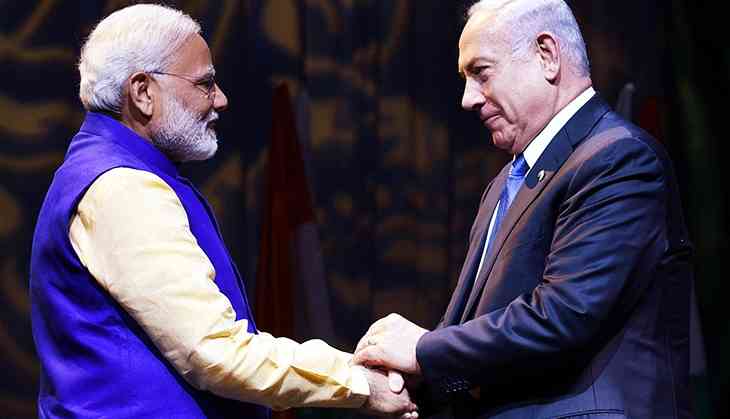 Narendra Modi's visit to Israel is historic, being the first by an Indian Prime Minister since the country's independence in 1948 and India's recognition of it in 1950.
His Israeli counterpart Benjamin Netanyahu, popularly known as Bibi, pulled out all stops for his 'friend' Modi, including greeting him personally upon arrival at Tel Aviv's Ben Gurion Airport. This made Modi just the second world leader, after US President Donald Trump, for which Israel made exceptions from standard protocol.
The positive personal chemistry between Modi and Netanyahu was obvious during the well-rehearsed ceremonial welcome. The airport welcome ceremony was quite elaborate by Israeli standards, since it is not a country known for pomp and ceremony. In fact, it has always been down to earth and pragmatic.
Getting over bugbears of history
It has taken several decades for India-Israel ties to reach a stage for an Indian PM to undertake a visit. Modi has prepared well for this historic visit, to overcome what has been called the "hesitation of history".
India's traditionally close ties with the Arab world have always been a factor in this hesitation in openly engaging Israel, because many Islamic countries have seemingly sided with Pakistan in a knee-jerk fashion.
This narrative has undergone a change, primarily because of India's growing economy, technological advancement, and stability as the world's largest democracy. At the same time, Pakistan has been on the slippery slope downwards, bogged down today in the quagmire of terrorism, slow economic growth, and insurgencies in Balochistan and Pashtunistan.
The old argument about India's Muslims reacting negatively has become irrelevant. Political parties in India that have courted the Muslim vote were more sensitive to openly embrace Israel. The BJP broke the mould after diplomatic relations were established in 1992 by the Narasimha Rao-led Congress government. BJP leaders were regular visitors to Israel. PM Modi also visited Israel as CM of Gujarat in 2006, and nurtured the economic relationship between companies from both countries.
Before visiting Israel, PM Modi has carefully cultivated selected Arab countries like Saudi Arabia and UAE. He has also visited Iran, perhaps the most virulent opponent of Israel, and hosted the Palestinian President in Delhi.
The regional situation in West Asia has also helped India's calibrated moves. The tension and rivalry between Saudi Arabia and Iran has become the defining geo-political issue, creating space for India to de-hyphenate ties between Israel and other countries in the region.
Advantages of cooperation
Netanyahu accompanied Modi on all his official engagements, in an extraordinary gesture of friendship. The leadership in both countries has grasped the opportunity that could not be postponed any longer.
The seven agreements signed during the visit cover the fields of defence, counter-terrorism, water management, sanitation, cooperation in Space, trade, innovation and agriculture.
Soon after India established diplomatic relations in 1992, cooperation in agriculture was first off the mark, followed by defence procurement. Israel has pioneered agricultural technologies and water management techniques that minimise water utilisation.
In the defence sector, Israel has developed several technologies which have proven effective in border management and fighting cross-border terrorism. Certain weapon systems like missiles and technologies like guidance systems, radars, sensors and other sensitive technologies have also been procured by India.
Unlike many countries which continue to deny India sensitive technologies, Israel is more generous in releasing high-technology products. This approach has helped in joint production of high technology products.
Technology denial regimes crafted by Western countries have had India as their target ever since the peaceful nuclear test in 1974. Their objective has been to prevent India from accessing technologies that could advance India's strategic capabilities in the nuclear and missile sectors. The USA, during Bill Clinton's first tenure, had adopted a policy to "roll back and eliminate" India's nuclear programme.
While this chapter is now history after the nuclear deal between India and the USA, this mantle has now been adopted by an increasing hostile and aggressive China, which now objects to India joining the Nuclear Suppliers Group (NSG). China even supports terrorism that Pakistan has adopted as an instrument of state policy against India. The China-Pakistan strategic axis has now turned overtly hostile with China tolerating, if not encouraging, terrorist attacks by Pakistan against India. The on-going standoff at Doklam near the tri-junction between Bhutan, China and India is yet another manifestation of China's aggressive tactics. China gambled on bullying Bhutan near a disputed section on the border, and is now blowing hot and cold over the situation and even threatening war. The predatory and perfidious nature of the Chinese State lies exposed.
Cultural connectivity
An important outcome of Modi's visit is the decision to set up an Indian Cultural Centre in Israel. The cultural connectivity between the two peoples has developed over the decades.
Apart from the Jewish community of Indian origin, thousands of young Israelis visit India every year after their compulsory military training. There is much appreciation for Indian classical music, dance, and also Bollywood.
Modi also visited the northern town of Haifa, where British Indian troops fought with extraordinary bravery to liberate the then-Palestine from the Ottoman Empire, then an ally of Nazi Germany. Indian troops under the command of British General Allenby marched into Jerusalem in 1917 after defeating Ottoman troops. The holy places in Jerusalem were placed under the protection of Indian troops.
Significance for the future
Modi's address to the gathering of Indian Jewish people harked back to his famous address to Indian-Americans at Madison Square Garden in New York. The enthusiasm was similar and, with Netanyahu by his side, the event took on the colour of an electoral rally.
Modi and Netanyahu are both leaders of the post-independence generation, and bring a fresh approach to bilateral ties. Netanyahu will no doubt visit India and reciprocate Modi's visit soon.
This visit will transform India-Israel relations at a time when the West Asian regional order is in flux. The civil war in Iraq, Syria, Yemen, the rise of Daesh or the Islamic State, and the situation surrounding Qatar, has torn apart the old fabric of relations in the region. The Iran-Saudi rivalry has become the defining faultline with its sectarian overtones. The salience of the Palestinian cause as the central issue has receded.
Only note of criticism
The only note of criticism that has dogged the visit has been domestic carping by Opposition political parties on the issue of Modi avoiding a visit to Palestine.
The Palestinians are, perhaps, unhappy, and there was a small demonstration outside the Indian Consulate in Ramallah, where the Palestinian Authority government is based.
However, the Palestinian leadership has avoided any public criticism, knowing that it cannot change India's policy, and cannot prevent India from pursuing independent policies towards Israel and Palestine. Moreover, India's official position on Palestine has not changed.
The situation was ripe for the de-hyphenation of Israel and Palestine. Modi has successfully done that, bringing to an end a familiar policy of shunning Israel, whose sell-by date had expired.