What its scuttling of India's NSG bid reveals about Pakistan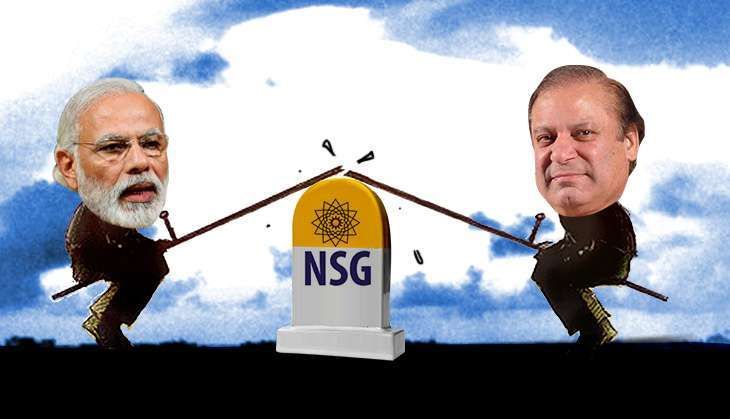 At least three strands are apparent in Pakistan's reaction to the developments leading up to, and following, the Seoul meeting of the Nuclear Suppliers Group.
One, there is a lot of jubilation and chest-thumping that India has been denied entry into the NSG despite its aggressive diplomacy and once again "parity" between the two neighbours has been retained. There is glee that Pakistan applied for membership at the eleventh hour on 18 May, the deadline for applying. This effectively scuttled India's entry into the NSG because had Pakistan not applied, India could have had an easier time at the plenary meeting.
Also read: Dangerous folly: the case against India's bid for an NSG seat
Pakistan's "principled" position (tailored to mirror China's) is that it is opposed to "country-specific exemptions"; it wants a level-playing field and a "criteria-based" approach for NSG membership. Islamabad wanted its application for NSG membership considered alongside India's to ensure strategic stability in South Asia.
Pakistan's attitude was possibly best summed up in an article in The Express Tribune claiming that the non-proliferation regime had become stricter due to India's peaceful nuclear test in 1974, but in a twist of fate "it now wants to rehabilitate the thief and make it a sheriff without the latter changing its habits".
However, realists in the Pakistani establishment have cautioned that they should not get carried away by its "success" in foiling India's bid at Seoul. They have pointed out that India enjoys much greater support in the NSG as compared to Pakistan. They have also noted that the NSG waiver that India got with the US support in 2008 provides it most of the benefits that an NSG membership would. Finally, they also realise that the US is likely to continue to press for Indian exceptionalism in nuclear energy development.
Friends forever
Two, Pakistan's "all-weather" friendship with China has been reinforced. Pakistan has noted with great satisfaction China's assurance that it would stress that in case the NSG members made an exception for India, they should do the same for Pakistan. In other words, if India became an NSG member, so would Pakistan. China's insistence on Pakistan's inclusion was justified as being essential to putting in place a non-discriminatory criterion for offering NSG membership: all interested states should be asked to sign the NPT first because exempting any nation from this would weaken the entire non-proliferation regime.
If exemptions are to be made, then the group must agree on a criteria for admission of non-NPT states with no arbitrary "selectivity or exclusion". In this manner, China has signaled that Pakistan could piggyback on the Indian application to become a member of the NSG.
Jilted friend
Three, and most significant, is the feeling of hurt over the manner in which the US, and especially President Barack Obama, invested a lot of time and political capital in pushing for India's membership. Pakistan has noted with some alarm the US statement that it strongly supported India's role in global institutions like the NSG and the UN Security Council, and that Washington desired to "continue to work constructively" with NSG members to admit India into the organisation.
Also read: What is the Nuclear Suppliers Group and why does India want to be a member?
Various spins have been given to this US policy. The most common, of course, is the "containment of China". For example, National Security Advisor Nasser Janjua has stated that American efforts to get India into the NSG were part of a "greater design" to contain China. (Incidentally, he also saw the same US moves as an attempt to prevent the resurgence of Russia!) Janjua cautioned that American policies would ultimately push Pakistan even closer to China.
The conspiracy theorists see the entire NSG episode as evidence of the US trying to kill two birds with one stone - establishing Indian domination over Pakistan while working with India to restrain or counter Chinese influence. In the process, the US and like-minded countries hope to cash in on commercial opportunities with the opening up of the Indian nuclear market.
Pakistan, of course, is painfully aware that it cannot leverage its economy in the manner India can and realises that the US does not see any commercial opportunity in Pakistan.
There is also concern in Pakistan that after the 2008 waiver, India has struck several nuclear deals for import of nuclear fuel enabling the country to free its domestic resources for military use. Pakistan fears that if India becomes an NSG member, it could gain access to the latest technologies that would further boost its nuclear weapons programme.
Pakistanis feel that between 1998, when the two countries carried out nuclear tests, and 2008, the US recognised an implicit nuclear parity between the two countries. However, the parity was broken through the 2008 NSG waiver and India was allowed to access nuclear technology that Pakistan wasn't.
Stuck in past
Pakistan's angst against the US for ignoring its ambitions to enter the NSG while pushing India's case is consistent with the attitude it has shown since its creation.
Muhammad Ali Jinnah had laid down the abiding principle of Pakistan's thinking when he told Margaret Bourke-White of Life magazine: "America needs Pakistan more than Pakistan needs America. Pakistan is the pivot of the world, as we are placed [on] the frontier on which the future position of the world revolves." This foreign policy framework, laid down nearly seven decades ago, continues to underline Pakistan's delusion about its indispensability to the US, long after the goal posts have shifted.
Pakistan's anguish at American perfidy has surfaced periodically, although never in a more poignant language than that of the former governor general Ghulam Mohammad. In 1951, he complained that US aid to India had left Pakistan feeling like "a prospective bride who observes her suitor spending large sums on a mistress, while she herself can look forward to no more than a token maintenance in the event of marriage".
In 1953, when Pakistan clamoured for more US aid in exchange for a public alliance, Ghulam Mohammad remarked that to do otherwise "would be like taking a poor girl for a walk and then walking out on her, leaving her only with a bad name".
But as the scholar Farzana Sheikh has pointed out although Pakistan's marriage prospects gradually dimmed with its formal disengagement from US-sponsored security arrangements, it signaled the end not so much of a tumultuous relationship as a change in Pakistan's position from "wronged wife to sullen mistress".
Over six decades later, and after the fiasco of the delivery of F-16s, the killing of Taliban chief Mullah Akhtar Mansur and the latest US push for India's membership of the NSG, does Pakistan see the writing on the wall?
Also read: NSG bid: Not Pakistan, China was driven by its own nuclear trade interest