UN snubs Trump's Jerusalem move. What to expect next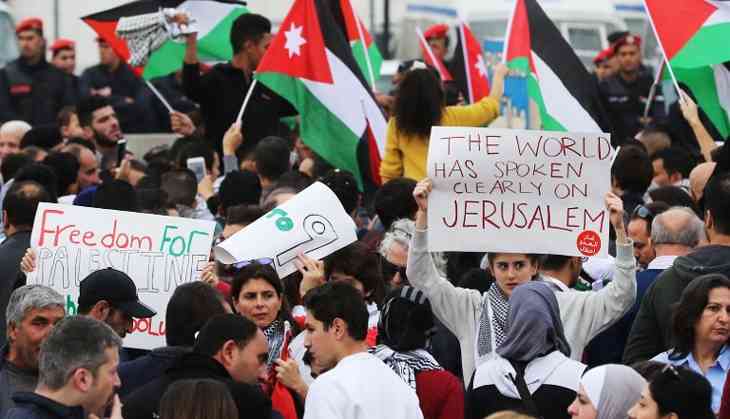 Protesters shout slogans and wave flags during a demonstration near the American embassy in the Jordanian capital Amman. (Khalil MAZRAAWI / AFP)
In an unambiguous voice the United Nations has delivered an embarrassing and humiliating rebuke to President Trump's recent decision to recognise Jerusalem as the Capital of Israel. Both the Security Council and the General Assembly have voted to declare President Donald Trump's decision illegal and against international law.
The majority stuck to the decades-old consensus on Jerusalem's status in numerous UN Resolution. In the 15-member Security Council, the United States was isolated 14-1 and it had to fall back on using the veto to annul the vote. Decisions of the Council are binding on all member countries.
In the General Assembly, the USA lost again, when a huge majority (128) voted against Trump's decision, though there were more than 30 abstentions and 21 countries missing during the vote. In a sense, 60-odd countries did not vote for the resolution.
India voted with the majority for the resolution in the General Assembly. There was intense speculation that the forthcoming visit of Israeli Prime Minister Benjamin Netanyahu early next year will influence India's vote and move it towards abstention. Earlier, Narendra Modi created history by becoming the first Indian PM to officially visit Israel. He and Netanyahu have developed a relationship that symbolises the growing India-Israel ties.
Yet India stuck to its traditional stand that is congruent with UN resolution and international laws. India-USA ties too have seen a steady upswing in the last two decades, with the highpoint being the India-USA nuclear deal. Voting for the American and Israeli stand would not have gained India any extra points with the USA and Israel and would have been detrimental to India's image as an independent and autonomous leading power.
The Trump administration is unlikely to get into the business of any aid cut with India as it is no longer a recipient of any significant aid. The Trump administration has already taken measures that have upset India, particularly in relation to H-1B visas for Information Technology professionals and work visa for their families.
The USA still provides billions of dollars in aid to Pakistan, which it considers "a non-NATO" ally. Though relations between America and Pakistan soured recently, over the issue of safe havens to terrorists, Indians cannot forget that American weaponry has enabled Pakistan to wage war against India and given it the motivation, inter alia, to confront a much larger country.
American support for Pakistan has been a permanent thorn in India-USA relations, despite pragmatic steps by both sides to improve relations over the years. Today, both American and Chinese weaponry enables Pakistan to promote cross-border terrorism and kill Indian soldiers and civilians.
Both USA and Israel are major suppliers of defence equipment to India. Both have lived with India voting in favour of UN resolutions on the Israeli-Palestinian issue. India has steadfastly adhered to its consistent stand and developed good relations with both countries as well as with Arab countries and Iran.
While Iran maintains its consistent and virulently anti-Israel posturing and is deeply involved in helping organisations like the Hezbollah and the Hamas – both considered terrorist organisations by Washington and Israel – India has friendly relations with Iran. These ties have been cemented by cooperation in infrastructure building like the Chahbahar port and transportation infrastructure via Chahbahar to Afghanistan.
India's ties with Arab countries remain friendly and no Arab country considers India's relations with Israel a factor in ties with India. There was no compelling reason for India to change its position. The vote is also a diplomatic message that Indian policy will remain anchored in Delhi's worldview and not waver.
American bullying and bluster did not deliver results. Diplomacy too had no chance of persuading countries to vote for the American proposal. Only nine countries – including the USA and Israel – voted against the resolution. Voting in support of the USA were Togo, Micronesia, Nauru, Palau, Marshall Islands, Guatemala and Honduras. It would be fair to say that 99% of the world's population would not know where these countries are located on the map, barring the USA and Israel.
The General Assembly resolution called Trump's recognition of Jerusalem as Israel's Capital "null and void". The Resolution reaffirmed 10 earlier Security Council resolutions on Jerusalem, from 1967 onwards, requiring, inter alia, that the city's final status must be decided in direct negotiations between Israel and the Palestinians.
The Resolution also "demands that all states comply with Security Council resolutions regarding the holy city of Jerusalem, and not to recognise any actions or measures contrary to those resolutions". In practical terms the vote is meaningless. It changes nothing on the ground.
Among the 30-odd countries that abstained are US allies Australia, Canada, Colombia and Mexico and five from the European Union. Threats to cut off American aid by Trump and his Indian-origin UN envoy Nikki Haley (Namrata Randhawa) clearly did not work with most countries.
It must have been galling for the Trump administration to find its staunchest allies abandoning it on the issue of Jerusalem. Some of the largest recipients of US aid voted against Trump's decision despite threats by Haley who went overboard and warned countries voting against it that Washington will remember who "disrespected" America. She also obliquely hinted that the USA, as the largest contributor of funds to the UN, may reconsider its "investment". If the US cuts funding to the UN, it would have a crippling effect on the UN's functioning.
How the Trump administration will react to this huge rebuff would be worth watching. Having issued threats of aid cuts, it must now carry out threats to maintain any semblance of credibility. Which countries will be punished and whether military and economic aid will both come under the axe remains the moot point.
But can such threats be carried to their logical conclusion without harming American interests? Afghanistan and Iraq received the highest amount of US aid, mostly military aid. Next is Egypt whose total military budget dependent on US aid is to the extent of 20%. Ever since Egypt made peace with Israel in 1979, the USA has generously funded Egypt.
Pakistan and Ukraine are also among countries that receive large amounts of military aid for reasons which are intimately linked to American geo-political interests. Any reduction in aid to punish these countries will undermine American foreign policy objectives. Israel continues to remain on top of the list of countries receiving military aid from the USA.
Economic aid may be the area where there could be aid cuts to show that The Trump administration means business. Cuts in economic aid will hit mostly African countries. American business interests will also suffer, leading to loss of jobs in America, posing a problem for Trump's "America First" policy.
If the USA walks the talk and carries through with its threat, then again the USA stands to lose influence and China will walk into the vacuum. That would be the supreme irony since the new National Security Doctrine announced by Trump recently has clearly fingered China as the country as challenging American values and interests. American options, therefore, are limited and we can expect some token cuts without actually rocking the aid boat.
The most upset are Palestinians, essentially on two counts. First because of American volte-face on Jerusalem and second because of persistent reports about Saudi Arabia support for an American Peace Plan being hatched in concert between the Saudi Crown Prince Muhammad bin Salman and American "Crown Prince" Jared Kushner, Trump's son-in-law and adviser.
The USA and Saudi Arabia seem to be more concerned about Iran and are willing to dump the Palestinians. American allies like Egypt and Jordan are likely to fall in line with this plan. Palestinians suspect that this peace plan will offer a watered down version of an independent Palestine – Abu Dis, a village neighbouring Jerusalem as capital, and no return to pre-1967 borders, Jewish settlements to remain in occupied territories and no right of return for Palestinian refugees.
American role in peace negotiations will be undermined. It is difficult to visualise any Palestinian leadership accepting this peace plan. Any leadership that does so will sign its own death warrant.
The author is a Distinguished Fellow at the Delhi-based Observer Research Foundation; a former Secretary in the Ministry of External affairs, he has served as a diplomat in Indian Embassies in Egypt, Israel and Saudi Arabia.
Edited by Joyjeet Das