Trump may not love China, but the Chinese internet sure loves him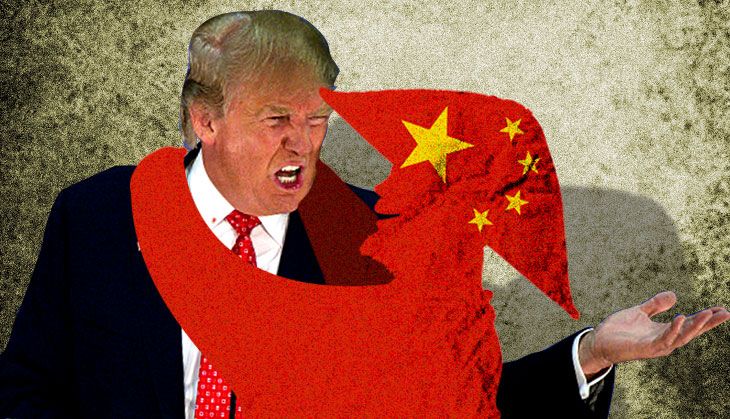 Donald Trump is now the last man standing in the race for the top slot on the Republican presidential ticket.
This turn of events has confounded millions across the world, the sane ones seeing him for who he truly is: a childish, brash, narcissistic and xenophobic man. For them, his candidacy ceased to be amusing long ago.
But in China, to the surprise of many considering Trump's constant China bashing, the billionaire appears to have won considerable support among Chinese netizens.
This is despite the fact that he enunciates the country's name with his trademark flair - "Chai-Nah" - every time he decides to pepper in some China hate into one of his speeches.
Which is very often:
Initially, China, much like the rest of the world, thought Trump's candidature was amusing; just good old reality TV.
The Great Firewall, of course, cuts access to most information. But each time Trump made a comment about China during the primaries, the Chinese state-controlled media gingerly published a few pieces - leading to a fair chunk of Trump bashing online. He got mocked and nicknamed "Chuang Po", or "Breaking Bed", because that's what his name sounds like in Mandarin.
The come around
But as Trump gained ground in the US, his Chinese fans' ranks swelled. That led to new fan microblogs sprouting all over the limited Chinese Web.
In fact, on Sina Weibo, China's largest microblogging site, the hashtag #SuperTuesday attracted 13.5 million clicks and 5,600 comments, with the primary focus being on Trump. And according to an online survey conducted by huanqiu.com, in which netizens were simply asked if they "liked" Trump, 59.7% of over 4,200 respondents answered "yes".
Those approval ratings are ridiculously high when compared to his support base in the US, which currently stands at 23% according to a new Suffolk University/USA Today poll.
Gleeful anticipation
But instead of interpreting the above survey result as indicative of a "liking" for Trump, it's more accurate to say that his popularity in the US is amusing to many in China because they believe that Trump will most likely signal the beginning of the end for the US if he wins.
"Chinese netizens, who are angry with recent US policy towards China, would like to see Trump lead the US, as they believe he possesses the traits that would bring about its decline," writes Lao Mu, a senior editor from the People's Daily, the Communist Party's flagship newspaper.
Shen Dingli, the deputy head of Fudan University's institute of international affairs, described Trump as a "foolish" man who was taking advantage of a "naive America". But, as he told The Guardian, Trump is a foolish man that Beijing should welcome in the White House.
"That's because George W Bush had done huge damage to America's standing in the world by invading Iraq," Shen argues.
A Trump administration would continue that trend no doubt.
"Everybody knows that American aggression has made China rise more rapidly. So if another American president would invade Panama, would invade North Korea, would invade Vietnam, that would give China superpower status because America would weaken itself," Shen predicts.
Trump fan club
But not all fans want to see the US self-destruct under Trump. Some believe, according to a recent Buzzfeed article titled 'These Are The People Who Love Donald Trump In China', that "his Chinese fans believe he's the one who can make the US, and even the world, great again".
There's growing vocal support across platforms to support that statement. On Zhihu, a popular Q&A website similar to Quora, users have posted more than 500 questions about him. One article, headlined 'Trump The Great Man From Heaven', has gone viral.
A Weibo user, who founded the 'Trump Fan Club' to post news and videos about him, reached over 9,000 followers in almost no time. Other Weibo groups followed, including 'Trump In The White House', 'God Emperor Trump' and a fan page that is dedicated to 'everything Trump'.
Even Trump's daughter Ivanka Trump has more than 14,000 followers.
So in reality, there are two pro-Trump camps in China. One camp wants to see the US self-destruct and the other is comprised of mirror images of Trump supporters anywhere in the world - conservative, bigoted and xenophobic.
The fact that he's a rich businessman, a reality TV star and the owner of landmark buildings around the world is not lost either. Money matters in China, especially the appearance of money.
One of the best examples of the apparent pro-Trump sentiment comes from another piece from the Global Times. It published an article in late March, covering Trump's rise, titled: "Trump is not a lunatic" where fans call him a "shrewd businessman" with "his finger on the political pulse of his countrymen."
And while most of us cannot believe the nation that elected its first black president just eight years ago will now rush to embrace a man who has offended Mexicans, Muslims, women and countless others, many in China hold the pragmatic worldview where the blame for humanity's most disastrous problems is laid at the feet of the US.
And more broadly on what they view as the West's insistence on political correctness.
The battle against political correctness
Putting Trump's brand of gross antipathy towards Muslims, hostility to Hispanics and Latinos, anti-black racism aside, it's his declaration of war on "political correctness" that has won him the most fans.
A supporter in China told Buzzfeed that he had an idea "about how to build Trump's proposed wall on the US-Mexico border - pay for it with Chinese propaganda and advertising. The wall, he said, should have LED screens playing advertisements 24/7: Communist Party propaganda on the US side, and infertility ads on the Mexican side."
On WeChat, Wo Teng, a researcher of the American political system, described Trump's rise as a campaign of "common sense" against "political correctness".
Losing the popularity contest
The direct result is that many Chinese tend to hold a rather negative view of Hillary Clinton, who's well known for her tough position on China. It's sort of resulted in a third camp, one that embraces an "anyone but Clinton" position on the US election.
Chinese leaders got to know Clinton well when she was secretary of state - and didn't much like what they saw. It was during her tenure that the US launched its rebalancing strategy in the Asia-Pacific region.
Her tendency to champion human rights, and her views on maritime disputes in the South China Sea, have won her few friends in China - even though she is much more pro-free trade than Trump.
In fact, the Global Times once published an editorial describing her as being regarded as America's "most hated" politician among Chinese Internet users.
And it's not just her touch stance on issues, but her hairstyle and wardrobe choices are also a frequent subject of ridicule.
One often quoted comment from Weibo recalls her husband's public infidelity: "If she can't manage her husband, how can she manage America?"
Mixed feelings
Never before has the Chinese public showed so much enthusiasm over a US presidential campaign. There was some interest in the 2008 election of Barack Obama, but never at this scale.
Trump's trumpetings, which include his assertion that: "We can't continue to allow China to rape our country," are not obviously being seriously.
Nor are his claims that China has waged "economic war" against the US and has been stealing American jobs. Nor is his proposal that imported Chinese goods should face 45% tariffs.
Ouch.
But so far Beijing has mostly refrained from responding to these attacks on China by candidates in the US.
On a serious note
Let's not forget that China is the largest trading partner of the US, and many of the Chinese jobs that Trump grumbles about have been created by multinationals setting up factories in China or US retailers sourcing their orders there.
And based on his campaign rhetoric, Trump could bring about a major break with previous China policy across three major issues - trade, security and global leadership.
Let's also not lose sight of the fact that the man has no realistic policies, no competent advisers and no capacity to learn.
But why would the Chinese care about that?