Thai Cave Rescue: 12 young soccer players trapped in cave for over 2 weeks discharged from hospital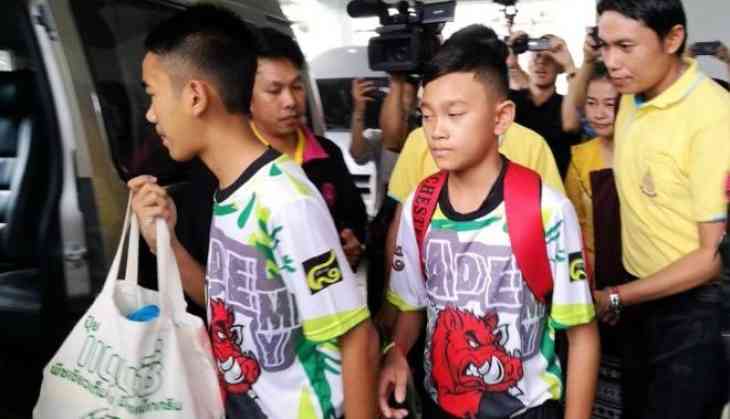 Twelve young soccer players and their coach who was trapped in a waterlogged Thai cave discharged from hospital on Wednesday. Ahead of the press conference, the soccer boys were seen adorning football kits and boarding three minibuses at the hospital in Chiang Rai province.
The young footballers also called the "Wild Boars" were discharged a day before the speculated date and at set to return to their homes later on Wednesday.
Thailand's chief government spokesman Sunsern Kaewkumnerd said, "The reason to hold this evening press conference is so media can ask them questions and after that they can go back to live their normal lives without media bothering them," A session would be broadcast on popular television channels in the name of "Sending the Wild Boars Home."
Experts would closely monitor the briefing to keep them away from distress as they remained captivated in Tham Luang cave in northern Thailand.
Thai leader junta leader Prayut Chan-O-Cha requested media to be "cautious in asking unimportant questions".
A makeshift football pitch is being set up at the press conference area as the young boys are expected to kick a ball at the event. Doctors looking after the kids have advised their families to keep away the kids from a journalist for at least a month.
Also Read:Nelson Mandela Day: His eyes never produced tears later in life, Read why?