Chinese whispers: a reality check on the Modi-Sharif huddle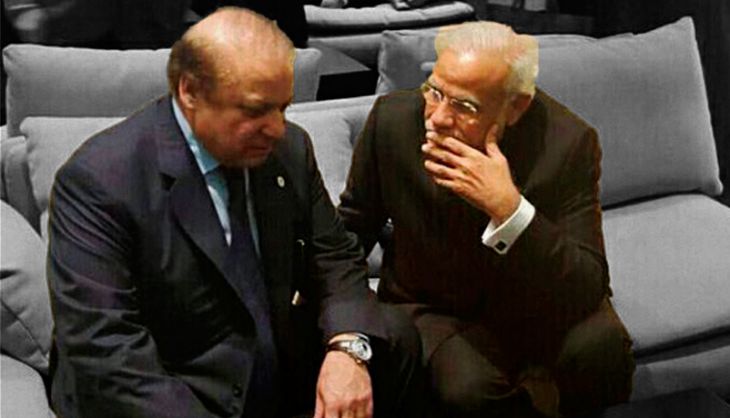 The meet
Prime Minister Narendra Modi and Pakistani counterpart Nawaz Sharif met for a few minutes in Paris
Both were there to attend the COP21 conference on climate change
The roadblock
Sharif hinted that both PMs wanted to take talks on bilateral issues forward
A few days earlier, in Malta, he had said the talks should be held without preconditions
More in the story
Why Modi needs to make up his mind and pursue a firm Pak policy
How is the Pakistan army\'s hostility altering the situation?
Prime Minister Narendra Modi met his Pakistani counterpart Nawaz Sharif for an animated and intense three to four minutes on the sidelines of the COP21 climate change summit in Paris on 30 November.
Neither side has disclosed what was discussed, but Sharif hinted that both wanted to take talks on bilateral issues forward. A few days earlier, in Malta, the Pakistan Prime Minister said that India-Pakistan talks should be held without preconditions.
The India-Pakistan dialogue is stuck. Was this an attempt at getting the process moving again?
Modi's instinct versus Pak hostility
Modi has simply not been able to make up his mind on Pakistan.
His instinct is clearly to take relations in a positive direction. A prime example was his invitation to Sharif to attend his oath-taking ceremony in May 2014. Another was his meeting the Pakistan PM on the sidelines of the Kathmandu SAARC summit last year, as was sending Foreign Secretary S Jaishankar to Pakistan this March.
Read: Pakistani firing was aimed at both Nawaz and Modi
The Ufa and Paris meetings also point in the same direction. Modi has accepted the invitation to attend the next SAARC summit in Pakistan in a year's time, making his desire clear. It is unlikely that he would want his Pakistan visit to be routine and timid.
Finally, the acceptance of the invitation to attend the next Saarc summit scheduled to be held in Pakistan in end 2016 reveals Modi's desire for it is unlikely that he would want his Pakistan visit to be merely routine and timid.
However, Modi's instinct has been up against the cold and cruel realities of Pakistani approaches towards India. These policies are not fashioned by the political leadership but by the men in khaki. They have been unrelenting in their negativity and hostility for India.
They have ensured that whatever flexibility Sharif may have been willing to show on meetings with the Hurriyat (which Modi has correctly ruled out for Pakistani official visitors) is prevented. Significantly, the army has also ruled against the full implementation of the Ufa agreement.
Industrialist back-channel
An important media report, attributed to a revelation in a prominent TV anchor's soon-to-be-released book, asserts that an Indian industrialist has been acting as a back-channel between Modi and Sharif.
The fact is that such a back channel has very limited use for army chief General Raheel Sharif. This has all but eclipsed the Pakistan Prime Minister. The irony is that Gen. Raheel was handpicked by Sharif to head the army, but the former is now being projected as the man on a white charger who is the saviour of the nation.
When the army is in power, a back-channel is useful. This was the case when Pervez Musharraf was the Pakistan President. In the current circumstances, a back-channel contact with PM Sharif has little utility. In fact, it can be counterproductive.
PM Modi and Pak PM Nawaz Sharif met for a few minutes on the sidelines of the COP21 summit in Paris
At present, the real difficulty in resuming the bilateral dialogue is Sharif's obvious failure in persuading the army to agree to a meeting of Indian and Pakistani National Security Advisers in New Delhi, to exclusively discuss terrorism. That is what he had committed to in Ufa.
The absence of a direct reference to Kashmir in the Ufa joint statement had also enraged the generals. They insist that any meeting between the NSAs should also include a discussion on how to take the bilateral process forward and dwell on Kashmir.
The need to hold Pak to Ufa
In view of the army's clear position, Sharif's Malta comments should not be interpreted to mean that the army has given up its stand on the NSA talks. Rather, it indicates a plea that India should not hold Pakistan to the Ufa statement. This should be stoutly resisted.
India needs to hold Pakistan to the Ufa statement. To do otherwise would be to lose credibility. Similarly, India must hold firm on the Hurriyat issue.
Also read: Narendra Modi meets Nawaz Sharif at #COP21 in Paris
Pakistan has invited External Affairs Minister Sushma Swaraj to a conference on Afghanistan, which is to begin in a few days. It is not known, as yet, if Swaraj will go to Islamabad for the meeting.
It is customary to have a meeting on the sidelines of such conferences with host counterparts. There would be nothing out of the ordinary if, during such a visit, Swaraj calls on the Pakistan Prime Minister and also has a meeting with his Foreign Policy Advisor, Sartaj Aziz, who is the virtual foreign minister. This would be so even if they raise the question of the dialogue process and the Kashmir issue.
Sharif has indicated that India shouldn't hold Pak to the Ufa statement. This should be resisted
The important issue is that the Ufa decision's sanctity needs to be maintained, and Swaraj can make the Indian position clear during these meetings.
Modi has to realise that instinct cannot be the basis of policy making. It cannot be a substitute to cool and long-term thinking. For far too long, Indian leaders have acted out of an instinctive desire to have good relations with Pakistan.
This has led to a now-on-now-off dialogue process and confused thinking on that country. Modi has to develop and follow a realistic, hard-headed, and consistent policy, which takes into account the Pakistan army's undiluted and continuing hostility.
More in Catch:
A moderate Modi and stable Sharif can mend Indo-Pakistan ties
It's not us. It's you who needs to act: Modi tells rich nations at #COP21
Apply Gandhian principles at every stage of your life, President tells students
Robin Hood of tech? This Indian-born billionaire is giving 99% of his wealth to innovators