Nineteen killed in deadly suicide blast targeting Sikh minority in Afghanistan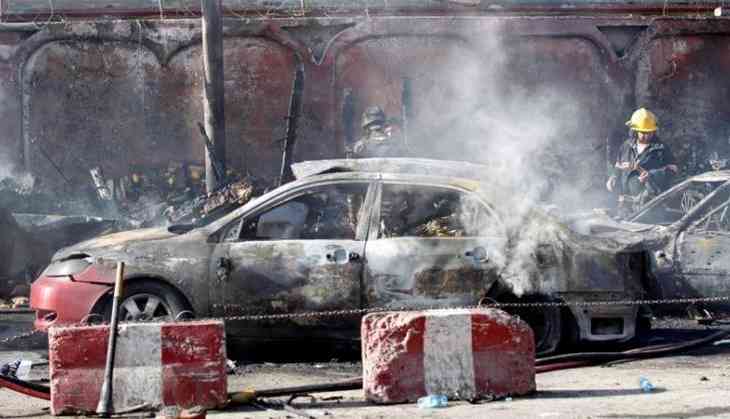 A suicide bombing hit eastern city of Jalalabad, Afghanistan killing 19 people and 20 injured, official statement. The provincial governor's spokesperson, said, "The blast on Sunday damaged shops and buildings around Mukhaberat square." This blast followed inauguration of a hospital in the provincial capital of Nangarhar by President Ashraf Ghani.
6 killed in Afganistan, Blast at Kabul Mosque.

Peacefuls at work, Bombjaan mubarak 😋

— Ankit Singh (@ankitbcet) June 15, 2017
peace to all those who died in Afganistan bomb blast and hope for the fast recovery of those who were injured .
very disheartening to know about this blast.#afganistanblasts.

— Piyush rao (@Piyush07rao) July 1, 2018
Nangarhar's police chief Ghulam Sanayi Stanekzai said the deadly explosion happened when a suicide bomber was carrying members of the Sikh minority and travelling to meet the president.
Deadly blast hits Jalalabad in Afghanistan!

At least 19 people, including 10 Afghanistan's #Sikhs , have been killed in a suicide bombing in the eastern city of Jalalabad.

Lets send our prayers for the victims and their families. pic.twitter.com/xp0CnvMt8W

— In the Service of Guru Gobind Singh Ji (@dashmeshpita) July 2, 2018
A Spokesman for the Provincial health department of Nangarhar said 19 people had been killed and 20 wounded. Officials also said, "At least 10 of the dead were Sikhs,"
The official also added that the casualties might have been much more if the city would not have been blocked for the presidential visit. There was no immediate claim of responsibility.
Also Read:As the search for 12 young soccer players lost in a cave hits day 5, Thailand holds its breath