Modi in USA: 11 achievements that strengthen India-US ties
Catch Team
| Updated on: 10 February 2017, 1:50 IST
Prime Minister Narendra Modi is currently on his fourth visit to the US since taking oath in 2014. During this visit, both countries agreed on some new areas of partnership, and bolstered the existing co-operation in areas like national security, clean energy, trade and defence. Here are some of the key achievements.
1. Bolstering anti-terror collaboration and condemning terror attacks "from Paris to Pathankot, from Brussels to Kabul," both leaders decided to further deepen their collaboration against terrorist threats.
Both PM Modi and President Obama called for Pakistan to bring the perpetrators of Mumbai and Pathankot to justice. "The leaders committed to strengthen cooperation against terrorist threats from extremist groups, such as Al-Qa'ida, Da'esh/ISIL, Jaish-e Mohammad, Lashkar-e-Tayyiba, D Company and their affiliates, including through deepened collaboration on UN terrorist designations. In this context, they directed their officials to identify specific new areas of collaboration at the next meeting of U.S.-India Counterterrorism Joint Working Group," the joint statement says. JeM, LeT and the D Company are said to be operating from neighbouring Pakistan, at times with support from the ISI.
2. Both governments have decided to come to an arrangement which would facilitate sharing of terrorist screening information.
3. US based Westinghouse Electric will build six nuclear reactors in India. "India and the US Export-Import Bank were working to complete a financing package for the project, and that the Nuclear Power Corporation of India and Toshiba Corp's Westinghouse Electric had confirmed engineering and site design work would begin immediately." It said that the companies would work toward finalising the contract by June of 2017.
4. India finally becomes member of Missile Technology Control Regim (MTCR), an important non-proliferation group which now has 35 members. It will not just help India get access to technology, but also means that India can now export missile technology, to friendly countries.
5. The US has also reaffirmed it's support to India's entry into the elite Nuclear Suppliers Group (NSG). India has been lobbying hard for this place and has sent key diplomats to other member countries to coax them for their support. Three of the five countries on PM Modi's current itineray are members of the NSG.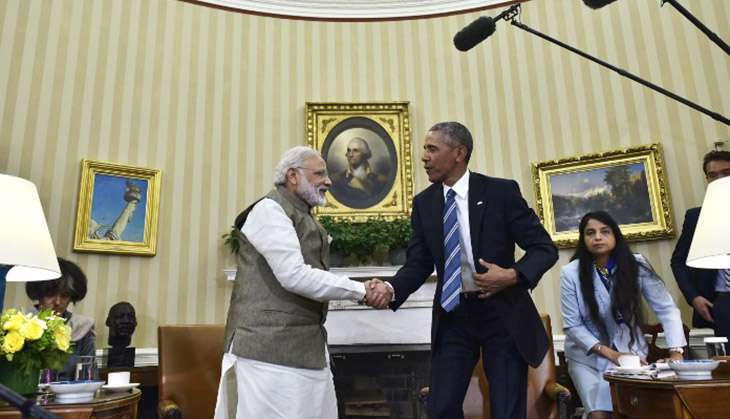 Mandel Ngan/AFP
6. The US has reaffirmed its support to India's demand for a reformed UNSC with India as a permanent member.
7. In the defence cooperation, tthe United States government affirmed that it will "continue to work toward facilitating technology sharing with India to a level commensurate with that of its closest allies and partners". PM Modi and President Obama also reached an understanding "under which India would receive license-free access to a wide range of dual-use technologies in conjunction with steps that India has committed to take to advance its export control objectives."
PIB
8. Supporting the 'Make in India' initiative, and to support the development of defence related industries in India - a key feature of PM Modi's agenda - the United States will "continue to facilitate the export of goods and technologies, consistent with U.S. law, for projects, programs and joint ventures in support of official U.S.-India defense cooperation". The leaders also committed to expanding the co-production and co-development of technologies under the Defense Technology and Trade Initiative (DTTI).
9. On the agenda on climate change, India agreed to join the Paris COP21 agreement "as soon as possible". Working on lowering greenhouse gas emission strategies, the two "resolved to work to adopt an HFC amendment in 2016 with increased financial support from donor countries to the Multilateral Fund to help developing countries with implementation". India and the US also announced creation of a "$20 million U.S.-India Clean Energy Finance (USICEF) initiative, equally supported by the United States and India, which is expected to mobilize up to $400 million to provide clean and renewable electricity to up to 1 million households by 2020."
10. The two countries signed an Memorandum of Understanding (MoU) which would facilitate hassle free entry of 'low risk' Indians at select US airports. The US is home to almost three million Indians. The MoU paves way for India's entry into the Global Entry Programme which is available at 40 US airports and has seen enrollement of 1.8 million people.
11. PM Modi attended an important roundtable with members of the US business community. John Chambers of Cisco and President of the US-India Business Council, says that members of the USIBC are on track to invest 45 billion USD in India. And that this number could even be doubled.