International Beer Day: This is World's first vagina beer, The Order of Yoni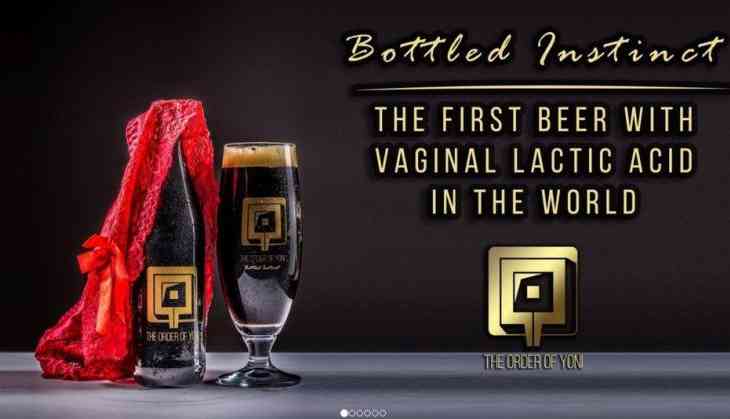 On International Beer Day, the world's first vagina beer, The Order of Yoni, made from the 'vaginal lactic acid of hot underwear models', went on sale from July 28 in some of Polish cities.

People expressed different opinions about the concept of it, a lot of women slammed them for the concept calling it "sick and misogynistic" while other were concerned if it is safe for consumption.

Beer made with vaginal bacteria of super-hot Czech models. The project started in 2016 has finally hit store shelves.

Yoni, a Sanskrit word which connotes to vagina or womb, was chosen by the eccentric maker as a brand name.

"Imagine woman of your dreams, your object of desire. Her charm, her sensuality, her passion… Try her taste, feel her smell, hear her voice… Imagine her massaging you passionately and whispering into your ear everything you want…" reads the website, because commodifying a woman's body wasn't just enough.
Also Read: Viral: Karachi bakery 'Once Upon a Cake' made a special Imran Khan cake
"A golden drink brewed with her lure and grace and flavoured with wild instincts. Imagine a beer which every sip offers a rendezvous with this hot woman of your dreams… she hugs you and kisses you gently, looking straight into your eyes…" they add. And encashing on manly desires, they ask, "How much would you give for such a beer?" The bottles are priced at 25 zloty or Rs 466 a bottle.

Grzegorz Majewski, who is among those who first tasted the draught, said, "You can try it once out of curiosity, but I do not think that it will be a 'frequent guest' on the tables of beer lovers," adding that it costs as much as a wine bottle.

The wacky beer has been made in two versions: Bottled Lust and Bottled Passion, both containing 8 per cent alcohol by volume.

According to the website, each bottle will be dated with the date the model was swabbed for that particular batch.