Desert snow: See why Saudis are pleasantly surprised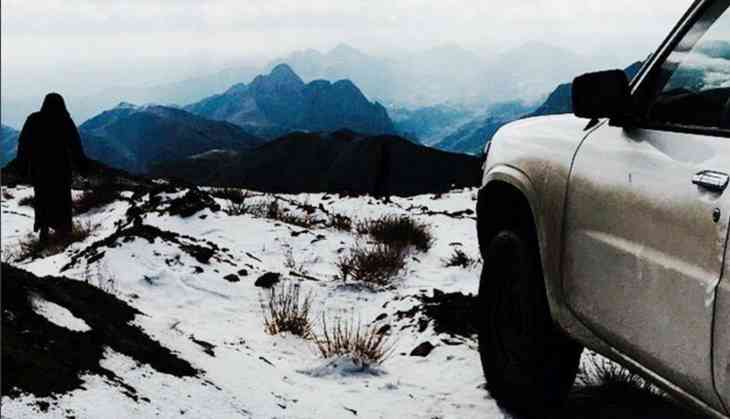 As the temperatures drop every year, the mountainous region of North Western Saudi Arabia, particularly the region of Tabuk and Jabal al-Lawz, receive a burst of snowfall.
While the snow melts away within a couple of days and does not last long, this unusual phenomena is nonetheless eagerly awaited by the locals who fondly refer it to it as the 'the white guest.'
This year, the snowfall is expected to continue until Saturday morning. In addition to Tabuk and Jabal al-Lawz, surrounding districts of Arar, Jalamid and Turaif are also expected to receive spurts of fresh snowfall.
"Global Warming" 😂 https://t.co/suV2l4ScQc

— Aaron J. Carpenter (@aaronjcarpenter) January 26, 2018
An adorable image of families playing in a smattering of snow in northern Saudi Arabia, from the official Saudi Press Agency. pic.twitter.com/kJ06beHd6q

— Vivian Nereim (@viviannereim) January 27, 2018
Rare snow fall in the desert of Saudi Arabia in Jan 2018. Record snow in northern hemisphere and cool summer temp in southern hemisphere.
But UN secretary General and NASA NOAA climate showing fabricated temp anamoly maps of hottest years. pic.twitter.com/XKIFuggpXB

— Dr. Waheed Uddin (@drwaheeduddin) January 27, 2018
Who's laughing now - Saudi Arabian snow sled seller pic.twitter.com/YqBp1SXC4B

— ʞooƆ ɐɯɯǝƃ (@CookieGemz) January 26, 2018