Croatian President Kolinda Grabar Kitarovic's bikini pics go viral – is it real?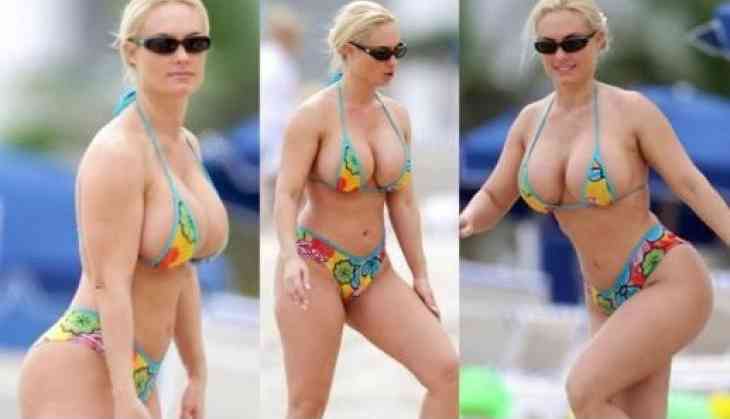 The President of Croatia, Kolinda Grabar Kitarovic stood by her team who performed like brave fighters at the FIFA World Cup 2018 against team France. Although Croatia lost to France 4-2, she stood there in all smile and hugged every player from his team and opponent team as well.
But, bikini pictures of a model named Kolinda who is her doppelganger went viral, many thought it was her picture and many claimed it was the President in a bikini.
#WorldCupFinal#Croatia

In my opinion the world cup winner is this woman

Croatia's President
Kolinda Grabar-Kitarovic pic.twitter.com/fwBhsWUChW

— PicPublic (@PicPublic) July 15, 2018
Croatian President Kolinda Grabar-Kitarović Just Won People's Heart Yet Again. Standing In Rain Without Any Umbrella And Hugging The Players To Appreciate Their Game. 👏🙏 #Croatia #WorldCupFinal #CROFRA #FRACRO #FrancevsCroatia pic.twitter.com/NH2Ex29R2n

— Sir Ravindra Jadeja (@SirJadejaaaa) July 15, 2018
Great genuine warmth from Croatia's President Kolinda Grabar Kitarovic towards Luca Modric. As well as from Emmanuel Macron ✅ pic.twitter.com/Z2fMNHvVff

— matt mcglone (@MattMcGlone9) July 15, 2018
World cup team country favorite President

RT FOR Croatia's President
Kolinda Grabar-Kitarović

LIKE FOR France's President
Emmanuel Macron #WorldCupFinal⁠ ⁠ pic.twitter.com/JL4S2zp27p

— A Random Guy (@WaaleBlaze) July 15, 2018
Incredible scene of role model leadership. #CRO President
Kolinda Grabar-Kitarović drying the tears of her teams captain #Modric, soaked in rain, without an umbrella! #WorldCupFinal. #Croatia won our hearts... pic.twitter.com/uWGZcqTuUH

— Sanjay Poonen (@spoonen) July 15, 2018
However, there were many who reposted the pictures that first went viral two years back of the US model Coco Austin, wife of rapper Ice T.
So the photo in the top right isn't Kolinda Grabar Kitarović. This extremely important news needs pointed out asap! 🤣 I've made up for this error from yesterday with a new pic which IS her. Thanks to @Britpopmemories for pointing this out - an expert in the bikini field! #CRO pic.twitter.com/pnkQ0hwQXV

— Alex (@Britpop95) July 16, 2018
These trending images allegedly of #CroatianPresident Kolinda Grabar-Kitarović are NOT HER. @FRANCE24 have debunked the viral bikini shots and show that all these images are in fact of US model #CocoAustin NOT the Croatian leader: https://t.co/enJ71F28IQ #FakeNews pic.twitter.com/zGkWUf0iPi

— OliviaCrellin 📺📻🎥 (@OliviaCrellin) July 15, 2018
During the final football match that happened in Russia, Kitarovic stood clad in a red-and-white shirt of Croatia football team. She stood soaked in heavy rain while Putin was given an umbrella.
One of the social media users wrote on her picture, "Best scene at the World Cup. Pouring Rain, no umbrella and Kolinda Grabar Kitarovic hug every single player from Croatia and France, even if Croatia has just lost. That's purely emotional and so warmly. No politics, only sport! Congrats to both teams."
Another user wrote, "A heartbroken Croatia President looks graceful in defeat hugging every player."
Also Read:Live: Trump- Putin begin day of meetings in Helsinki, Finland