As Euro 2016 heats up, so do France's anti-labour protests
Catch Team
| Updated on: 10 February 2017, 1:50 IST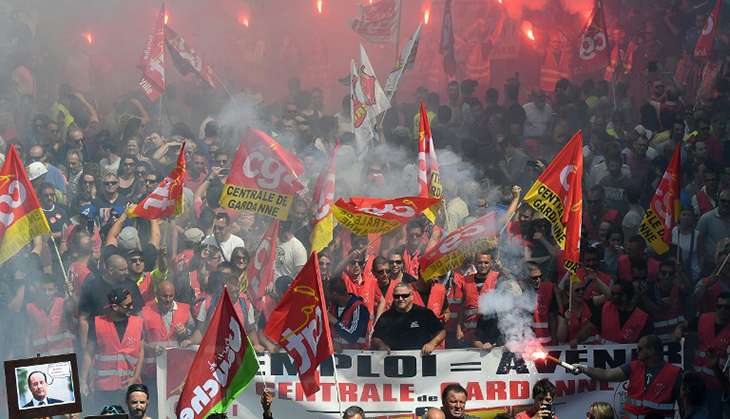 President Francois Hollande is under serious pressure these days. The Euro 2016 tournament being held in France is only a week old begun and, already, major clashes have broken out between English and Russian fans. Besides this, a major terror attack in the country was averted and security forces are on the lookout for more.
While all of this is taking place, the anti-labour law protests have refused to die down either. Instead, they are growing more pitched by the day. On Tuesday, 14 May, Hollande proposed a ban on demonstrations in France.
National protest march against the El kHomri law, clashes erupts between anti-riot police and black hooded mob. (Julien Mattia/NurPhoto via Getty Images)
A protester returns tear gas to French riot police with a tennis racket during a demonstration against the government's planned labour law reforms on 2 June, 2016 in Nantes, western France. (Jean-Sebastien Evrard/AFP)
Protests had also taken place during the recently concluded Roland Garros tournament.
According to his spokesman Stephane Le Foll, Hollande told a Cabinet meeting on Wednesday that "at a time when France is hosting the Euro 2016 [football tournament], when it is faced with terrorism, demonstrations can no longer be authorized if property, people and public property cannot be safeguarded," reported AFP.
Tuesday was also the day when tens of thousands of people took to the streets of Paris, shouting slogans and holding placards that read, "For new rights". Police cars at the Place de la Republique were torched. The Eiffel Tower was also torched as the staff at the monument said that they too would 'join the protest'. Some protesters, armed with gas masks and tennis rackets even took on a police clampdown, wading unaffected into clouds of tear gas and even volleying tear gas shells back at riot police. Demonstrations have since mushroomed across the country, spreading from the epicentre in France's capital, Paris.
Smoke rises around a masked protester kicking a stone during a demonstration against proposed labour reforms in Paris on 14 June, 2016. (Dominique Faget/AFP)
Demonstrators clash with riot police near the Invalides during a protest against proposed labour reforms in Paris on 14 June, 2016. (Guillaume Pinon/NurPhoto via Getty Images)
It all started as a protest against France's proposed labour reforms - loosening its complex labour regulations. Unions were angry at the reforms that, if passed, would give big companies more freedom to hire and fire workers as well as extending their working hours. On 31 March, thousands of people - mostly youth - gathered on Republique Square for a night time demonstration. These nightly demonstrations, called Nuit Debout (Standing Up All Night), have only continued since and have spread to over 80 cities in France and even abroad.
Julien Mattia/NurPhoto via Getty Images
Evrim Aydin/Anadolu Agency/Getty Images
A protester to the ground, bleeding from the head after receiving a police tonfa shot, in Paris, France on 14 june, 2016. (Julien Pitinome/NurPhoto via Getty Images)

These protests are similar to those held in New York (Occupy Wall Street) and the ones on Syntagma Square in Athens (The Indignant).

As Time Magazine reported on 25 May, "Since

Monday

, union activists have blockaded some French oil refineries, burning barricades and battling police, and leaving about one-third of French gas stations without fuel."
In the final event on the Place des Invalides, a protester holding a smoke in his hand, in Paris, France on 14 june, 2016. (Julien Pitinome/NurPhoto via Getty Images)
An injured protester receives a medical help. (Artur Widak/ NurPhoto via Getty Images)
In Paris, the capital of France, thousands demonstrated against the new labor reforms of the socialist party of Francois Holland. (Willi Efenberger/Pacific Press/LightRocket via Getty Images)
Over a million protesters as per organisers, and less then 100,000, as per French Police, it was the number of opponents of the Labour Act who gather in Paris for a day of 'national mobilization'. (Artur Widak/NurPhoto via Getty Images)
Over a million protesters as per organisers, and less then 100,000, as per French Police, it was the number of opponents of the Labour Act who gather in Paris for a day of 'national mobilization'. (Artur Widak/NurPhoto via Getty Images)