1 killed in Trump Tower fire in New York, 4 firefighters injured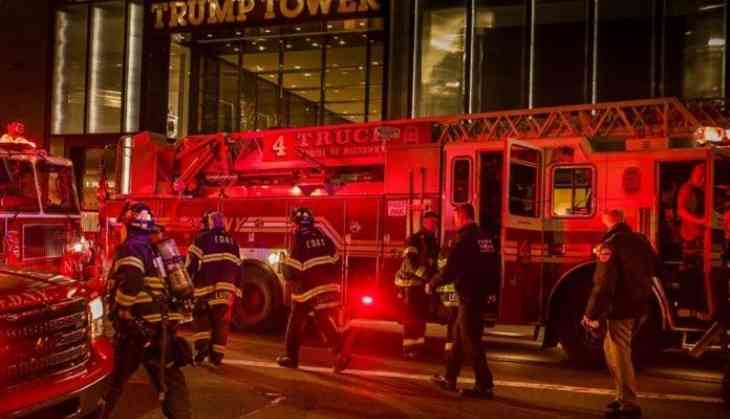 A raging fire erupted on the 50th-floor apartment at Trump Tower which killed a man inside. The flames and black smoke started pouring from windows from the building.

New York Fire Commissioner Daniel Nigro told that the cause of the blaze is not yet confirmed but the whole apartment was virtually entirely on fire". The firefighters arrived after 5:30 p.m. Around 200 firefighters and emergency medical service workers responded to the fire, he said.

Nigro said, "It was a very difficult fire, as you can imagine. The apartment is quite large."

Todd Brassner, 67 was in the apartment when fire errupted, he was immediately taken to the hospital but he coundn't survive, the New York Police Department said. The records of the apartment shows that he was an art dealer and he purchased the apartment in 1996.
Also Read: Find out where Prince Harry and Meghan Markle will first visit as Royal couple after wedding
Fire at Trump Tower is out. Very confined (well built building). Firemen (and women) did a great job. THANK YOU!

— Donald J. Trump (@realDonaldTrump) April 7, 2018
The firefighters who arrived after the fir took place has suffered from minor injuries too. An investigation is under way.

Immediately after the fire tore in the buliding, Trump tweeted: "Fire at Trump Tower is out. Very confined (well built building). Firemen (and women) did a great job. THANK YOU!"

The New York fire Commissioner was asked if that assessment was accurate said, "It's a well-built building. The upper floors, the residence floors, are not sprinklered."

The assessment shows that the buliding was built in 1983 and that time there were no fire sprinklers installed. According to the updates, building code required commercial skyscrapers to install the sprinklers post facto, but the older building are not required to install
prinklers unless the building undergoes major renovations.

On Saturday, there was no member of the Trump family in the 664-foot tower, noted Nigro. The Trump family has an apartment on the 58-story building, but they don't spend much time in New York.

A local resident called the incident, "a very, very terrifying experience."

Also Read: Online reservation for space hotel starts, pay $800,000 per night