Worrying numbers: India sees two communal incidents every day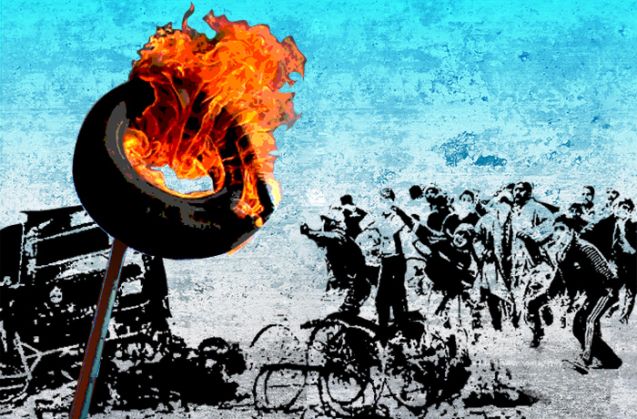 The alleged molestation of a girl by youths of a certain community in Jamshedpur on 20 July took a communal turn and led to violent clashes that led to 30 people being wounded and more than 100 arrested.
The past few months have also witnessed repeated eruptions of communal tension from Haryana and Uttar Pradesh. The reasons for these incidents range from Whatsapp messages to the construction of a mosque.
This is a worrying signal. According to the Home Ministry itself, incidents of communal riots have gone up by almost 25% in the first five months of 2015, as against the same period in 2014.
Religious riots in India are, unfortunately, nothing new. However, the numbers paint a sorry picture - the situation is much worse than meets the eye.
The number of communal riots reported in the country between 2009 and 2014, which injured around 12,805 people
This translates to an average of nearly two communal incidents and six injured people per day over the last six years
A December 2013 study conducted by Jean Louis Arcand and Pavel Chakraborty, which explains Hindu-Muslim violence in India, states that political competition and the presence of right-wing Hindu nationalist parties has a 'statistically significant impact on the number of communal riots'
That's the number of people killed in communal riots in India in the last six years, which means an average of nine people per month
Interestingly, communal riots mostly occurs in urban areas of India, according to Ashutosh Varshney, a political scientist who specialises in studying ethnic riots
Eight cities - Ahmedabad, Mumbai, Aligarh, Hyderabad, Meerut, Baroda, Kolkata and Delhi - accounted for almost half of all urban deaths due to riots in India
This indicates that, in all likelihood, lack of economic development is not a cause of communal riots
The number of people who have been killed in communal riots between January to May 2015, under the NDA rule at the Centre. During the same period last year, when the UPA was in power, 26 people had died in communal riots
In the first five months of 2015, 287 communal incidents were officially reported in India, while during the same period last year, 232 such incidents were reported
The comparatively lower incidence of riots during UPA rule can be explained by the study of Arcand and Chakraborty, which states that if the government is dependent on coalition partners, including regional parties and left-wing parties, the chances of communal riots are lower
The average number of people who died in communal riots in Uttar Pradesh (the most populous state in India) every year between 2009 and 2014
In this period, the worst year in UP's riot history was 2013 - the year the Muzaffarnagar riots took place - when 77 people were killed in the state
However, Madhya Pradesh surpasses Uttar Pradesh as the state with the highest number of per capita deaths due to riots. In Madhya Pradesh, around two people were killed in riots per one crore population every year between 2009 and 2014
The approximate number of people who died in various riots across the country between October 1990, when LK Advani started his rath yatra, to 6 December 1992, when the Babri mosque was pulled down by karsevaks
The Babri demolition led to the deaths of an estimated 1,300 people in just two months (December 1992 to January 1993) mostly in the Surat, Mumbai and Bhopal riots
The 2002 Gujarat riots and the 1984 Anti-Sikh riots killed more than 2,000 people each
Apart from the lives they take, riots have a major effect on the psyche of children too. For instance, a study conducted by the Indian Institute of Technology, Kanpur, on the socio-psychological trauma on internally-displaced children after the Gujarat riots had this to say:
"When I am alone, I am reminded of the dead body lying near the water tap that day. There was blood all around (stammering). I cannot sleep when I am reminded of it. To keep these thoughts away, I always want to be with my friends." - Sadiq, aged 8-9 years
A really low estimate of the number of lives that have been lost due to communal riots in India since the year 1950. These numbers are based on official reports and the actual figure is almost certainly much higher
Since Independence, around 100 major riots have taken place in India. All these riots have injured a total of at least 30,000 people. North and West India are the most susceptible to riots. According to a study by Varshney and Wilkinson, around 1,186 riots occurred in these regions, which led to the deaths of 7,052 people between 1950 and 1995
The worst five communal riots, according to the number of casualties, are the Gujarat riots 2002, the Delhi Anti-Sikh riots of October 1984, the Bhagalpur riots of 1989, the Moradabad riots of 1980 and the riot in 1964 that was spread across Rourkela, Jamshedpur and Kolkata
An approximate number of inquiry commissions instituted in India in the aftermath of riots. All these commissions yielded negligible results
Under the Commissions of Inquiry Act, the report of an inquiry is not binding on any government. Hence, for instance, the report of the Srikrishna Commission, which had found the Shiv Sena guilty in the Mumbai riots, was never acted upon
In another mockery of political intent, the Union government does not even maintain data related to damage caused to property, compensation, persons displaced and arrest and convictions as 'public order' and 'police' are state subjects
Common reasons that start a riot in India:
'Encroachment on places of worship' - for example, the riot in Ballabgarh, Haryana, which took place around two months ago
'Teasing of girls belonging to the other community' - for example, the Muzaffarnagar riots and the latest Jamshedpur flare up
And finally, 'Music before mosques'
There is a bigger debate on why a riot takes place, why people participate in riots and what is its political benefit. Scholars are divided on the causes.
While some say lower economic growth and lack of literacy leads to a higher propensity towards riots, a few others have advocated the opposite.
The fact is that riots in India do not kill as many people as accidents, murders or even dowry. But what's worrying is that there are numerous allegations about riots being a part of the process of political engineering, unlike the others. That's the aspect that needs study and substantiation.