Unlikely warrior: the male face of women's lib in Khap country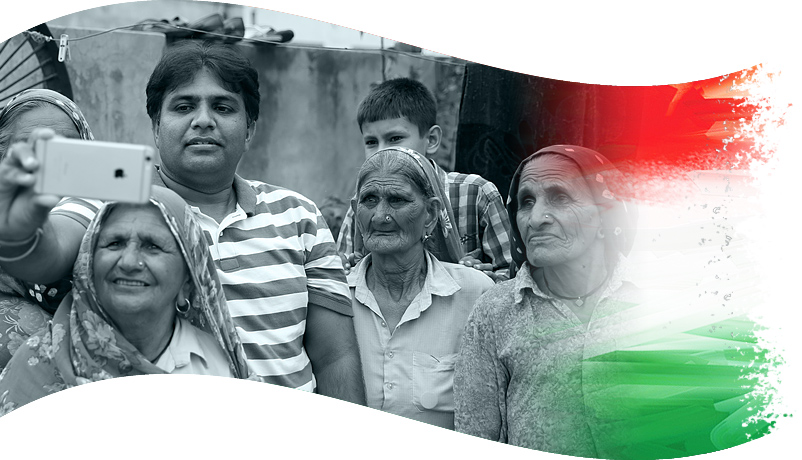 Who\'s Jaglan
Sunil Jaglan is the young sarpanch of Bibipur
A mention by Narendra Modi in his radio address made him famous
When he celebrated the birth of his daughter, villagers found it odd
Jaglan has been consistently working on gender equality since
His achievements
He organised a gram sabha to discuss women\'s safety
Next he held a Khap mahapanchayat on female foeticide
Women were invited to participate in these meets
His sister Ritu helped organise women
Empowering women seems to be an obsession with Sunil Jaglan, the sarpanch of Bibipur village in Haryana's Jind district.
Jaglan gained instant fame when Prime Minister Narendra Modi mentioned him and his #SelfieWithDaughter campaign in his monthly radio programme.
But the man is about much more than that one hashtag. His is a story about a sustained fight to free his village and community from pernicious gender bias.
Read: all our hopeful, funny, poignant, celebratory Independence Day stories in one place
Haryana is notorious for its skewed sex ratio: there are 877 females per 1,000 males in the state, compared with the national figure of 940. Female foeticide is rampant. An estimated 37,000 girls are killed every year in the state before they are born. With just 2.2 per cent of India's children, Haryana accounts for 4 per cent of the country's female foeticide cases.
Honour killings, absurd pronouncements on rape, marriage and female modesty by Khap panchayat leaders from the state keep making headlines. In such a social infrastructure, Jaglan has made "women's issues" a personal battle.
The village headman's determination has started a dialogue within the community. And his insistence on bringing women to the forefront of that dialogue seems to have opened up a space for them to speak.
Women's voices are heard in Bibipur. They themselves say so. They get heard on the street, at the village chaupal, in gram sabhas, and in confidence by the sarpanch himself.
In this liberty to speak - new-found and already precious - lie the seeds of a social transformation. A woman can report pressure from her in-laws to produce a boy or complain about domestic violence. College-going girls here feel empowered to assert that a daughter is no less than a son, and then go out to prove it.
Having a voice may seem small, but it matters - it is where liberty begins. It has the capacity to create awareness and inspire transgression.
Bibipur's women are talking. Things feel different, they say, and it has to do with Sunil Jaglan.
An unlikely feminist
It would be difficult to quantify the effect Jaglan has had. He has only been at the helm of affairs for five years. But the man's dogged pursuit of women's empowerment is noteworthy.
It is unusual to find a man so committed to gender issues. How progressive that individual is becomes even more refreshing when you consider his deeply conservative mileu.
With his three-year-old daughter Nandini hugging him, Jaglan speaks about the importance of teaching five-year-old girls about the changes they will see in their bodies soon, and to tell them that it is not okay if someone touches them inappropriately.
Jaglan roots for sex-education and for coursework about issues such as female foeticide at the plus-two level in schools. It is imperative that boys and girls study together, he says. "There has been enough shame. It's time to work on these issues."
When he fathered a daughter, Jaglan realised how skewed the society's approach was towards the girl child
His parents, Jaglan says, didn't differentiate between him and his sisters growing up. They enjoyed equal liberty and opportunities. However, he never bothered much about gender discrimination until he had a daughter. He now has two.
When his first daughter was born, the sarpanch had already been at his office for two years. He had conducted some "light-weight" awareness programs on women's issues, "but nothing serious".
A personal mission
When his daughter was born in January 2012, a joyous Jaglan handed out Rs 2,000 to the hospital nurses for distributing sweets. The nurses, however, declined. They would have taken the money had it been a boy they said.
The birth of his daughter was heralded in the village by clanging utensils - a customary practice to celebrate childbirth, but only when boys are born. Members of the local Kinnar (transgender) community were also invited to come and bless the newborn. Several villagers found his behaviour odd.
"I realised something must be done." Jaglan began educating himself. "I looked at the sex ratio, the number of unmarried men in the village, how brides had to be brought in from other states."
There is one connection though that Jaglan doesn't quite make - caste. Ask him about the role of Khaps in, say, heinous instances of honour killings, he suggests that often individuals and families are at fault, not the Khaps.
According to Jaglan, mindsets need to change. "I don't want to become a member of a gender-biased Indian society."
Making noise
Female foeticide and the sex ratio are the immediate challenges, and Jaglan has taken them on in earnest.
In 2012, he called a special gram sabha to address these issues, inviting women to participate. Unprecedentedly, 250-300 women attended. "Women would never go to the chaupal earlier. Now, they've been there hundreds of times."
That same year, Bibipur hosted a Khap Mahapanchayat, to discuss female foeticide. Leaders from Haryana, Punjab, Uttar Pradesh, Delhi and Rajasthan attended the meet. Khap panchayats have traditionally excluded women. But that one saw their active participation, led by Jaglan's sister Ritu.
The 29-year-old is the second of Jaglan's three sisters, and works closely with him in his campaigns. She persuaded and trained women to speak, even if in ghoonghat.
"Women have started speaking freely. They sing songs about female foeticide, talk about domestic violence and psychological torture," Ritu says.
The involvement of women has been key to Jaglan's efforts. They are urged to keep an eye on those who are pregnant, particularly if they already have one or two daughters.
"In 2012, 36 girls were born in this village, compared with 59 boys," Jaglan says. "In 2013, it was 51 girls and 45 boys, and in 2014, 46 girls and 46 boys. This year, so far, there have been 22 girls and 17 boys."
The numbers are hard to verify. Also, three years don't make a trend. A professor at the nearby Kurukshetra University has said Jaglan's campaigns have made no difference.
What Jaglan has managed is to raise a stink about female foeticide. The Haryana government has awarded the village Rs 1 crore, recognising its effort. Two central grants have also come its way. Jaglan personally has won various accolades.
Bibipur, he says, was the only panchayat to hold a special gram sabha on women's safety and submitted its recommendations to the JS Verma Committee, formed after the 16 December Delhi gang rape incident.
Now on Jaglan's radar are domestic violence, honour killings, and violence against women in general.
Open lines of communication
The relationship Jaglan has established with villagers, especially women, stands out.
As he saunters through the lanes of Bibipur, people call out to him and engage in conversations about their concerns - school admissions, the lack of potable water. He asks follow-up questions, banters with old women, sympathises, reassures and updates them on the progress of setting up community RO filters.
Transparent governance and village beautification were his two agendas when he became the sarpanch in 2010 at 28. His success shows in the paved streets and partially covered drains as well as in his open manner.
The openness comes through in interactions with the village women we spoke to. Jyoti Jaglan (unrelated to the sarpanch), a 17-year-old studies medicine in Jind and is nonplussed about safety. "We have a voice, we have hands and feet. We can speak up. We can take care of ourselves." When she becomes a doctor, Jyoti plans to practice in her village.
"If every sarpanch was like him, every village would be Chandigarh," says middle-aged Urmila Devi with a smile on her face.
The praise does not seem to come from deference: Jaglan never stuck around to monitor our conversations with the women. Rather he wandered off to chat with someone else.
"They trust me," Jaglan says of the women in the village, "They know they can approach me individually with their problems." As he walked on, people never hesitated to approaching him, question him, heckling him even about what must seem like the zillionth media team trailing him - a German crew was here last week and a team from Japan is due soon.
Chipping away at the problem
Jaglan is well-rehearsed for the media - not disingenuous, but prepared. The relaxed sarpanch speaks without urgency, but with determination.
Panchayat elections are due this year, and Jaglan plans to stand again and looks set for another term. But he shows no signs of giving up the fight. "There has been 30-35 % improvement. A lot is left to be done."
On the agenda are women-only police stations in each district of Haryana, providing support to people in other villages, tehsils, and districts - people fighting for similar transformations.
Why is he so hell-bent on working on gender issues? Jaglan can't quite articulate an answer. But he manages to say that he can't let go of something until he sees it through.
"He's always been like this - hard-working and committed," Jaglan's mother says.
He makes no passionate declarations of the importance of the cause. He is simply intent on chipping away at the problem.
Jaglan and Bibipur inspire optimism about the potential for social change in India's conservative heartland. If every village had such a committed sarpach, change would seem entirely possible.
India is based on some soaring ideals: liberty, equality, freedom, justice and plurality. On the 68th anniversary of independence, this series focuses on the little battles for freedom that keep those values alive.