Will Madhesis become the new Tamils and Bihar the new Tamil Nadu?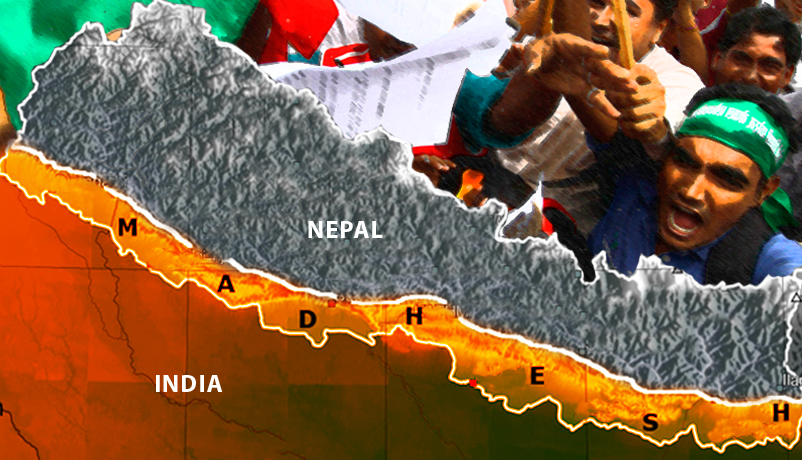 The support
Bihar parties RJD & JD(U) have expressed their support to the Madhesi agitation in Nepal
Madhesis share close ties with Biharis. RJD says India can\'t remain silent on their plight
The dilemma
Modi govt can\'t support the Bihar leaders\' stand, though it is concerned about Madhesis
An open pro-Madhesi stand by India could push Nepal towards China
More in the story
How Bihar is becoming the new Tamil Nadu
What RJD & JD(U) leaders have to say
What is Nepal\'s response?
For decades, India has been at loggerheads with one of its own states, Tamil Nadu, regarding ties with Sri Lanka. Now a similar situation appears to be unfolding in the east, where another state is gradually taking an independent position vis-a-vis another neighbouring country.
Two leading constituents of the governing coalition in Bihar, RJD and JD(U), have expressed support for the struggle of Nepal's Madhesis against their newly-drafted constitution, even as New Delhi remains largely cautious about the issue.
Also read - India's spectacular policy failure in Nepal
In Sri Lanka's case, advocating more constitutional rights for minority Tamils in Sri Lanka was always a priority for the Indian government. Yet, it chose to tread cautiously, never getting too critical of successive regimes in Colombo.
However, most political parties in Tamil Nadu have been overtly critical of successive governments in Sri Lanka for their failure in ensuring justice for the Tamils. Some of them, like Marumalarchi Dravida Munnetra Kazhagam led by Vaiko, have even openly supported the now-defeated pro-Tamil terror organisation, LTTE.
In Nepal, Madhesis and Tharus, communities living in the plains, have been protesting against the new constitution for months now. They are concerned that the proposed contours of the new provinces will deny them adequate representation in the national parliament and the larger political process.
The Madhesi protests
To push for their demand of amending these arrangements in the constitution, Madhesi leaders blocked the free-flowing traffic between India and Nepal at border checkpoints. This had stopped movement of several goods between the two countries, leading to shortage of fuel and other essential supplies across Nepal.
A group of Madhesi leaders have been in touch with leaders from several political parties in India, including the BJP from the ruling dispensation and Congress, NCP, RJD and JD(U) from the opposition camp. Although most Indian leaders are sympathetic towards the Madhesi cause, the most vocal support has come from the two Bihar-based parties, RJD and JD(U).
RJD & JD(U) have expressed support for Madhesis' struggle against Nepal's newly-drafted constitution
Bihar shares a long border with Nepal, across which there is free flow of people and goods. Madhesis share old socio-cultural ties with the people of Bihar and are even believed to be people of Indian origin. Many marriages have taken place between the two, resulting in cross-border family connections.
Bihar leaders threaten to go to Nepal
Citing these factors, the Bihar leaders have decided to support the Madhesis' stir. Senior RJD leader and former union minister Raghuvansh Prasad Singh has said that his party's endeavour was to strengthen Indo-Nepal friendship and not remain just mute spectators to the developments in Nepal.
The JD(U) has also said that people of Bihar were naturally concerned about their brothers and sisters in Nepal. JD(U) spokesman Neeraj Kumar told the media that anything happening in Nepal has direct impact on Bihar.
Singh has urged the Nepali leadership to talk to the Madhesis and resolve their issues, but he also announced that if need be he or party chief Lalu Prasad will not hesitate from going to Nepal to mediate. A Madhesi delegation also met Lalu in Patna earlier this month and he reportedly promised to give them political assistance.
New Delhi takes a cautious stance
New Delhi has not taken this line officially yet, although it has made its displeasure known to Kathmandu. Hours after Nepal formally adopted the new constitution in September 2015, a statement by the Ministry of External Affairs only noted the development and expressed concern "that the situation in several parts of the country bordering India continues to be violent" .
The statement also urged that contentious issues "should be resolved through dialogue" and "institutionalised" to "enable broad-based ownership and acceptance".
Nepal's Madhesis share close social, cultural and even family ties with the people of Bihar
Nepal's government, on the other hand, has accused India of fanning the Madhesi's protests and imposing the blockade. It has also taken note of the statements by the Bihar leaders, calling them "provocative" and "uninformed". A Nepal foreign office spokesperson reportedly said that these statements "do not serve the fundamental interests of the 2 countries".
The Indian government is in a bind, because it has often been accused of meddling in Nepal's internal affairs. The heartburn against New Delhi will only intensify if it further takes a strong stance on the current conflict. It doesn't want to completely alienate Kathmandu, fearing that the latter might decisively tilt towards Beijing.
However, the Centre cannot make the Bihar leaders back down since they are not allies. In fact they are gradually becoming major adversaries of the BJP. Singh recently nudged the central leadership, saying China had "already started meddling in Nepal's internal issues...the Indian government should be alert to such developments".
As of now, he and Lalu are still in India and the Madhesi-blockade has ended in at least one key border crossing. However, the protests have not ended and Madhesi discontent continues to simmer. Kathmandu's bitter defensiveness in handling the situation also indicates that it is no mood for a sympathetic consideration of the Madhesis' demands.
Unless the mainstream Nepalese leaders have a change of heart, this issue appears all set to fester for a long time to come. It is this possibility that threatens to turn into another Tamil Nadu-Sri Lanka kind of a situation for the Centre. New Delhi will always be inclined to take a cautious stance while Patna will be more assertive. This may introduce another challenge in an already strained India-Nepal relationship.
Edited by Aditya Menon
More in Catch - 100 days of Oli-garchy: Nepal PM's joke is on the people
Nepal must act to resolve the Madhesi crisis. And act fast