Why 26 women bikers are blazing through the Himalayas right now
Who are they?
26 women are on the Royal Enfield Himalayan Odyssey 2016
They are headed to Leh-Ladakh on their bikes
From various parts of the country and various professions - these women are out to make history
Urvashi Jean Lalrinsangi Patole is riding through the Manali Highway at 8,000 feet above sea level on a Royal Enfield Himalayan as I call on her mobile from Delhi.
There's a nip in the air and she's wired in with earphones and a mouthpiece that has a noise cancellation features inside her helmet. I can hear her perfectly as if she's inside a studio.
Giving a phone interview while cruising down hairpin bends are not things that distract Patole. She's been riding a bike since she was 14.
Today she is 28 and she's been to the lower and upper Himachal on a bike plenty of times.
This is the second time she's going to Leh-Ladakh. But, this ride is special because for the first time she's been selected to co-lead a 26 member all-women crew who are on the Royal Enfield Himalayan Odyssey 2016.
"I have been in earlier expeditions that call themselves women only, but these always end up having a male crew of technicians accompanying the women participants for safety. This time, Royal Enfield felt women can do anything so why not create the team from scratch and ensure that every single one of them, from doctors, technicians and participants, are all women," says Patole.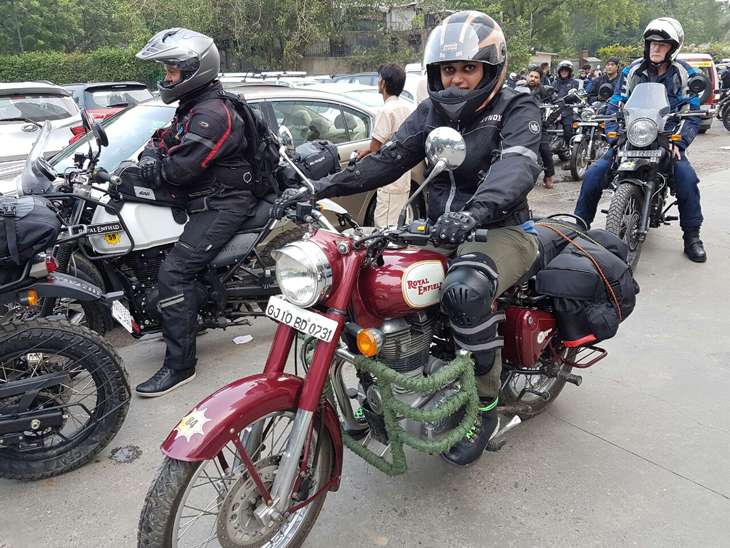 Asmita Misra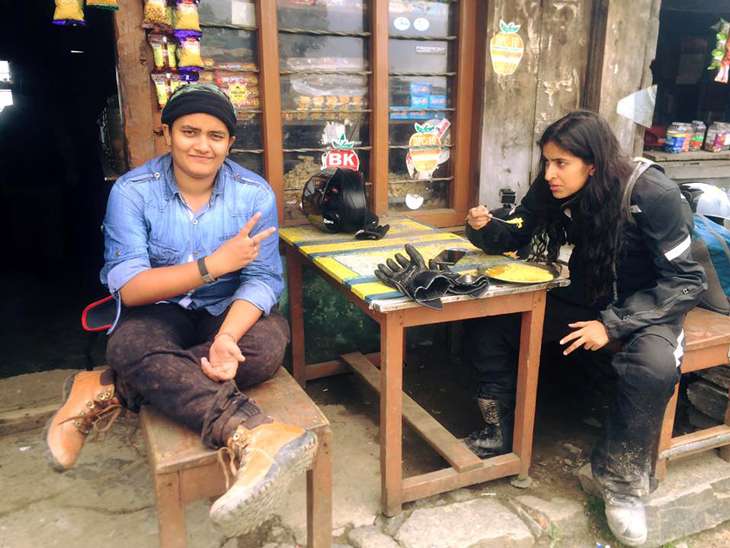 Two Bikers are eating Maggie noodles while on tour. (Urvashi Patole/Facebook)
Patole is a Pune-based social media analyst at First Cry, an online baby store. Biking, however, has been a passion that she loves taking out time for. She is the founder of two biking groups - The Bikerni (an all women's biking group) and A Couple of Adventures (a travel leisure start up).
When Royal Enfield approached her to be the co-leader of the Himalayan Odyssey along with Enfield's own Sarah Kashyap, Patole was thrilled.
Also Read: Women's Day? Video #WomenNotObjects shows how messed up ads are
The journey was kicked off on 9 July from Delhi's India Gate. When they get back on 23 July they would have covered 2,200 kilometres, motored up to an altitude of 17,500 feet and acquired the experience of a lifetime.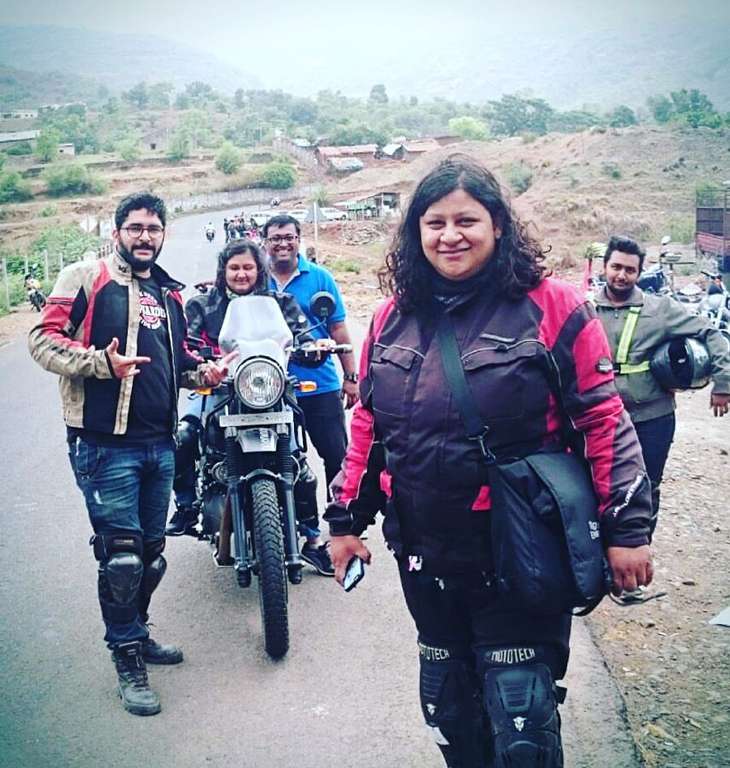 Urvashi Patole is leading the group, while posing for the camera. (Urvashi Patole/Facebook)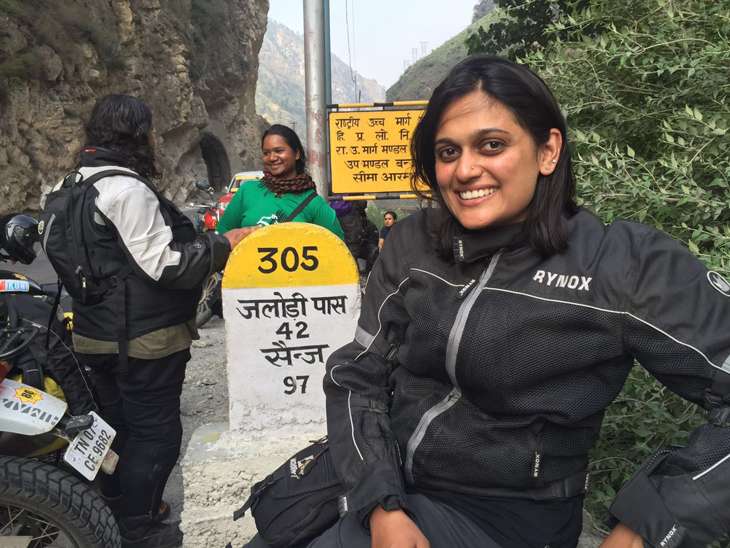 Asmita Misra
Tough girls
Patole's job is to trail behind the group to ensure nobody is left behind. The girls ride for 10 to 12 hours a day, sometimes in a file and sometimes not seeing each other for miles. There is a target to cover each day but they are free to stop as they please.
A Pajero car and a Royal Enfield wagon carries technicians and doctors to ensure the ride is free of glitches.
Also Read: What happens when men design tech for women? These 5 utterly daft devices
Patole is always the last to pass by and see the astonished expressions and smiles lingering on the faces of passersby.
Since they began the journey from Delhi, they rode to Parwanoo on the first day and to Narkanda on the second.
On 11 July, the girls rode from Narkanda through their first Himalayan pass - the Jalori Pass lying at 10,000 feet above sea level. From Jalori they headed to Manali.
"We wanted to give the girls a feel of what they will expect in Khardung La," says Patole explaining why passing through Jalori was important this early in the trip. Khardung La in Leh is known to be the highest motorable road in the world.
The 26 girls are from across the country, coming together from Guwahati, Gujarat, Bangalore, Delhi, Mumbai, Pune, Hyderabad, Chhattisgarh and other places.
They are software engineers, marketing officials, photographers, newly weds and mothers. When Royal Enfield called for applicants they were only looking for Enfield owners who had tamed the beast and who could clear a medical test that deemed them fit to ride in low oxygen altitudes.
When a bike builds you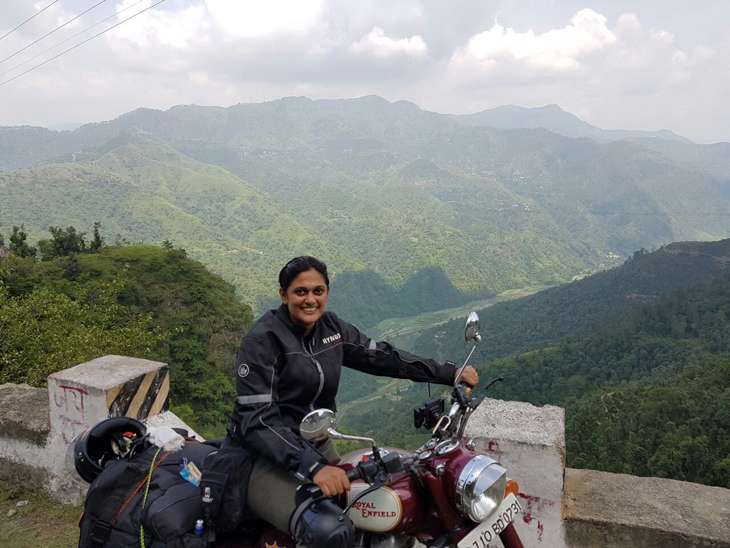 Asmita Misra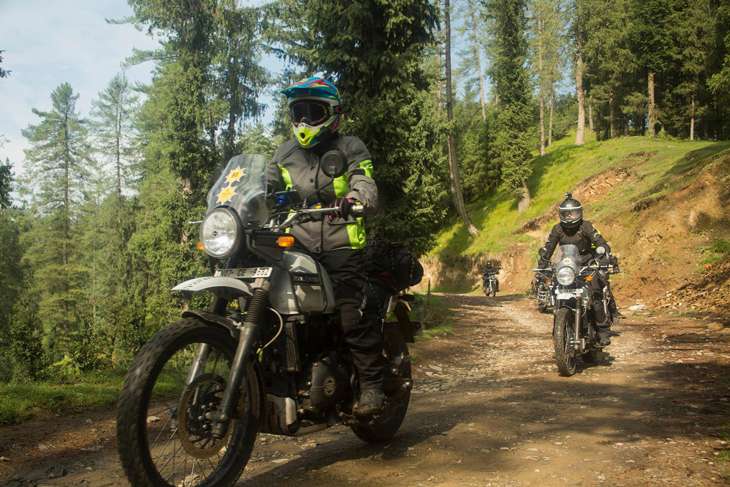 She Travels On a Royal Enfield/Facebook
Several of these women are on such a journey for the first time.
Asmita Misra is a 28-year-old software engineer from Hyderabad who is one of the newbies. Misra calls this her "first serious bike journey".
Her brother always owned an Enfield and watching him she was fascinated by the machine. Some years ago, when she was in college he gave it to her and she learned how to ride it just two years ago. Six months ago, she married a man who had biked to the Himalayas himself.
"I recently made a 30-things-to-do-under-30 list. Going to the Himalayas on my Enfield was right at the top. That's when I saw the Twitter ad calling for applicants," laughs Misra.
"What I really wanted was the experience of going solo on my own machine, touring the landscape. I want to feel like a visitor taking in the universe and the environment and be one with it," says Misra.
Misra says she's also learning a lot about the machine itself. At Jhalori pass, there were no roads, only gravel and mud. Coming down a steep incline of 70 to 80 degrees on that terrain was tricky.
"Urvashi told me to put my feet up, go on first gear and ride slow without breaking too much. That's when I learned that the motorcycle is capable of balancing itself. You don't have to do much," she says coolly.
So is the Himalayan Odyssey breaking the stereotype that women can't drive or don't stick up for each other enough?
"Bikers look out for each other no matter what. As women and bikers we want to break that stereotype that we can't ride or that we don't watch each other's backs," she says.
"These bikers are unbelievable on their bikes. You have to see them to believe," says Patole.
But what does biking really mean at a personal level, for a woman?
"Being on the bike feels like I'm part of the bike. Right now, wherever my eyes go the bike goes... Being in control of a powerful machine, with the gears, the clutch and accelerator liberates you and makes you feel in control of everything you do. I was a really shy girl. My bike really built me up as a person," says Patole, trailing expertly on the strip of road that darts up into a star-spangled night.
Edited by Jhinuk Sen
Also Read: How some women are fighting back against the 47,646 rape cases in Brazil