Violence on the rise again in Bastar. Talks of a 'Mission 2016' are rife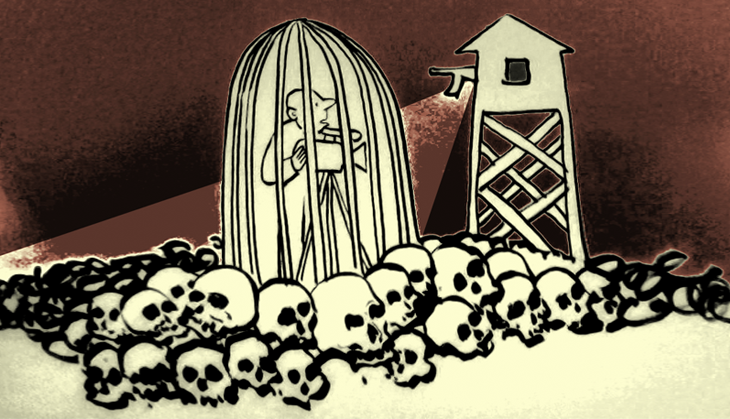 Bastar has entered a third phase of violence. This is similar to what it suffered during the Salwa Judum campaign in 2005-06 and Operation Green Hunt in 2009-10, according to lawyers, activists and journalists from the region, who were present in New Delhi, during the release of Amnesty International's report "Blackout in Bastar".

Read- IG Kalluri's reign of terror: there's hardly a place left for truth in Bastar

There are several reasons to think that the security forces are out to wipe out Naxals and those whom they think are coming in the way.

Journalists who don't toe the line are also being jailed, tortured and slapped with serious charges. Some, out of fear have left their homes and are on the run. Human rights activists are being targeted by civil fronts set up by the police.

There is a sharp increase in the number of arrests, fake surrenders and civilian deaths in encounters. Already this year, security force personnel have been accused of at least three cases of mass sexual violence, including gang-rape.

Bela Bhatia, noted scholar and human rights' activist, has personally suffered harassment by Samajik Ekta Manch, a recently disbanded front that was set up by the local police. She said that Chhattisgarh has become the most militarised state in India, as the boots on ground have increased from 40,000 a decade ago (while the state was suffering its worst cycle of violence) to 42,000 today. This is indicative of the scale of the conflict in the state. 

"The strength of the forces is at their highest ever. Civilian to force ratio today is 50 to 1. And this year there have been 56 encounters already," she added.

Also read- 'I will not leave Bastar': activist Bela Bhatia in an open letter

Bhatia said that after having suffered Salwa Judum, people in Bastar know very well what a militia sponsored and supported by the state can do, which is what they fear the most at the moment.

"Despite Supreme Court intervention against such militias, police have come up with forces like Koya commandos and District Reserve Guards. They don't need to be given arms. At least half of their strength is made up of surrendered Naxals that are now being used to attack existing cadres."

Produced by Shadab Moizee/ Catch News

The police are also charging people under sections that violate several basic human right conventions. For example, laws like the Unlawful Activities (Prevention) Act [UAPA] or Chhattisgarh Special Public Security Act (CSPSA).

Binayak Sen was arrested on trumped up charges under UAPA, and a local journalist Santosh Yadav was charged under both UAPA and CSPSA after reporting stories about police harassment of Adivasis.

"The police started harassing him in 2013. At one time they even stripped him naked in custody and humiliated him. There was a lot of pressure on him to become an informer," said Isha Khandelwal, Yadav's lawyer.

Kamal Shukla, editor of Bhumkal Samachar, a Bastar newspaper, says he has been threatened with CSPSA by none other than the Inspector General of Bastar Police.

"When some journalists including me were campaigning against the manner in which we were being targeted, SRP Kalluri, the IG, threatened to slap CSPSA against me. And he gave me an option. Either quit journalism or leave Bastar."

Produced by Shadab Moizee/ Catch News

Shukla continues to report from Bastar and publish stories against violence wrecked by Maoists and forces of the state over there.

One such case happened on 18 January this year, when 16 Adivasi women were allegedly gang-raped by security personnel in Bijapur, Chhattisgarh.

Eight out of those 16 victims, despite finding it too painful to walk, went all the way to the district police headquarters to file an FIR.

"Despite the victims' written statement identifying the accused and their eagerness to undergo medical examination, it took the police five days just to register an FIR. No arrests have been made yet," says Khandelwal, who is also representing these victims.

Read more- Bastar cop: Samajik Ekta Manch is our version of guerrilla warfare

Shailesh Rai, senior policy advisor for Amnesty International, said factors like the recent instances of large scale sexual violence, abusive laws which are being used to silence critics, putting activists and journalists behind bars on trumped up charges, all comes together to become part of a "very disturbing trend."

On being questioned about why he thinks violence in this ongoing conflict has suddenly picked up again he said, "I don't know. There are reports that the state government is planning to push forward their offensive, some people speak of a 'Mission 2016'. But the visible fact is that there is a lot of pressure on the government and its agencies to be seen to be doing something, which is perhaps the source of a lot of human rights violations."

Edited by Anna Verghese

More in Catch:

Thinking of asking the internet for advice? 5 times crowdsourcing yielded comedy gold

Qualify for the Olympics, win gold at test event: All in a day's work for ace gymnast Dipa Karmakar

#Kohinoor: bottle the indignation, Britain has no legal obligation to return it

Divorced from decency: is it right for AIMPLB to oppose scrapping of triple talaq?