Video: Mandsaur professor touches protesting students' feet after he stopped them from saying Vande Mataram, Bharat Mata Ki Jai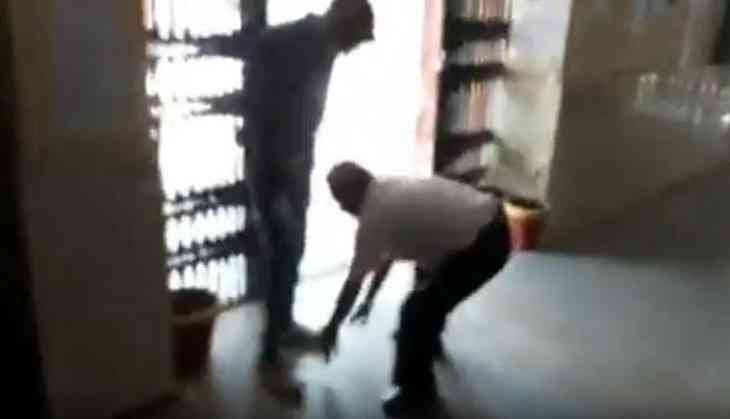 A senior professor of a government college in Mandsaur is now on leave after he reportedly stopped protesting students from saying "Bharat Mata Ki Jai" and Vande Mataram on Wednesday.
Professor Dinesh Gupta was reportedly called 'anti-national' by ABVP activists. When Professor Gupta was inside a classroom, a group of ABVP activists raised slogans in the corridor while going to submit a memorandum to the principal over delay in announcement of fourth semester (Science) results.
He stopped protesters not to shout slogans citing the difficult of conducting the class amid the noise. The activists alleged that he stopped them from saying 'Vande Mataram' and Bharat Mata Ki Jai'. They also called him an 'anti-national' and even warned they would file an FIR against him for his 'unpatriotic' act. Reportedly, Professor Gupta was disturbed by the humiliation and started touching the feet of protesting students.
In the video, the professor can be seen touching their feet one by one by chasing them as the students going away from him. On Thursday, Prof Gupta moved leave application for three-day.
Reacting to the incident, Mandsaur MLA Yashpal Sisodiy said the incident is being blown out of proportion as it was not as big as was being made to be. According to him, the professor was not asked to apologize or touch their feet but he did it on his own. He also said to mediate between professor and students.
"I am trying to get students to apologize if they are at fault. Or to get him pardon the students," MLA was quoted by The Indian Express as saying.