Mewat, the tinderbox: after Muslims raped and murdered, a Hindu mahapanchayat on Eid
It's the day of Eid-ul-Adha or Bakra Eid in Haryana's lone Muslim-majority district, Mewat. A mahapanchayat has been called, and thousands of Hindus from over 200 villages in Haryana and Rajasthan have assembled in Dinghar Heri village.
Mewat has been in news for rape and murder that have been connected to 'biryani politics'. The Haryana administration recently ordered testing of biryani samples for beef.
Dinghar Heri is the same village where two men were murdered and two women gang-raped about three weeks ago. All four victims belonged to the same Muslim family.
Four Hindu men have been arrested for the crime; their families think they've been falsely implicated. The mahapanchayat agrees with them, and threatens mass unrest and large-scale violence if the accused are not let off soon.
Barely a kilometre away from the school where this mahapanchayat is being organised lives Zohruddin, whose family members were victimised on the intervening night of 24 and 25 August.
And why were they victimised? Because they were Muslims.
A crime based on identity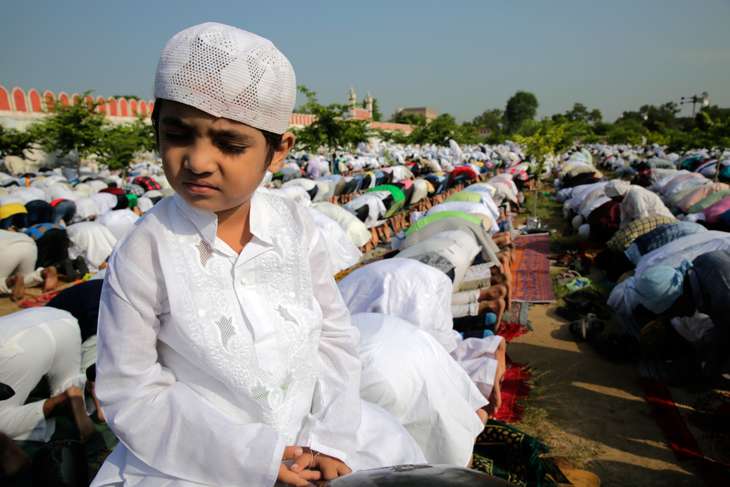 A child seated on a bike while his father offers morning namaz on Eid in Nuh, Mewat. (Vikas Kumar/Catch News)
The most brutal crime of all is one that is inflicted because of the identity of the victim. Not because of personal animosity, not because of a drunken squabble, not because of an attempt to steal anything - but because cow protectors want to teach a lesson to cow-eaters.
This is precisely why the lynching of Mohammad Akhlaq in Dadri, Uttar Pradesh, last year, caused an outrage across the country.
And this is precisely why the incident in Dinghar Heri feels so acutely disturbing.
Mewat, with no history of communal tension since independence, has suddenly turned into a sensitive area. Its members are becoming increasingly attentive to their communal identities. Quite clearly, a spark has just been lit in a highly-inflammable area.
There is a palpable sense of resentment in Mewat - from Tauru at the northern tip of the district to Nuh in the centre and beyond. And there's a disquieting silence, which would be out of place in a Muslim-dominated region on the day of Bakra Eid.
Recounting the horror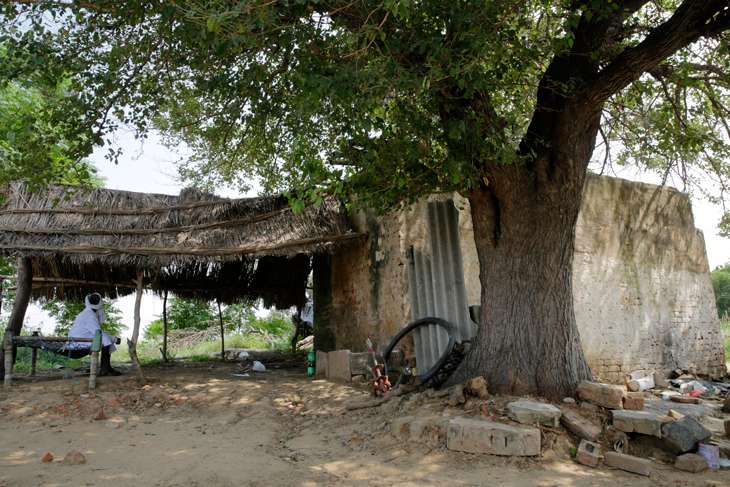 A man sitting on a khat near the spot where the rape and murder took place. (Vikas Kumar/Catch News)
Zohruddin is still in shock. He starts weeping, then stops and narrates what happened on that fateful night.
"The girls handed over the keys of our tractor and lodgings to the men [accused]. But they threw the keys away, didn't take anything. They said 'we have not come here for any article'. And then they began raping the girls by turns for the next three-and-a-half hours, in front of their dead brothers. They kept asking the women about their plans to slaughter cows on Eid. When they pleaded for water, the men urinated in their mouths," Zohruddin recounts.
"The elder one was trying to leave when they put a knife to the throat of her child and threatened to cut off his head if she didn't come back and get raped by them. I cannot tell you what I saw with my own eyes that day. My son and his wife murdered. The girls had their chests slashed. Their children were unconscious after being hit on their necks and heads," he says.
Why a Hindu mahapanchayat on Eid?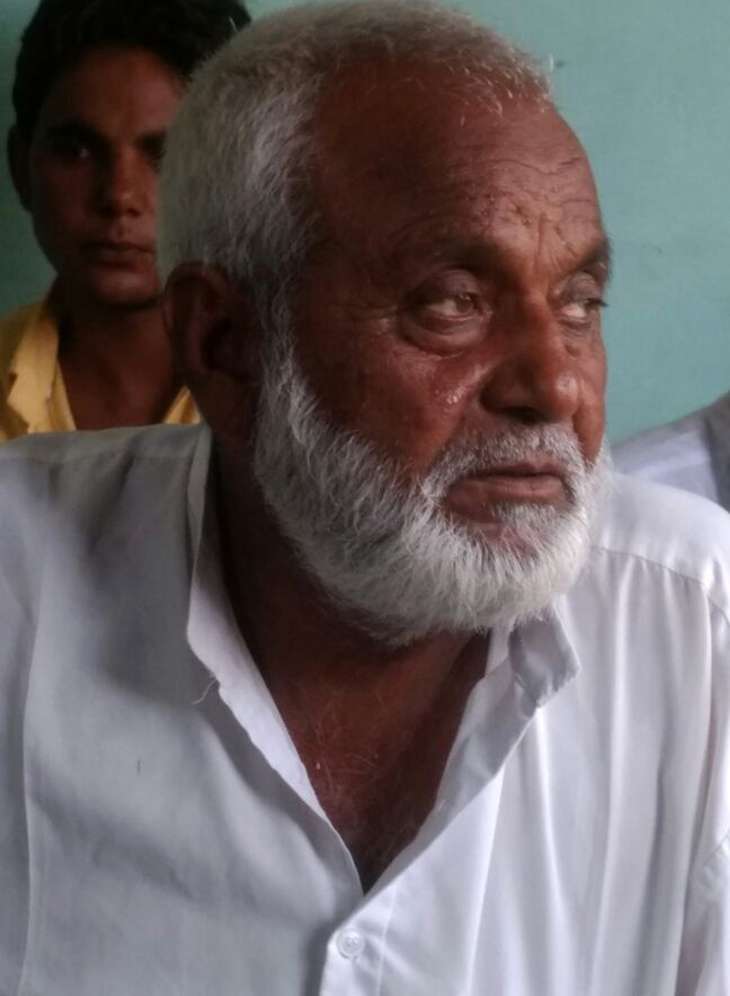 Zohruddin, the father of the victims. (Suhas Munshi/Catch News)
The first thing to wonder about is the timing of the mahapanchayat - on the day of Eid.
The explanation put forth is that there wasn't any land available for it, which is why it had to be organised at a school, and that too, on a holiday - which happened to be the day of Eid.
But it's a bit difficult to accept this excuse, since there are acres and acres of levelled land in and around the village.
Then, there's the question of what was said at the three-hour long mahapanchayat. Everybody kept uttering just one sentence - "our boys are innocent" - almost robotically.
"Everyone knows that those who murder cannot rape, and those who rape cannot murder. So the girl and her family are obviously lying... [One of the boys wears spectacles and is of a thin frame] How could such an innocent boy rape or murder anyone?" asks Balbir Singh, the first speaker, and the first in a string of non sequiturs.
A while later, another person claims that the boys had volunteered as gau rakshaks, and because they had seized upon some tractors carrying cows meant for slaughter, the Muslims had conspired against the Hindu accused to teach them a lesson.
At least one of the accused, Rahul Verma, mentioned on his Facebook profile that he was working for the RSS, and had written a post sometime ago, stating: "Muslim to gaye".
Dharmendra Yadav, who runs a cow vigilante group in Manesar, just north of the Mewat district, ups the ante when he speaks.
"The whole story of gang-rape and murder is a conspiracy to defame gau-rakshaks... We will not tolerate this behaviour. We will teach people a lesson..."
At this point, Yadav is held back by someone standing next to him, and releases the microphone.
Another speaker, Dharmendra Bhardwaj, threatens the state with a 'jan andolan'. "The Khattar government cannot take us for granted. Our boys are innocent...We will come out on the roads if the government doesn't release the boys in 10 days..." He, too, gets a signal to stop at this point.
From the crowd, somebody shouts: "We will have to create a version of the Jat andolan." Someone else asks for the media, which has been reporting on the incident, to be 'straightened out'.
Through all this, the sitting MLA of the area - Tejpal Tanwar - has been quietly listening to the speeches. Later, equally quietly, he slips out. Tanwar has not paid a single private visit to Zohruddin or his family till now.
Inquiry? No problem. But first we want our boys out
Also attending the mahapanchayat are family members of the accused.
Ram Niwas is the father of Sandeep, one of the accused. He says: "Our boys are innocent. They have been framed by the police. It is because of some pressure that the Khattar government has picked up our boys."
Mukesh, the sarpanch of Mohammadpur village, claims that the accused were framed by a Muslim boy from Dinghar Heri village itself.
"Somebody has asked for a CBI inquiry. We have no problem, but we first want our boys out, otherwise we will ensure a chakka jam in the area and hold protests up to Delhi."
Second-class citizens
Arif - one of the uncles of the 14-year-old victim of gang rape, says that the events during the past few days have made them feel like second-class citizens of the country.
"The DGP of this area didn't come once to meet us. Our MLA didn't once grant us a personal audience. Our MP - Rao Inderjit Singh - has not even called us once. How do you think all this makes us feel?"
Ramzan Chaudhary, a local lawyer representing the family, says the police has tried its best to cover up the case.
"The incident began at midnight and ended a few minutes before 3:30 in the morning, when we reached. The SHO was at the spot by 4 am and the IG by 5 am. Still, in the FIR, they have said that the first information reached them only at 9 am."
This, he said, was all the more puzzling, because the medical report of both the girls was ready by 6.30 am. "Are they trying to fool us? Don't we understand how all this is being managed?"
Catch tried reaching out to several officers, including Kuldeep Singh, the SP of Mewat, through SMSes and phone calls. We received no response from them.
Official inaction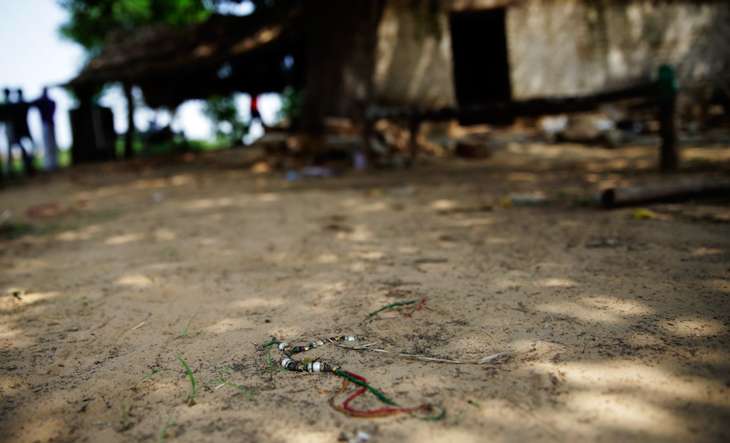 The spot where the incident took place. (Vikas Kumar/Catch News)
The Haryana government seems to think that investigating biryani samples is more important than investigating a double murder, double gang-rape incident. The state's labs have, within a few days, confirmed the presence of beef in samples of biryani picked up from Mewat.
But even 20 days after the crime was committed, the authorities haven't made any progress on the DNA analysis, polygraph tests and fingerprint scans from the scene of crime.
According to an expert working at a forensic lab associated with the Delhi Police, results of polygraph tests are available immediately. Fingerprint scans, "even with a large database and minute comparing", take no more than 24 hours. And DNA tests, in the most difficult of circumstances, take 10 days at the most.
Pawns in a bigger game
Around 30 kilometres from Dhinghar Heri, in Nuh, Eid prayers are being offered in Badi Eidgah. No one is in a celebratory mood. Except for the huge turnout, the prayers seem to be like any other Friday prayers.
Before the prayers begin, there is an appeal by the Maulvi to "maintain peace and order with the neighbours. Especially during this time".
After the prayers, the Maulvi, Maulana Mohammad Khalid Qasmi, says he has seen a lot of troubled times. But Mewat has seen nothing compared to the atmosphere in the region right now.
Those who have seen the violence in Muzaffarnagar, Uttar Pradesh, in 2013, a few months before the 2014 general elections, think Muslims in Haryana are being victimised to polarise Hindu votes in the upcoming UP elections. They fear that as the elections come closer and closer, atrocities against the minorities would only increase. The Maulvi agrees.
"We know what happened in Muzaffarnagar. That's why we're more concerned. We feel like pawns in the UP election game.
The constant checks on who's eating what; the pressure that is being built on a community, we understand that. But in my 30 years of preaching here, what I've understood and told youngsters is that fire doesn't kill fire. Water does. We have no option but to maintain peace. That's what we will do, apart from hoping for better times."
Edited by Shreyas Sharma
More in Catch - Mewat gangrape: one accused is a 'Swayamsevak', another hates Muslims
Ahead of Bakri Eid, Haryana cops to collect biryani samples to check for beef in Mewat
Couple beaten to death; two woman allegedly gangraped in Mewat, Haryana